Tomos family's best trip ever!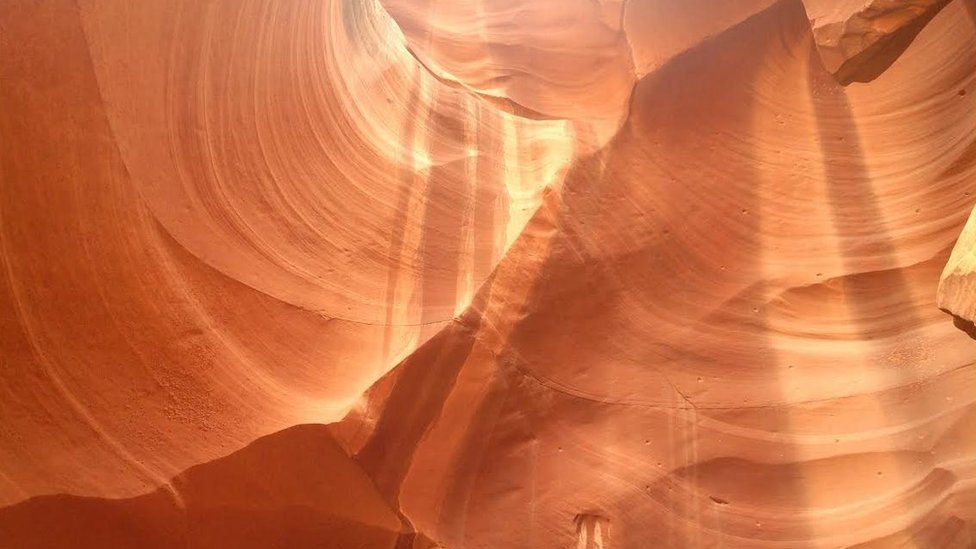 Having booked three weeks off, we got in touch with Trailfinders and they created an itinerary for us that tried to fit in all the fantastic things to see and do in this part of the world.
There are one or two things we would have done differently with hindsight, but all things considered this was a fabulous holiday.
We flew out to Las Vegas, and I'd decided to stay one night there to get over the flight, but as we'd been to LV before we could easily have hired the car immediately and driven to our first destination. If you decide to end the trip in LV as well, it may be best to spend the time there at the end rather than the beginning.
On this trip we stayed at Planet Hollywood, but our previous stay (also with Trailfinders) was at the MGM Grand, which was much better. If they can get a good rate there for you, go for it!
Although we'd booked an ordinary saloon, I spent some time at the airport hire car place negotiating an upgrade to a 4X4 as we had one or two things in mind... but apart from Monument Valley (see later) we didn't really need it.
A couple of hours driving and we arrived at Zion Canyon - wow!
This is the place for hiking at its best. Straight after checking in we set off on a short hike called Emerald Pools, and it was a taste of thing to come.
There are several hikes that you can get info on in the National Park itself, the most famous of which is Angel's Landing (which we unfortunately didn't have time to do) and they are of varying difficulty.
One reasonably tough one was the Hidden Canyon hike. The pictures might make it look a little more dangerous than it is - it was a hard few hours but perfectly safe and the views were stunning.
Our favourite hike though was The Narrows, which follows the river in the creek between two huge rock formations at the top end of Zion Canyon.
It depends which time of year you go here - when it rains, the canyon fills up quickly with water and the trail can be closed. They are very aware of this though, and if there's any chance of that happening there are plenty of warnings all around at the start of the trail.
We stayed in a lodge inside Zion National Park. It was perfectly comfortable, but with no amenities. If you want a pool, or other things it might be best to stay in one of the many hotels outside the park boundary. There are plenty os buses to take you in (cars aren't allowed without a special permit, which we got to go to the lodge).
The one advntage of staying inside is that you can start hiking early. We were there in July and it gets VERY hot around midday, so if you can start your hikes on the first bus (around 8am I think) it's definitely worth doing.
Second stop after three days in Zion (if you're keen on hiking, stay longer in Zion - it was amazing) was Bryce Canyon.
The girls were keen to do a horse ride here as it's where much of 'Butch Cassidy and the Sundance Kid' was filmed. I won't embarrass myself with pictures of the horse ride - suffice to say Sian and Lisa loved it and I couldn't walk for a day and a half!
This time we stayed in a hotel just outside the park boundary and it was great. It was called Ruby's Inn, and it feels like you're in a western as you walk in!
Once again regular buses take you on a circular route around the park with drop-off points and the trail heads, but really the one hike you have to do is the main Bryce Canyon walk.
It's a fairly long drive from Bryce Canyon to our next stop, which was Moab, but there are plenty of things to see en route.
You pass near Escalante and some neolithic paintings on the walls of the steep rocks around you that we never knew existed. There's loads of info available on all of these which you can pick up at any tourist centre, but Trailfinders could well include these in our package anyway.
Moab was sensational! The first thing you see as you arrive is that the town has a few extreme sports centres catering for tourist, but they're not THAT extreme.
We opted for a hike on our first day to Dead Horse Point - is has an interesting story that you'll read about there and amazing views of the Colorado river winding its way down the canyon.
The river looked so good that we then opted for a half day trip of wild water rafting down the Colorado the following day... and what a day that was.
In parts the river's quite fast, but when we were there the river level was lower than usual which meant we were able to jump in and float in the river holding on to the raft, or even body surf down some of the smaller rapids.
It was a truly memorable day, but it gets really hot so take plenty of drinking water and wear a hat! Sian felt a bit unwell later on mainly because of dehydration.
We went with the Moab Adventure Center, and they were extremely professional and safe with experienced guides. We weren't allowed to take cameras on the raft in case they got washed overboard or damaged, but the company have a guy who stands at the best places on the shore taking a series of shots of the raft which you can buy later - we fell for that as you can see!
The other activity we did was the Hummer Safari (with the same company) which basically takes you over the rocks of the canyon in a 9-seater Hummer. The drivers were fantastic, and it was a combination of a white knuckle fairground ride and a geology lecture!
The thing they can do in the vehicles will blow your mind - highly recommended.
We didn't stay long enough in Moab. Our last day there included a woefully short trip to Arches National Park, which you can do as a self drive tour.
Basically you could have spent a couple of days just touring there, where some of the rock formations take you breath away.
We stayed at the Moab Valley Inn at the top end of Main Street which had a pool and was pretty convenient for restaurants and shops. In fact directly opposite was a micro brewery/restaurant which was excellent and called the Moab Brewery.
Next leg was a drive south and east into Colorado State and the Mesa Verde National Park.
Once again we stayed inside the park, but this time there's no other feasible option as the park boundary is miles from anywhere. Nevertheless the hotel was good.
Mesa Verde is basically a series of homes built into the cliff face centuries ago by a tribe that stayed there for around 500 years and inexplicably left. What's left are the cave dwellings which are well worth seeing.
You get to them on a series of ladders and tunnels - this is the place where the visitor centre has a mock up of the tunnels to check that visitors can fit through them!
On then to Monument Valley. You'll feel serious deja vu here because you've seen these places in so many films over the years!
On the way there it's worth going to Four Corner Point, although it's just a photo opportunity. It the point at which four states meet, so you can have a limb in Utah, Colorado, New Mexico and Arizona.
We stayed in Goulding's Trading Post just outside the park, and that in itself was great because that's where John Wayne stayed when he was filming. There's a small cinema there that runs old westerns and a museum that tells the story of the founder of the hotel long ago which is really interesting.
As for Monument Valley itself, wow! We did the self drive tour in our 4X4. It was a little hairy in parts but I think you could just about do it in a saloon car with a little care.
All that said, it's maybe not worth staying too long here. You can see the valley in a day, and although it's worth seeing there's not much else here... on to Lake Powell!
We got lucky with the hotel here as we stayed in the Lake Powell Resort right on the lakeside. From the hotel you can also get on a boat trip along the lake - which is actually a man-made reservoir - to Rainbow Bridge.
Rainbow Bridge is a sacred site to the Navajo People. When the reservoir was created in the 1960s, the water level meant you could sail under the natural bridge, which was a great insult to the Navajo people, so when the Navajo Nation was created their first command was to reduce the level of the lake.
Now there's a two mile hike from where the boat trip ends to see the Rainbow Bridge, and it's well worth doing. It's a naturally formed rock arch which is huge.
Another highlight from Lake Powell was a guided tour of one of many 'slot canyons' in the area, but by far the best is Antelope Canyon. You'll have to book this yourself when you're there, but we went with a Navajo company that provided a short bus ride to the canyon, and an old Navajo (called Leonard) who was fantastic.
A good tip is to stick close to the guides - they know where the best photos are to be taken and the one we had was a skilled photographer because he took most of our shots!
I've included a couple, together with a shots of us with Leonard - I hope they give you a taste of this beautiful site. Basically slot canyons are formed when certain types of rock are washed away by rain, leaving the harder rock to form a slot in the ground.
We aren't inderground in these, but you drive down a steep hill to the canyon entrance and walk through it. The US equivalent of the National Trust use shots of Antelope Canyon for their publicity shots.
From here on it's up to you. We went on to the Grand Canyon, but you've been there before. If you do go there, don't stay inside Grand Canyon National Park. Our lodge there was awful and just outside the perimeter were a line of top hotels literally half a mile down the road.
Inside the park regulations stat that they can't have air-con, wifi, pools or anything. Presumably regulations DO allow good eating place but we didn't find one!
We did the cycle trail along the south rim of the canyon with bikes hired from the visitor centre. You can pick up the bike at the top of the trail and they meet you at the end and brng you and the bike back. It's great as cycling in July is hard work and it saved us cycling back!
The canyon, of course, is one of the world's great sites, but there we stayed on the south rim it's difficult if not impossible to get to the famous glass bridge viewing platform - but you could do that on a day trip from Vegas if you really want to.
That's pretty much it. We decided to go further south and stayed in Lake Havasu City then on to Palm Springs and San Diego, and flew home from there.
If you want real luxury, then Palm Springs was wonderful. Trailfinders got us a deal at the Renaissance Marriott which was a great way to unwind at the end of the trip.
Alternatively it's a relatively short drive from Grand Canyon to Vegas, and not much longer from Lake Powell if you want to just do The Grand Circle.
I think if we were to do the trip again, we'd leave out Havasu City, Palm Springs and San Diego and spend mor nights in Zion, Moab (especially) and Lake Powell.
Either way, we couldn't recommend the whole experience enough. Let us know how you get on!