Recipes That Made Me: Kashmir
Series 1, Episode 3
22 August 2018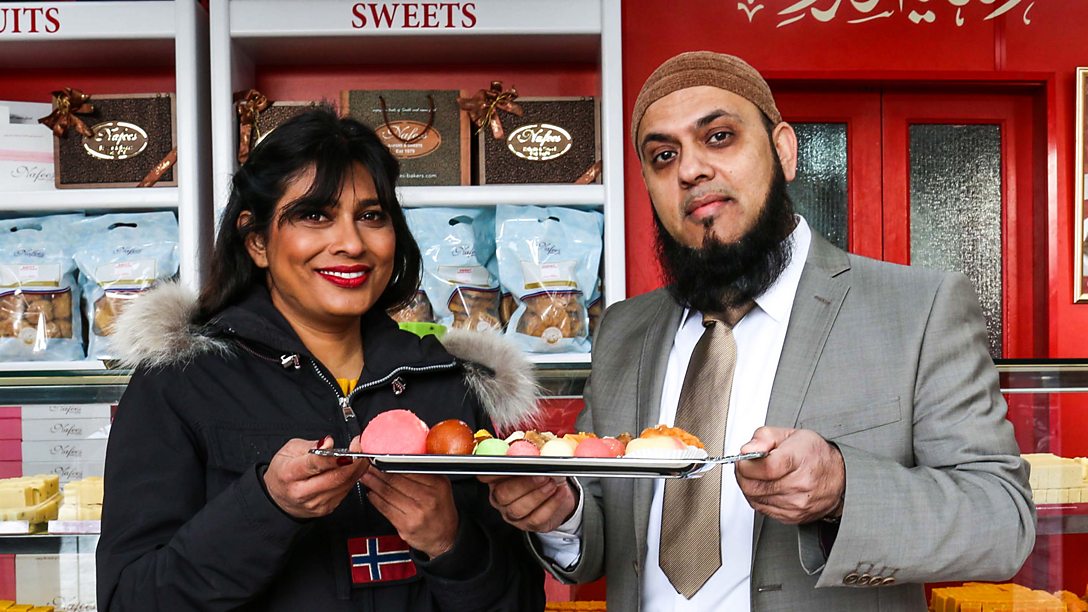 Recipes That Made Me
Series 1: 3. Kashmir
In this series, restaurateur Nisha Katona travels around the UK meeting passionate home cooks to discover family recipes passed down through generations from across the Indian subcontinent.
In this episode, Nisha travels to Yorkshire to meet families with connections to the Himalayan region of Kashmir. Kashmiri food has little exposure in this country and Nisha wants to discover all she can about it. She starts her exploration at the Cafe Regal where Pakistani families head for hearty Kashmiri breakfasts at the weekends. She loads up her plate with spiced omelette, chickpeas, curries and breads, but the most surprising dishes on the buffet bar are lambs livers and trotters. She meets Yazi here, an expert in Kashmiri food. She learns that lamb is a central part of Kashmir's cuisine - the mountainous landscape makes it the perfect environment for rearing lamb and Kashmiris use it in a variety of delicious fragrant dishes.
One of Kashmir's most famous lamb specialities is lamb masala, similar to rogan josh. It is a hearty rich curry flavoured with the aromatic spices the region is renowned for. Shazia, a second generation British Kashmiri, has agreed to share her family recipe with Nisha, but the family spice mix is a well-guarded secret passed down through generations - Shazia's own mother won't even disclose the full list of ingredients to her! Nisha wants to understand how traditional food played a role in settling into this country for the first wave of immigrants from Kashmir. Many of these were men who arrived in the 1950s and 60s to work in the area's textile mills. Eventually these men moved into other industries and set up their own businesses. One of these was Nafees Bakers and Sweets - a shop selling traditional Asian sweets set up by a Kashmiri mill worker. At one of their shops, Nisha meets Asif, the original owner's son who takes her behind the scenes at the sweet factory to see how these sweet delicacies are made.
Back in Kashmir, they grow a wide range of produce and use a lot of fruit and veg in their cooking. To learn more about this side of Kashmiri cuisine, Nisha meets Mr Aslam who runs a chain of restaurants serving Kashmiri dishes. The inspiration for the restaurant's menu comes from his sister-in-law Mrs Sabir, who taught Mr Aslam how to cook. Nisha becomes her new student and learns how to turn okra, an underrated vegetable in this country, into a sensational okra curry. For her final day in Yorkshire, Nisha meets up with Yazi again who is introducing the next generation of Yorkshire children to the flavours of Kashmir. Yazi runs workshops on Kashmiri food in primary schools and Nisha attends one of these at a school on the edge of the Yorkshire Dales. Today, Yazi is teaching the kids how to make a really easy recipe - lamb seekh kebabs. Nisha helps Yazi make these traditional kebabs with the kids. It's a great way to introduce them to the wonderful flavours of Kashmir and also to teach them about the culture of their Kashmiri neighbours. From not knowing that much about Kashmiri food, Nisha has found a real enthusiasm for the rich, hearty, fragrant flavours that come from this remote corner of the Indian subcontinent.
Recipes from this episode