General Tso's chicken with garlic chive and mushroom noodles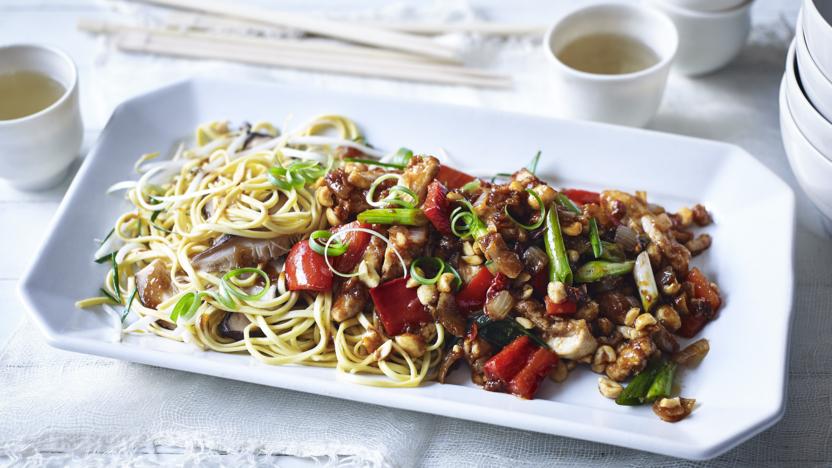 Preparation time
less than 30 mins
Cooking time
10 to 30 mins
Serves
Serves 2 or 4 sharing
How hot do you like it? This version of the take-out classic is fiery but utterly delicious.

Preparation time
less than 30 mins
Cooking time
10 to 30 mins
Serves
Serves 2 or 4 sharing
Ingredients
For the sauce
For the chicken
1 tbsp potato flour or cornflour
350g/12oz (4 small) chicken thighs, deboned, skinned and cut into 1x2.5cm/½x1in strips
1 tbsp rapeseed oil
2 garlic cloves, smashed
5 dried Sichuan chillies
1 onion, cut into 2cm/¾in cubes
1 large red pepper, seeds removed, cut into 2cm/¾in cubes
1 tbsp Shaoxing rice wine or dry sherry
4 spring onions, cut into 2cm/¾in pieces
75g/2½oz peanuts, toasted and chopped
sea salt and ground white pepper
toasted sesame seeds, to garnish
For the noodles
300g/10½oz thin egg noodles
2 tsp toasted sesame oil
1 tbsp rapeseed oil
100g/3½oz Chinese garlic chives, cut on an angle to 5mm/¼in pieces
100g/3½oz dried Chinese mushrooms, soaked in hot water for 20 minutes, stem discarded, cut into 5mm/¼in strips
1 tbsp Shaoxing rice wine
1 tbsp mushroom sauce or oyster sauce
pinch caster sugar
2 tbsp low-sodium light soy sauce
handful of beansprouts
1 spring onion, thinly sliced, to garnish (optional)
Method
For the chicken, mix all the sauce ingredients in a bowl and set aside.

Mix the potato flour with a pinch of sea salt and white pepper in a bowl. Add the chicken and toss to coat well.

Heat a wok over a high heat until it starts to smoke, then add the rapeseed oil. Add the garlic and dried chillies and stir-fry for a few seconds. Add the onion and red pepper and stir-fry for 15 seconds, or until crisp on the edges.

Push the ingredients to one side of the wok. Add the chicken and let it brown for 10 seconds, then cook, tossing, for 30 seconds. Before it has turned completely opaque, season with rice wine. Continue to cook for 1 minute, or until cooked through.

Pour in the sauce and cook for 1 minute, or until it has reduced by half and is slightly sticky. Toss in the spring onions and peanuts, then transfer to a serving plate while you cook the noodles.

For the noodles, cook the noodles according to the packet instructions, then drain and dress in 1 teaspoon sesame oil (you can do this in advance to save time). Next heat a wok over a high heat and add the rapeseed oil. Add the garlic chives and cook for 30 seconds, then add the Chinese mushrooms and cook for 10 seconds.

Add the rice wine and cook until evaporated. Add the prepared noodles and toss well for 30 seconds. Season with the mushroom sauce, sugar and light soy sauce. Gently toss and fold in the beansprouts. Season with the remaining teaspoon of sesame oil, garnish with the spring onion and serve immediately alongside the chicken.
Related Recipes
See more Kings of New York recipes (12)
See more stir-fries recipes (103)
This recipe is from...
Recipes from this episode