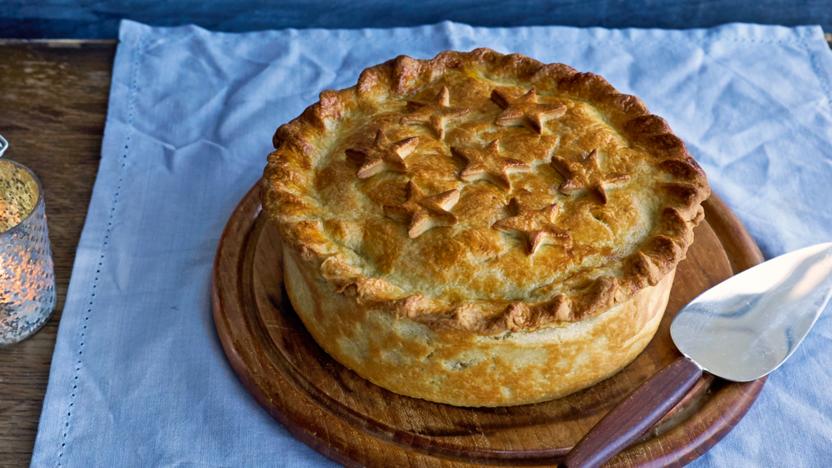 A brilliant addition to a buffet this veggie pie with a robust hot water crust pastry is full of southern Indian flavour and warming spice.

Equipment and preparation: for this recipe you will need a 20cm/8in springform cake tin.
Ingredients
For the filling
For the hot water crust pastry
Method
Grease a 20cm/8in springform cake tins with vegetable fat.

For the filling, boil the potatoes for 15 minutes, or until tender. Drain then chop into bite-size pieces.

Soak the lentils in a cup of boiling water for five minutes, then drain them.

Heat the oil in a frying pan. Add the cumin seeds and mustard seeds. When they splutter add the curry leaves, lentils, red chillies, turmeric and onion and mix well. Fry for five minutes then add the salt, ginger, potatoes, tomatoes and coriander leaves and mix well. Transfer to the fridge to cool.

Preheat the oven to 200C/400F/Gas 6.

To make the pastry, combine the flours in a large bowl. Add the butter and, using your fingertips, rub it into the flour until it resembles breadcrumbs. In a pan, heat 200ml/7fl oz water, the salt and fat until just boiling. Pour the liquid onto the flour mixture and mix using a wooden spoon.

Tip the dough out onto a lightly floured work surface and knead to a smooth dough.

Working as quickly as possible, take two thirds of the pastry and divide it in two. Roll out two large circles of dough and, using the rolling pin to help you, line the prepared tins.

Spoon the fillings into the pastry lined tins. Press it down and level the surface.

Using the remaining pastry, roll out the pie lids on a lightly floured work surface.

Brush the top edges of the pastry in the tin with beaten egg yolk and place the pastry lids on top. Crimp the edges to seal and trim off any excess pastry. Make a couple of slits in the top of the pie to allow the steam to escape and brush the pastry lid with egg yolk. Use any leftover pastry to make decorations for the top of the pie.

Bake for 1 hour, or until the tops are golden-brown. Leave to cool in the tins for 10 minutes then remove from the tins and leave to cool completely on a wire rack before serving.