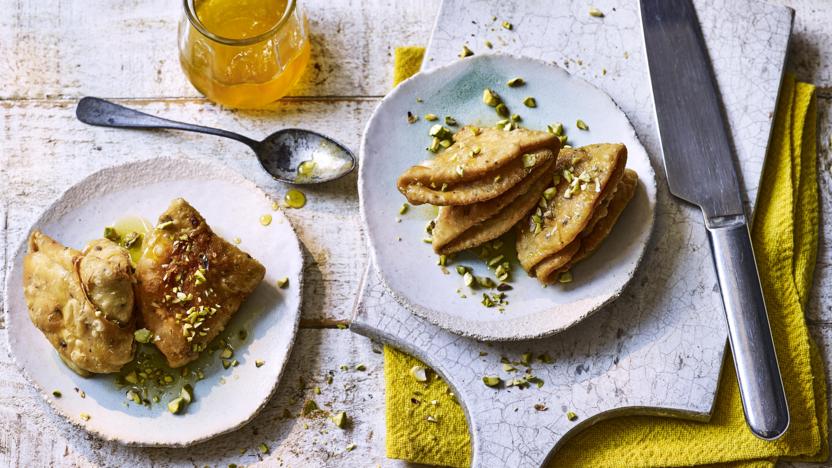 These spicy pastry snacks are rolled and folded with ghee and taste wonderful with a cup of chai masala.
Ingredients
For the nimki
For the syrup
Method
For the nimki, sift 250g/9oz of the flour into a bowl. Add the salt, peppercorns and 100g/3½oz of the butter (or ghee) to the dry ingredients. Rub the ingredients together until you reach a breadcrumb-like texture.

Gradually add 100ml/3½fl oz cold water, continuing to mix with your hands until the dough comes together. Leave the dough to rest for 5 minutes. Beat together the remaining 25g/1oz butter and flour until it becomes a smooth, spreadable consistency.

For the syrup, pour the juice of the oranges and the sugar into a small saucepan and bring to the boil. Simmer gently for about 15 minutes, or until the liquid has thickened to a syrup. Take off the heat and leave to cool.

Dust a clean surface with a little flour and roll the rested dough into a rectangle (about 30x15cm/12x5in). Spread the butter and flour mixture over the surface of the dough and then roll up the dough to form a long cylinder.

Cut the roll into 10 equal pieces and place them cut-side down on a lightly floured surface. Take each one in turn and press with your palm to make a small circle. Fold the circle in half and then in half again to make a triangular shape. Squeeze the edges together. Repeat the process with the remaining pieces of dough.

Heat a large, deep saucepan two-thirds filled with vegetable oil to 180C. (CAUTION: hot oil can be dangerous. Do not leave unattended.) Gently lower a few nimki into the hot oil and fry for about 7 minutes, or until golden brown and puffed up. Using a slotted spoon, carefully transfer to a plate lined with kitchen paper to soak up any excess oil. Repeat with the remaining nimki.

When the nimki are cool, dip them in the orange syrup, sprinkle with pistachios and serve.