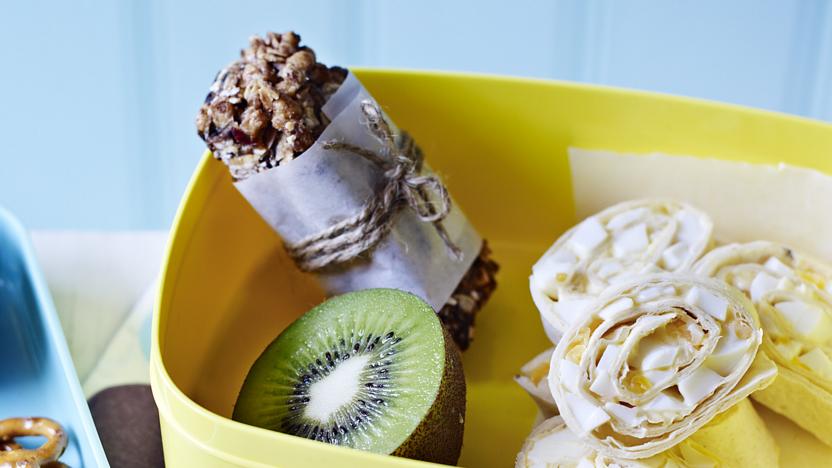 These take no time at all to make and contain none of the mysterious gloops of commercial cereal bars.
Method
Line a 20cm/8in or 23cm/9in square tin with baking paper.

Preheat the oven to 180C/160C Fan/Gas 4.

Spread the oats out onto a baking tray and bake them for about 10 minutes until they smell nice and toasty. Set aside to cool. (You can skip this step, but it makes the bars crispier.)

Mix together the toasted oats, puffed rice, almonds, seeds, chopped dates, chocolate chips, and raisins in a large bowl.

Melt the peanut butter and honey together in a small saucepan over a gentle heat. Stir until the mixture is smooth and thoroughly combined. While still warm, stir the peanut butter and honey into the oat mixture (you may need to get your hands in there) to completely coat all the oats, nuts and fruit.

Tip the mixture into the lined tin and press firmly to make an even layer. Damp hands make this less sticky work. Place the tin into the freezer for 20 minutes to firm up before cutting into 15 bars. Wrap each bar in cling film to keep them fresh, and they're ready to pop into a packed lunch.
Recipe Tips
You can customise these with your own blend of nut butters, dried fruits or seeds. Toasting the seeds, nuts and oats will add a stronger nuttier flavour.
If you need these to be gluten-free, make sure to use gluten-free oats.
Related Recipes
See more Baking with children recipes (35)
See more flapjacks recipes (16)
See more oats recipes (119)