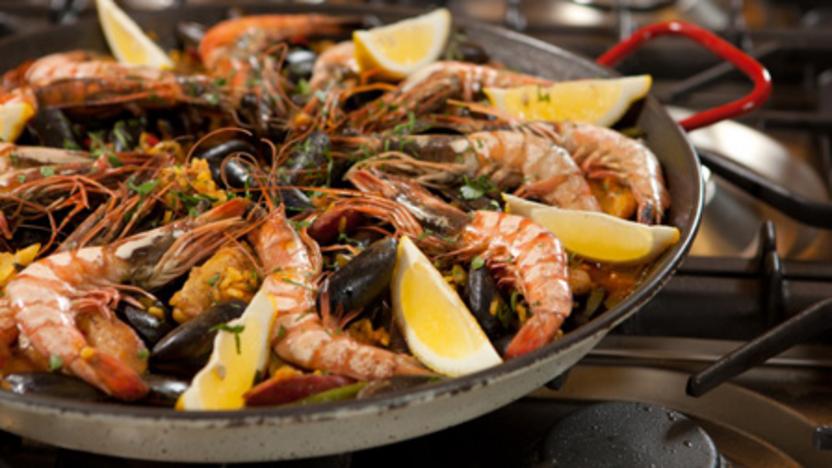 Preparation time
less than 30 mins
Cooking time
30 mins to 1 hour
Transport the flavours of the Mediterranean into your kitchen with our delicious paella recipe.

Preparation time
less than 30 mins
Cooking time
30 mins to 1 hour
Ingredients
1 tbsp olive oil
6 chicken thighs, boned, skinned, cut in half (about 600g/1lb 5oz)
150g/5oz cooking chorizo, skinned and cut into 5mm/¼in slices
4 garlic cloves, crushed
300g/10½oz fresh large tomatoes, halved, seeds removed, flesh grated (then skin discarded)
1 tsp sweet smoked paprika
1 lemon, zest only
1.5 litres/2½ pints hot chicken stock
2 sprigs thyme
200g/7oz green beans, cut into short lengths
500g/1lb 2oz Calasparra rice
1 tsp saffron threads, soaked in a little warm water
couple handfuls live mussels, cleaned, de-bearded and rinsed (discard any mussels that do not snap shut when tapped)
12 raw king prawns
lemon wedges, to serve
salt and freshly ground black pepper
Method
Heat the oil in a 36cm/14in paella pan or a very large frying pan set over a medium heat. Season the chicken thighs with salt and freshly ground black pepper and fry for five minutes, turning regularly until lightly coloured. Add the chorizo and cook for a further minute.

Add the garlic and cook for a further couple of minutes, then push everything to one side. Add the tomatoes and fry for a few minutes, then mix everything together and sprinkle in the paprika and lemon zest. Pour in all but a large ladleful of the chicken stock and return to the boil. Add the bay leaves, thyme and green beans and season with a little salt.

When the chicken stock has returned to the boil, turn down to a simmer and sprinkle in the rice, trying to get it into as even a layer as possible. Pour in the saffron and stir – this is the only time you should stir your paella once the rice has been added! Bring to the boil again, then simmer for 5 minutes.

Turn the heat down and leave the rice to simmer slowly – this should take between 12–15 minutes. If it is getting dry, taste – if still a little too firm (crunchy), add a little more stock. When you are satisfied the rice is al dente, arrange the mussels and prawns over the paella. Cover with a damp teacloth or a lid if you have one and wait for the mussels to steam open and the prawns to turn pink. Serve with lemon wedges.
Related Recipes
Paella
By Antony Worrall Thompson
See more Perfect paella recipes (5)
See more paella recipes (14)
See more chicken thigh recipes (144)
This recipe is from...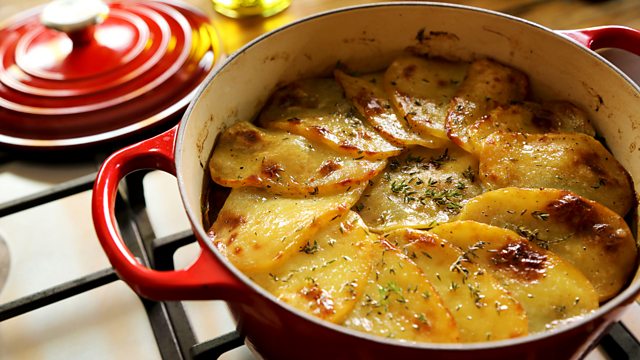 Series 1
8. Nostalgia
Recipes from this episode