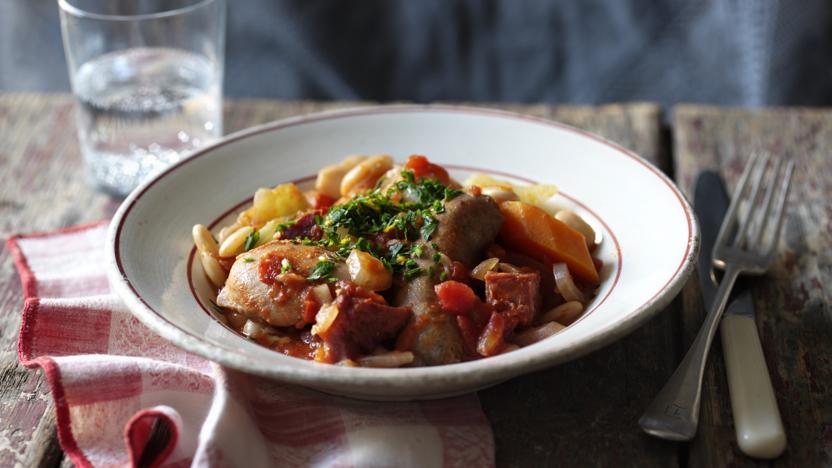 Preparation time
less than 30 mins
Cassoulet is a hearty dish but with a few little tweaks we've reduced the calorie count while keeping the big flavours. Choose really meaty sausages and gammon, take the skin off the chicken and use a very small amount of oil – it all helps.

464 calories per portion.
Preparation time
less than 30 mins
Ingredients
½ tsp sunflower oil
6 sausages, at least 85% meat
4 celery sticks
3 carrots
2 onions, halved and sliced
6 boneless, skinless chicken thighs (about 450g/1lb)
2 garlic cloves, crushed
200g/7oz piece smoked lean gammon, trimmed and cut into 2cm/1in cubes
2 x 400g/14oz cans chopped tomatoes
150ml/5fl oz red wine (or water)
1 tsp caster sugar
1 tsp dried chilli flakes
1 bay leaf
4-5 bushy sprigs fresh thyme
400g/14oz can cannellini beans in water, drained and rinsed
400g/14oz can butter beans in water, drained and rinsed
freshly ground black pepper
For the garnish
Method
Brush a large non-stick frying pan with the sunflower oil, using the tip of a pastry brush. Add the sausages to the pan and cook over a medium heat for 10 minutes, turning every now and then until nicely browned on all sides.

Meanwhile, trim the celery and peel the carrots and cut them into diagonal slices about 1.5cm/½in thick.

Preheat the oven to 180C/350F/Gas 4.

Add the onions to the frying pan and cook with the sausages for 6-8 minutes, stirring regularly until softened and lightly browned.

Trim the chicken thighs of any visible fat - we find a good pair of kitchen scissors does the job well - then cut the thighs in half.

Add the garlic and chicken pieces to the pan with the sausages and onions and cook for 3-4 minutes, turning the chicken twice until coloured all over.

Transfer everything to a large flameproof casserole dish.

Stir in the gammon, celery, carrots, tomatoes, red wine and 300ml/½ pint cold water, then sprinkle over the caster sugar and chilli flakes. Stir in the bay leaf and thyme and season with lots of ground black pepper.

Bring the cassoulet to a simmer on the hob, then cover with a lid and transfer to the oven. Cook for 45 minutes.

Take the casserole out of the oven and stir in all the beans. Cover with the lid again and put the dish back in the oven for another 30 minutes.

Just before the cassoulet is ready, prepare the garnish. Chop the parsley roughly and toss with the orange zest in a small bowl.

Serve large portions of the cassoulet in deep plates or wide bowls with a good sprinkling of the zesty parsley garnish on each one.
Related Recipes
See more Easy sausage suppers recipes (24)