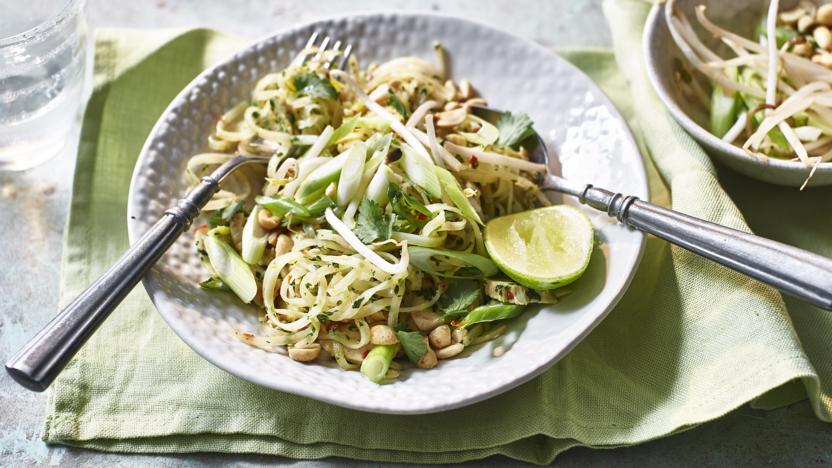 Preparation time
less than 30 mins
Cooking time
10 to 30 mins
This quick and simple pad Thai can be made in minutes. By using cooked chicken you can keep the cooking time short.

Preparation time
less than 30 mins
Cooking time
10 to 30 mins
Ingredients
250g/9oz flat rice noodles
3 garlic cloves, roughly chopped
1 handful fresh coriander, chopped, leaves and stalks seperated
1 red chilli, seeds removed, roughly chopped
2 limes, juice and zest
2 tbsp sunflower oil
1 cooked chicken breast, skin removed and thinly sliced
6 spring onions, thinly sliced
100g/3½oz bean sprouts
3 tbsp fish sauce
1 tbsp soft light brown sugar
2 large free-range eggs, beaten
1 handful salted peanuts, roughly chopped, to serve
Method
Cook the noodles according to the packet instructions, then drain and set aside.

In a pestle and mortar, grind the garlic, coriander stalks, chilli and lime zest to a paste.

Heat the oil in a wok or a large frying pan until just at smoking point. Add the paste and fry for 1 minute, or until aromatic. Add the chicken, half the spring onions and half the bean sprouts and cook for 2 minutes, stirring well to coat everything in the paste.

Add the drained noodles and mix well. Stir in the lime juice, fish sauce and sugar and cook for 2 minutes.

Pour in the egg and mix until just cooked. Serve the pad Thai with the coriander leaves, lime wedges, peanuts and remaining spring onions and bean sprouts.
Related Recipes
See more pad thai recipes (7)
See more chicken breast recipes (403)
This recipe is from...
Recipes from this episode