Pancakes with poached egg, ham and easy hollandaise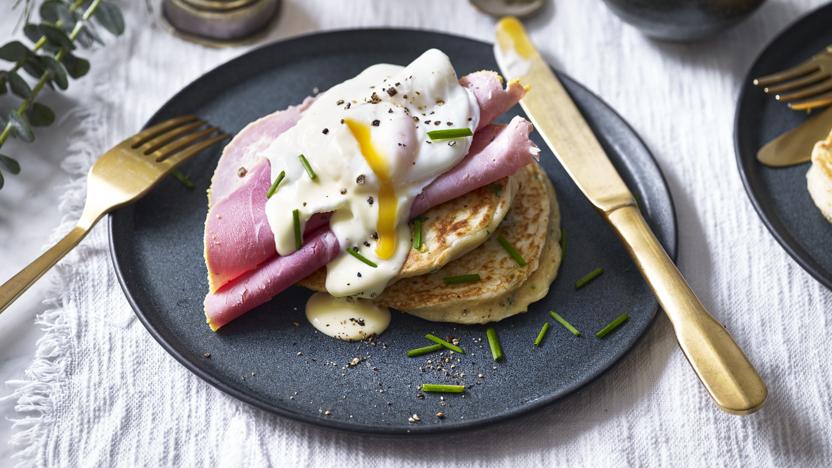 Treat someone (and yourself!) with this luxurious, yet easy breakfast. Look for the best quality ham – or you could use some shredded ham hock.


Ingredients
For the pancakes
For the hollandaise sauce
For the poached egg and ham
Method
Put the flour, baking powder, eggs, salt, the 225ml/8fl oz milk and the yoghurt in a large bowl and whisk together with an electric whisk until smooth. Stir in the parsley and lots of black pepper.

Pour a little of the oil into a large frying pan set over a medium-high heat. Wipe around the base of the pan with kitchen paper to lightly grease. Take care as it will be extremely hot.

Drop four ladlesful of the pancake mixture into the frying pan, spacing well apart. Each one should spread slowly to be around 9cm/3½in in diameter. Cook for 2 minutes, or until the pancakes rise, bubbles appear and their surface appears dry at the edges. Flip over with a palette knife and cook on the other side for a further 1½–2 minutes until pale golden-brown.

Transfer the cooked pancakes to a warmed plate, cover with foil and a dry tea towel to help retain the heat. Cook the remaining four pancakes in exactly the same way, greasing the pan with a little oil between each batch. If the pancake mixture begins to get too thick to pour, simply whisk in a little extra milk.

For the hollandaise sauce, while the pancakes are cooking, fill a large saucepan with water and bring to a very gentle simmer. Put the vinegar, mustard and egg yolks in a medium bowl and whisk with an electric whisk until very pale and creamy.

Melt the butter in a small pan over a low heat until frothy. Gradually add the hot butter to the egg yolk mixture, whisking constantly until the sauce is thick and glossy. Season with salt and pepper.

For the poached egg and ham, break the whole eggs into the pan of simmering water, one at a time. Cook for 2½–3 minutes, or until the whites are set and the yolks remain runny.

Divide the pancakes between four warmed plates. Top with folded slices of ham. Lift the eggs out of the water with a slotted spoon and place on top of the ham. Pour over the hollandaise sauce, season with black pepper, garnish with snipped chives if you like, and serve.
Related Recipes
See more Christmas breakfasts recipes (29)
See more pancake recipes (54)
See more egg recipes (2839)