Pancetta-baked eggs with a minted pea and feta salad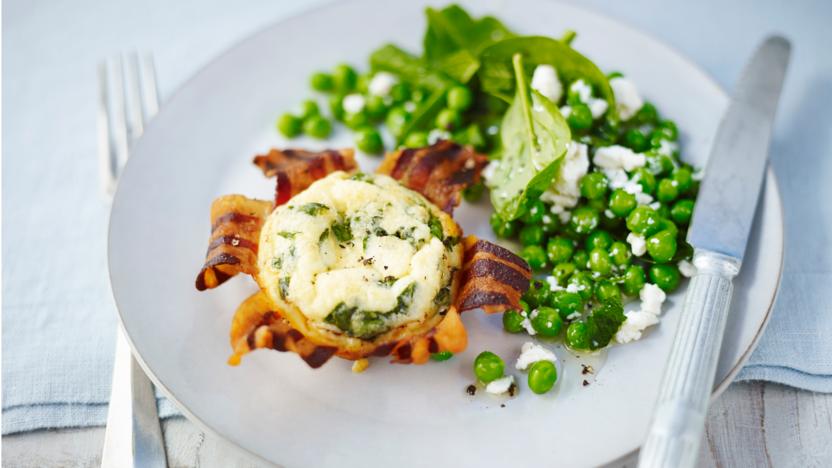 Preparation time
less than 30 mins
Cooking time
10 to 30 mins
This is an easy and stylish way to do bacon and eggs. Turn it into proper brunch with a fresh pea and feta salad.
Preparation time
less than 30 mins
Cooking time
10 to 30 mins
Ingredients
For the baked pancetta eggs
For the pea and mint salad
240g/8½oz frozen peas
3 tbsp chopped fresh mint
1 lemon, juice only
2 tbsp olive oil
50g/1¾oz baby spinach leaves
100g/3½oz feta, crumbled
lavosh bread (flatbreads), to serve
Method
For the baked pancetta eggs, preheat the oven to 180C/350F/Gas mark 4 and grease 4 holes of a12-hole muffin tray.

Line each muffin hole with 3 slices of pancetta.

Whisk the eggs, cream, parmesan and basil leaves together in a bowl until well combined. Season, to taste, with salt and freshly ground black pepper.

Divide the mixture among the muffin holes and bake in the oven for 10-12 minutes, or until the eggs are just set.

Meanwhile, for the pea and mint salad, pour boiling water over the frozen peas and set aside to stand for 2 minutes. Drain, then refresh in cold water.

Mix the peas, mint, lemon juice and olive oil in a bowl until well combined.

To serve, divide the spinach among each of 4 serving plates and spoon some pea and mint salad on top. Sprinkle over the crumbled feta. Serve the baked eggs alongside with the lavosh bread.