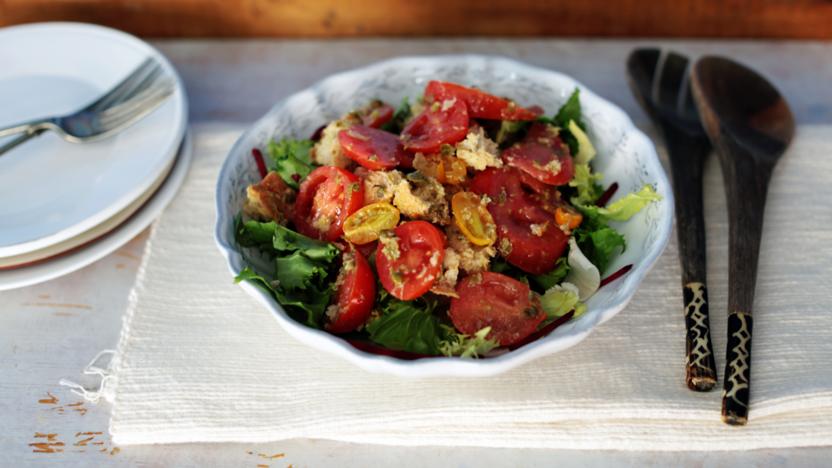 Preparation time
less than 30 mins
Cooking time
10 to 30 mins
The star of this panzanella is the tomatoes. So try to find a good, ripe selection of as many shapes, sizes and colours as you can.
Preparation time
less than 30 mins
Cooking time
10 to 30 mins
Method
Preheat the oven to 110C/225F/Gas ¼ or its lowest setting.

Rip the bread into bite-sized pieces, place on a baking tray and bake for about 20 minutes. Make sure it doesn't burn - what you're looking for is bread that comes out feeling a little stale.

Meanwhile, put the anchovies, two tablespoons of the capers, the oil and vinegar in a pestle and mortar and smash it into a dressing.

Grab yourself a big mixing bowl and put in the tomatoes and bread and pour on the dressing, then get stuck in with your hands. Give it all a gentle squeeze to make sure the spongy bread soaks up all the juices.

Finally tip your salad leaves onto a serving plate and drop the contents of the bowl over the top, finishing off with the remaining capers and some salt and pepper.
Related Recipes
See more Lisa Faulkner favourites recipes (5)