Pepper, tomato and basil pasta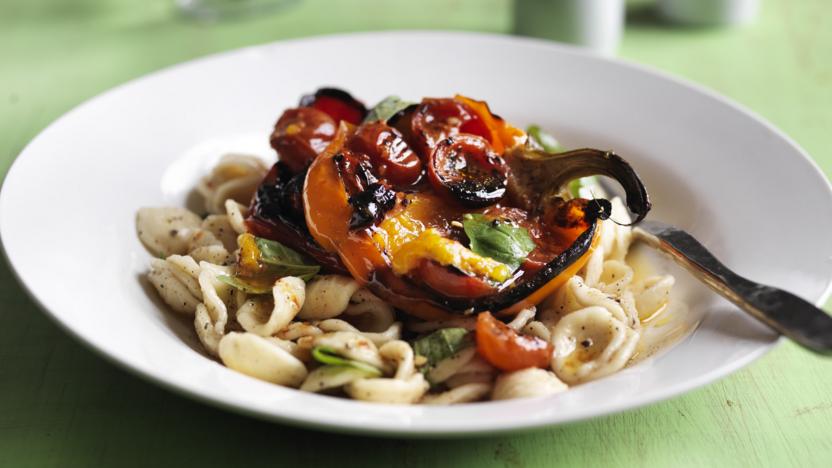 A gorgeous supper dish inspired by flavours from the Mediterranean - roasted peppers, tomatoes and a simple basil sauce. Serve with your favourite pasta.
Method
Pre-heat the oven to 180C/350F/Gas 4.

Halve the peppers lengthways, trim out the seeds and membrane. Lay them in a fairly large roasting tin facing upwards. Halve the cherry tomatoes and place them inside the peppers. Finely slice the garlic and tuck them in with the tomatoes. Drizzle the peppers with olive oil, season, to taste, with salt and freshly pepper. Bake in the oven while you get on with the basil oil.

Set aside a few sprigs of basil and blend the rest in a food processor with 3 tablespoons of olive oil and a little salt until you have a bright green basil oil.

When 30 minutes or so have passed and the peppers and tomatoes are beginning to soften, pour over the basil dressing. Return to the oven for a further 20 minutes or until the vegetables are slightly charred around the edges. Lift the peppers and tomatoes out of the tray with a slotted spoon and set aside.

Cook the pasta in boiling salted water according to the packet instructions. Drain.

Tip the cooked, drained pasta into the roasting tin, and stir well to scrape up any caramelised peppers stuck to the pan.

Serve the pasta in bowls, tearing in the remaining basil. Spoon the roasted peppers and tomatoes on top.
Related Recipes
See more Cheap vegan dinners recipes (21)
See more pepper recipes (990)