Chicken, bacon, mozzarella and guacamole sandwich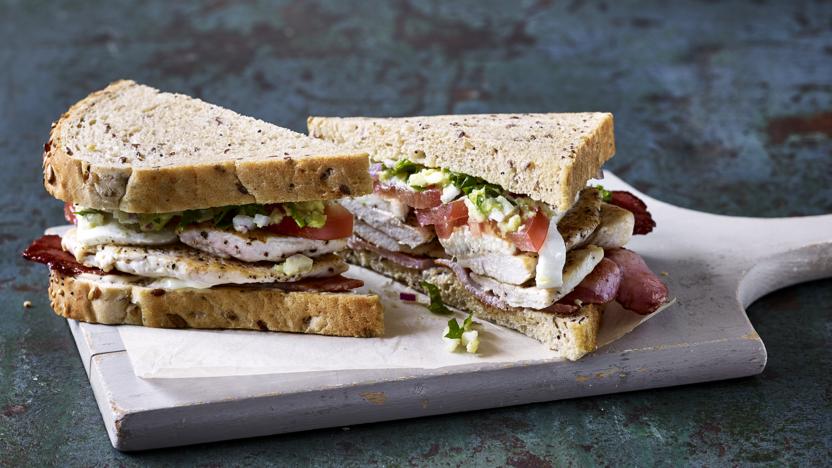 Preparation time
less than 30 mins
Cooking time
10 to 30 mins
Take these loaded sandwiches to work, school or on a picnic for a tasty and filing lunch.
Preparation time
less than 30 mins
Cooking time
10 to 30 mins
Method
Flatten the mini breast fillets with a meat mallet or rolling pin, until ½cm thick. Sprinkle over the crushed peppercorns. Heat a frying pan until hot, then add the oil and the chicken. Fry for 2-3 minutes on each side, until tender golden and completely cooked through.

Heat a second frying pan until hot, then add the bacon and fry until golden.

Meanwhile, place the avocado into a bowl and mash with a fork. Add the red onion, lemon, chilli, cumin and coriander, season with salt and freshly ground black pepper and mix well.

To assemble the sandwiches, spread the mayonnaise onto two slices of the bread. Top with the bacon, then the chicken, then the mozzarella slices. Spread the guacamole onto two more slices of the bread. Top each sandwich with lots of tomato and close with the slice of guacamole-covered bread.
Recipe Tips
Swap the sliced tomato with beetroot if you like.
Related Recipes
See more sandwich recipes (44)
See more chicken breast recipes (391)