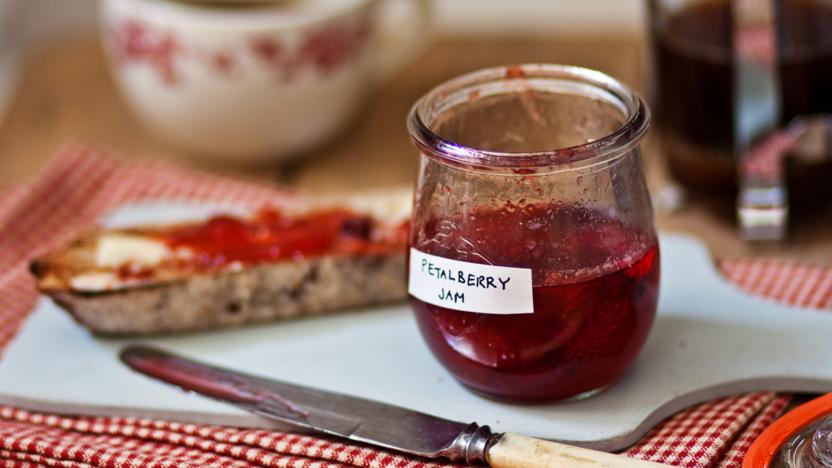 Preparation time
less than 30 mins
Cooking time
30 mins to 1 hour
Serves
Makes 2 x 250ml/9fl oz jars
Fresh rose petals and a dash of rosewater add a delicate flowery flavour to this strawberry jam. Make sure you buy organic roses.
Preparation time
less than 30 mins
Cooking time
30 mins to 1 hour
Serves
Makes 2 x 250ml/9fl oz jars
Method
Squish the strawberries in a large preserving pan and cook over a medium heat for about 20 minutes.

Add the sugar and lemon juice and keep the pan on a medium heat to dissolve the sugar. Do not boil until the sugar has dissolved.

Bring the mixture to a rolling boil (the mixture should be bubbling vigorously so that if it rises to the top of the pan it cannot be stirred down), stirring occasionally to avoid burning on the bottom of the pan. Cook for about 20 minutes.

Add the rose petals and rosewater and cook for a further two minutes.

Take off the heat, use a spoon to remove any scum that rises to the top, and add a knob of butter if liked. Stir gently to remove bubbles. Allow the mixture to stand for a couple of minutes and then pour into sterilised jars.
Recipe Tips
Store this jam in the fridge and eat within a week.
This recipe is from...
Recipes from this episode