Popcorn espresso macchiato balls
Preparation time
less than 30 mins
Cooking time
10 to 30 mins
Serves
Makes 18 popcorn balls
Stonkingly moreish, these popcorn balls are squidged together with marshmallow and blessed with a liberal sprinkling of crunchy, ground espresso coffee.
Preparation time
less than 30 mins
Cooking time
10 to 30 mins
Serves
Makes 18 popcorn balls
Method
Heat the oil gently in a heavy-based pan and add the popcorn. Cover with a lid and allow to cook on a low heat. After about five minutes you'll hear the corn start to pop. Once the corn has finished popping take it off the heat.

While the popcorn is cooking, heat the marshmallows in a pan with the butter to melt the two together, stirring occasionally. Turn off the heat when melted.

Once the popcorn has finished popping, pour the marshmallow mixture into the popcorn pan and add the grated white chocolate. Sprinkle over the ground coffee and stir everything together. Set aside for about five minutes until it's cool enough to handle.

Take a large tablespoon of the mixture. Butter your hands, then roll and squeeze the popcorn into a round ball (you can wear gloves for this if you don't want to get messy). Set aside on a baking sheet to cool completely.
Recipe Tips
These are best eaten on the day of making.
Related Recipes
See more Recipes using coffee recipes (17)
See more confectionery recipes (22)
See more popcorn recipes (8)
This recipe is from...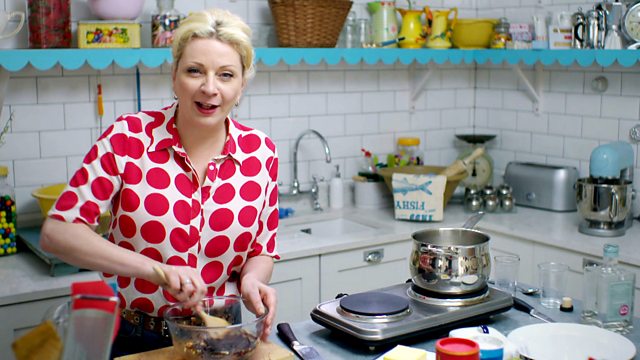 Sweets Made Simple
Episode 1
Recipes from this episode