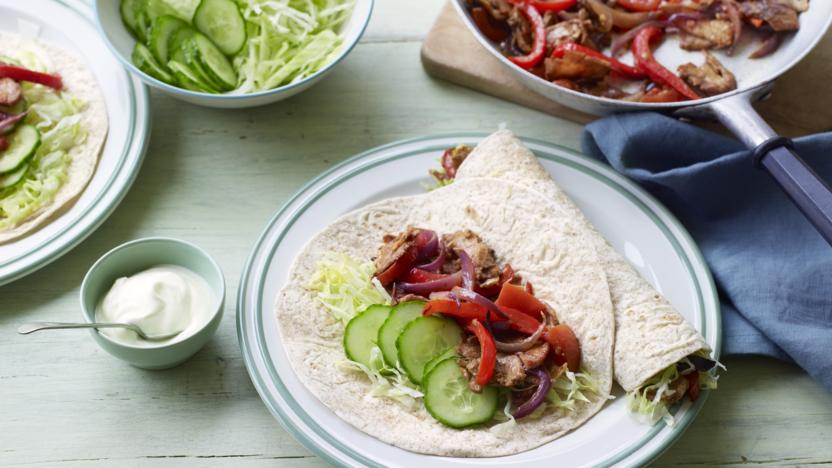 Preparation time
less than 30 mins
Cooking time
less than 10 mins
Fry up some cooked pork with peppers and spices to fill a tasty wrap, with salad and sour cream. A fun meal for four that makes leftovers go further.
Preparation time
less than 30 mins
Cooking time
less than 10 mins
Method
Heat a large frying pan until medium hot, add the oil, red onion and pepper and stir well. Fry for 2–3 minutes, until just softened.

Turn up the heat and add the garlic, cooked pork, cumin, coriander and chilli powder, stirring well. Fry over a high heat until the pork is crisp around the edges and the vegetables are just tender. Add the tomatoes and cook for another couple of minutes, until they have just broken down. Season well with salt and pepper.

Heat the wraps according to packet instructions, then divide between the serving plates. Spoon the pork mixture into the centre of the wraps, then dollop a little sour cream along the top. Finish with a handful of lettuce and cucumber, then roll up and serve straightaway.
Recipe Tips
It's safe to reheat cooked meat, but make sure it gets really hot all the way through.
Related Recipes
See more Eat well for less recipes (24)
See more taco recipes (13)
This recipe is from...
Recipes from this episode