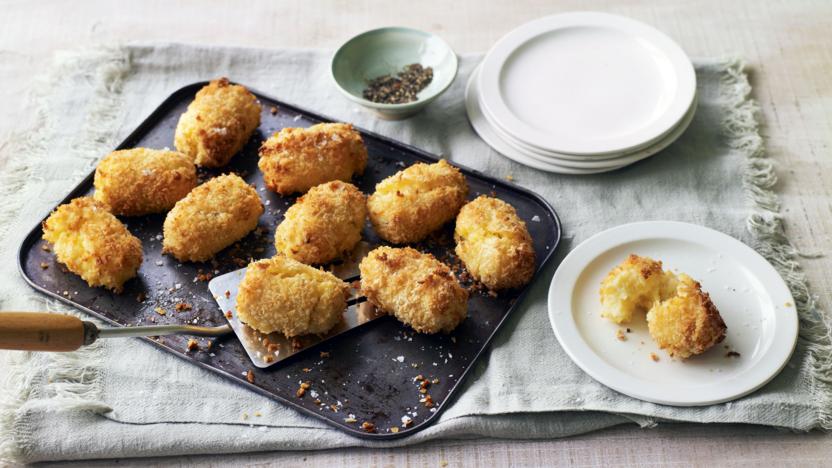 Preparation time
30 mins to 1 hour
Cooking time
30 mins to 1 hour
Serves
Makes 15 croquettes
This is a lovely side dish. Add a few dried herbs to the croquettes if you wish.
Preparation time
30 mins to 1 hour
Cooking time
30 mins to 1 hour
Serves
Makes 15 croquettes
Method
Simmer the potatoes in lightly salted water for 15 minutes, or until tender. Drain and mash thoroughly, preferably with a ricer. Beat in the butter and 2 egg yolks then finally the cheese and season to taste. Cover and leave until firm and cool enough to handle.

Shape the mixture into 14–16 croquettes, weighing around 50g/2oz each.

Put the flour, whole eggs and breadcrumbs into three separate shallow bowls and beat the eggs. Dip each croquette in the flour, pat off any excess, then coat in the egg before dipping in the breadcrumbs. Transfer to a baking tray, then leave to cool to room temperature.Preheat the oven to 200C/180 Fan/Gas 6.

Drizzle the croquettes with oil and bake for 20 minutes, or until golden-brown.
Recipe Tips
If you like, you can shallow fry the croquettes in a large frying pan, turning regularly until golden brown. Alternatively, you can heat oil to 180C in a large saucepan or deep fryer and fry for 3–4 minutes. Drain well on kitchen paper and serve piping hot.
Related Recipes
See more Best ever Boxing Day recipes (16)
See more potato recipes (561)