Quick orange and lemon chicken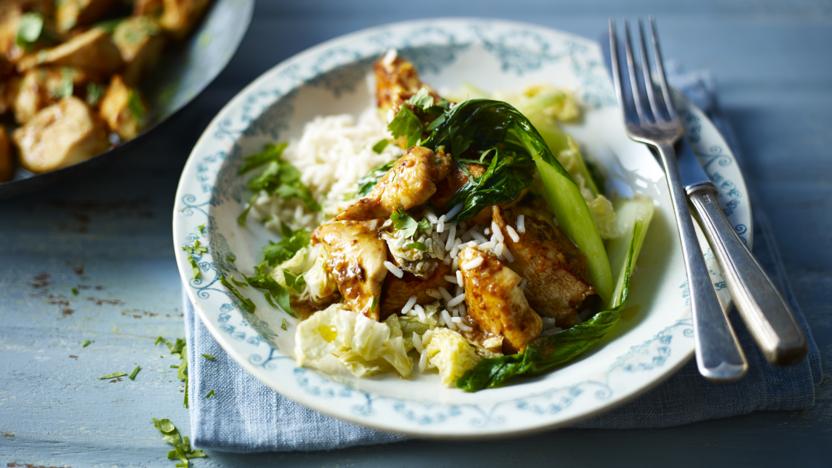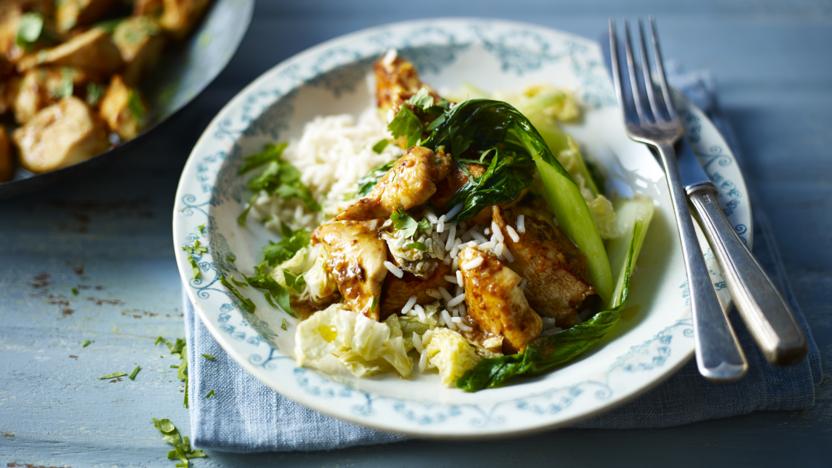 Preparation time
less than 30 mins
Cooking time
10 to 30 mins
Orange and lemon zest give a zingy flavour to this chicken stir fry, served with garlicky Chinese greens and rice.

Preparation time
less than 30 mins
Cooking time
10 to 30 mins
Ingredients
For the chicken
For the rice
For the greens
Method
Combine the cubed chicken with the soy sauce, rice wine (or dry sherry) and cornflour in a small bowl. Put the mixture in the fridge for about 15 minutes.

For the rice, put the rice into a heavy pan with 600ml/21 fl oz water. The general rule of thumb is that the water should come up above the level of the rice by about 2.5cm/1in, or the top part of the thumb!

Bring the water to the boil and cook until most of the surface liquid has evaporated - this should take about 15 minutes. The surface of the rice should have small indentations like a pitted crater.

At this point, cover the pan with a very tight-fitting lid, turn the heat as low as possible and let the rice cook undisturbed for 15 minutes. There is no need to 'fluff' the rice, let it rest for five minutes before serving it.

To finish the chicken, heat a wok until it is very hot and then add the oil. When the oil is very hot and slightly smoking, add the chicken to the wok, together with the salt, pepper and orange and lemon zest.

Stir-fry the mixture for four minutes, or until the chicken is cooked. Stir in the sesame oil and give the mixture two turns and cook for another three minutes. Finally add the coriander and continue to stir-fry for another minute. Turn onto a platter and serve at once.

For the greens, heat a wok or large frying-pan over high heat until it is hot. Add the oil, and, when it is very hot and slightly smoking, add the garlic and salt. Stir-fry the mixture for 15 seconds. Quickly add the Chinese greens. Stir-fry for 3-4 minutes, or until the greens have wilted, but are still slightly crisp.

Serve the chicken with the Chinese greens and rice.
Wines
Try a Sémillon wine, such as: Tim Adams, Sémillon; Vasse Felix, Sémillon; and McWilliams, Mount Pleasant Sémillon.
Related Recipes
See more Quick dinner recipes (22)
See more stir-fries recipes (104)
See more chicken breast recipes (390)
This recipe is from...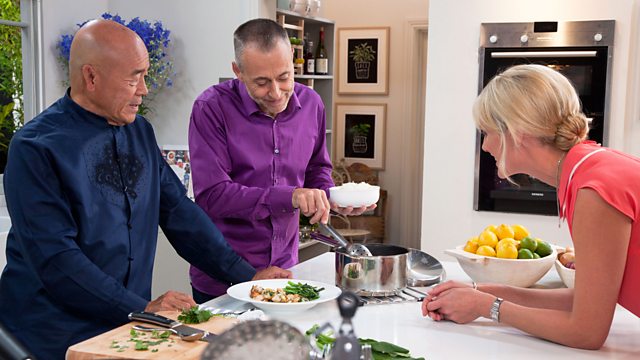 Food & Drink
7. Fast Food
Recipes from this episode