Quick-spiced chicken thighs with 'emergency biryani'
Preparation time
overnight
Cooking time
30 mins to 1 hour

Preparation time
overnight
Cooking time
30 mins to 1 hour
Ingredients
For the spiced chicken
For the 'emergency biryani'
Method
For the spiced chicken, in a large dish, mix together all of the spiced chicken ingredients, except the chicken thighs.

Add the chicken thighs and turn to coat them in the marinade, rubbing the marinade into the scored chicken skin using your hands.

Cover the dish and chill in the fridge until needed, or ideally overnight.

When the chicken has marinated, preheat the oven to 200C/400F/Gas 6.

Arrange the marinated chicken thighs on a baking tray, leaving a little space between each thigh. Spoon teaspoons of the remaining marinade over the chicken thighs.

Transfer the chicken thighs to the oven and cook for 12-15 minutes, or until crisp and beginning to blacken.

Reduce the oven temperature to 180C/350F/Gas 4 and continue to cook the chicken thighs for a further 15-20 minutes, or until the chicken is dark golden-brown and completely cooked through.

Meanwhile, for the 'emergency biryani', heat the oil in a large casserole that has a tight-fitting lid over a medium heat. Add the onion and garlic and fry for 3-4 minutes, or until softened and starting to colour.

Add the mushrooms and continue to fry for 2-3 minutes, or until softened.

Add the chilli flakes and ground turmeric and cook for a further minute, stirring well, until the spices are fragrant.

Add the rice and stir until well combined.

Add enough cold water to the pan to reach 1cm/½ in above the level of the rice.

Bring the water to the boil in the pan, then immediately cover the pan tightly with aluminium foil and cover with the lid. Continue to boil the rice for 4-5 minutes, then turn off the heat and leave the pan on the residual heat for a further 15 minutes (the steam in the pan will continue to cook the rice).

Carefully lift the foil covering and add the peas and chopped tomatoes. Return the foil covering and stand on the residual heat for a further five minutes, or until the rice is tender.

To serve, fluff the rice with a fork, then divide it equally among four serving plates. Place two quick-spiced chicken thighs alongside each serving. Serve with a lightly dressed green salad.
This recipe is from...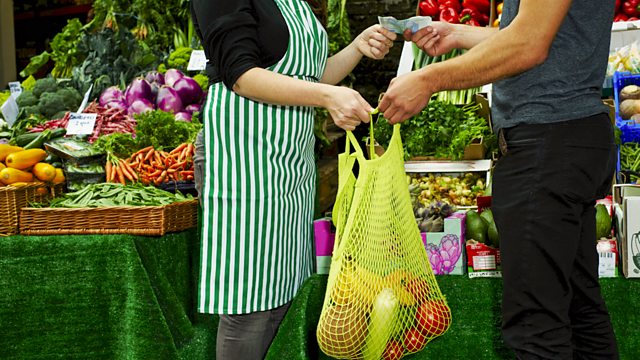 Economy Gastronomy
Episode 2