Rabbit and pearl barley stew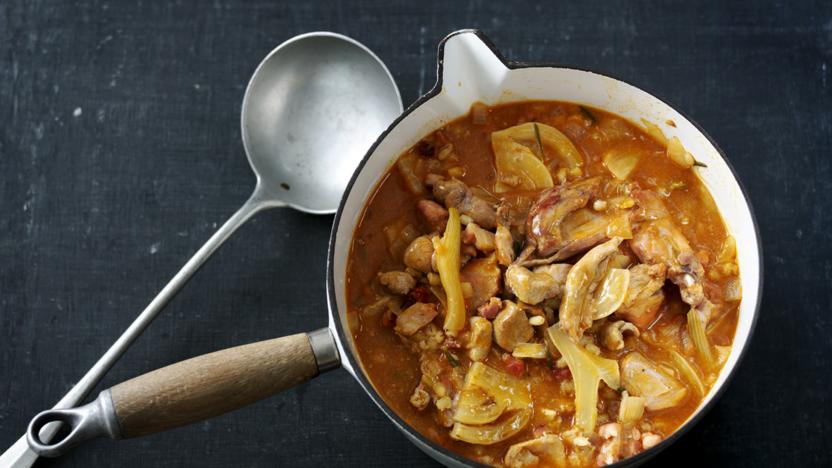 Preparation time
less than 30 mins
This rich and hearty rabbit stew makes for perfect winter eating. Rabbit is inexpensive and lean, making it great for stewing slowly.
Preparation time
less than 30 mins
Method
Dust the rabbit pieces with seasoned flour, then shake off any excess. Heat the oil in a saucepan, add the rabbit and fry for 3-4 minutes on both sides, or until golden-brown all over. Remove and set aside.

Add the pancetta to the pan and fry for 2-3 minutes, then add the onion, garlic and the sliced fennel. Fry for 3-4 minutes, or until the onion is translucent and the fennel is softened. Remove from the pan and set aside.

Return the rabbit to the pan together with the wine, tomato purée and the rosemary. If the rabbit is not completely covered with the liquid, top up with water. Bring to the boil, then stir in the pearl barley, cover and simmer for one hour and 15 minutes, or until the pearl barley is tender.

To serve, spoon into serving bowls.
Related Recipes
See more Easy stew recipes (15)
See more stew recipes (63)
See more rabbit recipes (23)
This recipe is from...
Recipes from this episode