Rice with clams, prawns and aioli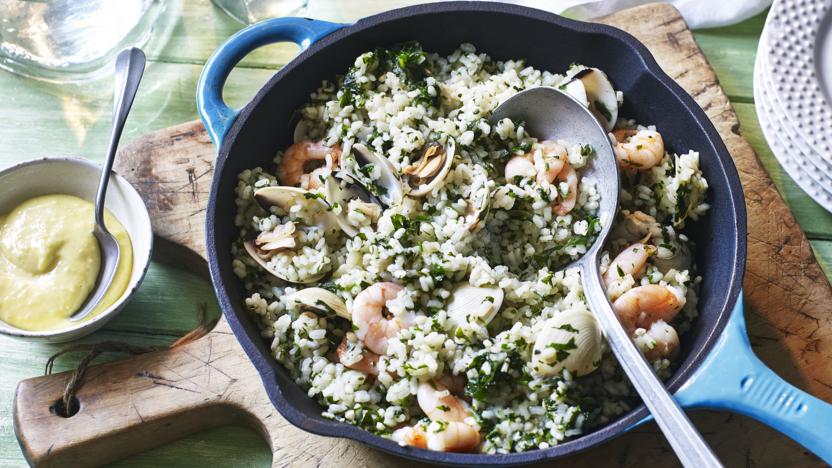 Preparation time
less than 30 mins
Cooking time
10 to 30 mins
A one-pot wonder filled with Spanish flavours. Serve with homemade aioli for a real treat.

Preparation time
less than 30 mins
Cooking time
10 to 30 mins
Ingredients
For the rice and clams
For the aioli
Method
For the rice and clams, heat the oil in a 28–30cm/11–12in shallow flameproof casserole over a medium heat.

Add the shallot and fry gently for 5 minutes until soft. Add the garlic and fry for 40–60 seconds. Stir in the fish stock, parsley and salt and bring to the boil.

Sprinkle in the rice, stir once, then leave to simmer vigorously over medium-high heat for 6 minutes.

Discard any open clams that do not close when given a sharp tap. Put the clams and prawns on top and shake the pan briefly so they sink into the rice a little.

Lower the heat and leave to simmer gently for another 12 minutes. At the end of this time, almost all the liquid should be absorbed and the rice will be pitted with small holes, and the clams should have opened. (Discard any that do not open.)

Meanwhile for the aioli, crush the garlic cloves under a knife blade. Sprinkle with the salt, then work them with the blade into a smooth paste. Scrape into a bowl and add the egg yolk and lemon juice. Using an electric hand mixer, whisk everything together, then gradually whisk in the olive oil to make a thick mayonnaise-like mixture.

Serve the dish in its cooking pot with the aioli on the side.
Related Recipes
See more Healthy rice recipes (17)
Paella
By Antony Worrall Thompson
See more paella recipes (15)
See more rice recipes (166)
This recipe is from...
Recipes from this episode