Roast goose with goose fat potatoes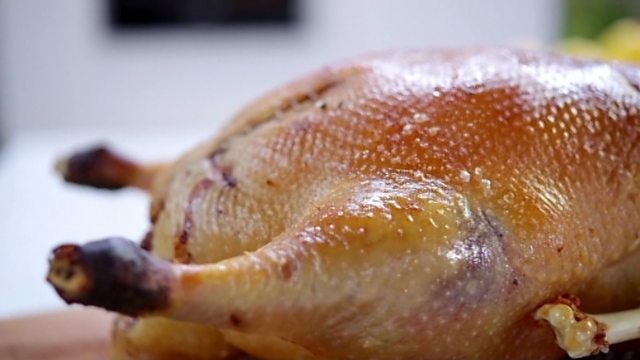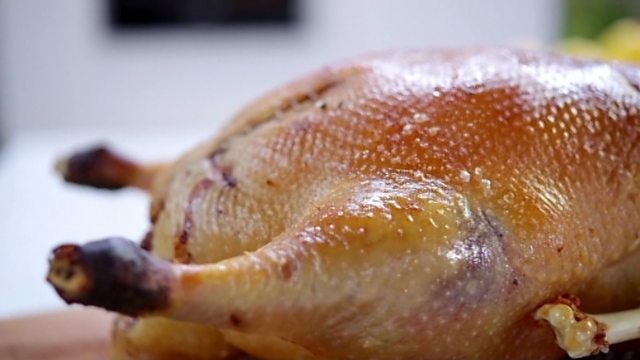 Preparation time
less than 30 mins
The only thing better than Christmas goose, is the goose fat potatoes. The festive stuffing is wonderful too.

Any remaining juices not used for the roast potatoes can be reduced to make a delicious gravy with mushrooms.

Preparation time
less than 30 mins
Ingredients
For the stuffing
For the goose
For the potatoes
Method
Heat the butter in a pan and fry the onions ,hearts and livers in the butter. Add the rehydrated mushrooms and flambé with a splash of brandy or Calvados. Add to a bowl and combine with the remaining stuffing ingredients.

Preheat the oven to 160C/140C Fan/Gas 3.

Stuff both ends of the goose. Using butchers string or skewers, seal both ends and sit the goose on a trivet in a baking tray (you could use a couple of carrots or onions or the wing bones from the goose as a trivet).

Cook for one hour 45 minutes, baste and turn the oven up to 200C/180C Fan/Gas 6 and cook for another 15 minutes.

While the goose is cooking, boil the potatoes in a pan of salted water for around 8-10 minutes, or until slightly underdone. Drain and let them sit in the colander to let some of the steam escape. Give them a good shake to roughen the edges.

Remove the goose from the oven when done, cover it with foil and allow it to rest for a good 20-30 minutes before serving.

Turn the oven up to 220C/200C Fan/Gas 7.

Drain some of the goose fat into a clean baking dish. Heat it on the hob until smoking hot. Tip in the par-boiled potatoes and let them sizzle in the goose fat without shaking the tin. This will give a crispy underneath. Give them a turn and put them in the oven for 30 minutes to roast.

To make the gravy, put any remaining cooking juices from the goose in a pan with the liquid from the rehydrated mushrooms. Bring to the boil and cook until the volume of liquid has reduced to make gravy. Serve the goose in slices with the roast potatoes and gravy.
Wines
Donnhoff Riesling Kabinett 2011.