Roast bream with fried plantain fritters and coconut sauce
Preparation time
less than 30 mins
Cooking time
10 to 30 mins

Preparation time
less than 30 mins
Cooking time
10 to 30 mins
Ingredients
For the roast bream
For the coconut sauce
For the plantain fritters
For the spinach
Method
For the roast bream, place the allspice, garlic and thyme into a bowl. Add two tablespoons of the olive oil and stir together.

Place the bream fillets on a plate, pour over the olive oil mixture and leave to marinate for 5-10 minutes.

Meanwhile, for the coconut sauce, heat a frying pan over a medium heat until hot. Add the olive oil, onion and garlic and fry for 20 seconds without colouring.

Add the red pepper and curry powder and sweat for one minute, until the curry powder is cooked and aromatic.

Add the coconut liquid, increase the heat and bring to a boil. Boil gently until the liquid has reduced in volume by half.

Add the tomatoes and butter to the pan, stir well and simmer until all the ingredients have blended together. Season, to taste, with salt and freshly ground black pepper.

Meanwhile, for the plantain fritters place the flour and egg into a bowl and whisk in enough lager to form a batter the consistency of double cream. Season with salt and freshly ground black pepper and stir in the coriander.

Place the grated plantain into a bowl. Add enough batter until the plantain is lightly coated and mix well.

Two-thirds fill a large, heavy-based saucepan with vegetable oil. Heat until a breadcrumb sizzles and turns golden-brown. Alternatively heat a deep fat fryer to 180C. (CAUTION: hot oil can be dangerous. Do not leave unattended.)

Carefully drop spoonfuls of the batter into the hot oil and fry until golden-brown. Remove with a slotted spoon and drain onto kitchen paper. Repeat until all the plantain mixture is used up.

To cook the bream, heat a frying pan until hot, add the remaining tablespoon of olive oil and the fish, skin-side down. Fry for two minutes on both sides or until cooked through. Keep warm.

For the spinach, heat a frying pan until hot, add the olive oil and the spinach and cook until just wilted. Season, to taste, with salt, freshly ground black pepper and freshly grated nutmeg.

To serve, place the spinach into the centre of four serving plates. Top with the red bream, arrange the fritters around the plate and spoon the coconut sauce over the fish. Garnish with shiso leaves and serve.
This recipe is from...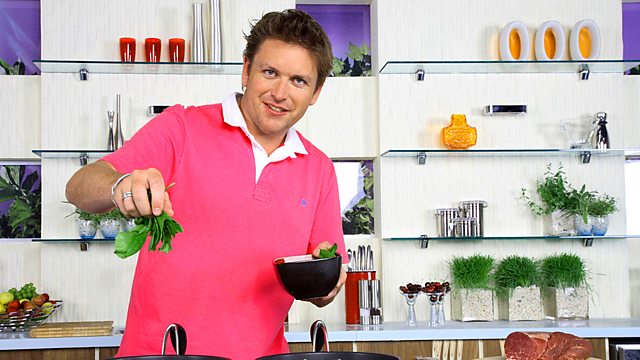 2007-16
Episode 92
Recipes from this episode