Roasted chump of lamb with rustic ratatouille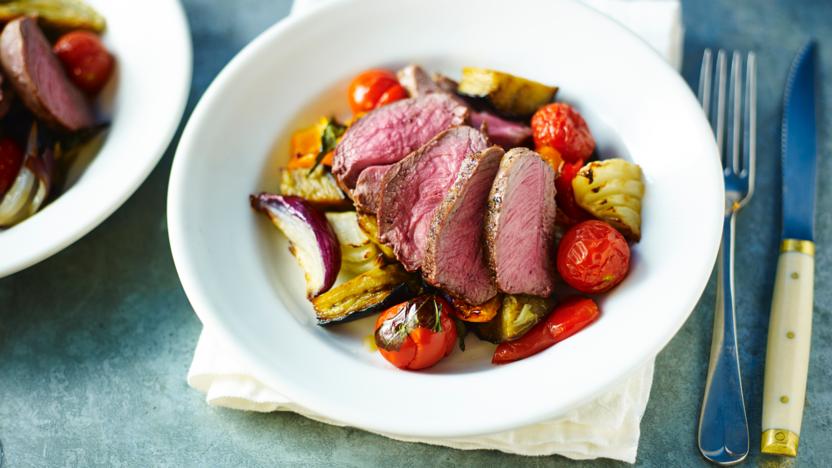 Preparation time
less than 30 mins
Cooking time
30 mins to 1 hour
Boneless lamb chump with heaps of roasted vegetables. A delicious way to your five a day.

Preparation time
less than 30 mins
Cooking time
30 mins to 1 hour
Ingredients
For the lamb
For the rustic ratatouille
Method
Preheat the oven to 220C/425F/Gas 7.

For the lamb, heat a frying pan until hot, then add the oil and butter and allow the butter to foam.

Add the lamb and fry for 4-5 minutes, turning occasionally, until golden-brown all over.

Transfer the lamb onto a wire rack in a roasting tin. Season well with salt and freshly ground black pepper and place into the oven to roast for 15-20 minutes for pink lamb, or for up to 30 minutes if you prefer your lamb medium to well done.

Remove the lamb from the oven and keep warm for five minutes to allow the meat to rest before serving.

For the ratatouille, place all of the vegetables, except the tomatoes and basil, into a bowl and toss together with the olive oil. Season with salt and freshly ground black pepper and place onto a clean roasting tray. Transfer to the oven and roast for 10-12 minutes, until just beginning to turn golden-brown.

Add the tomatoes and basil, stir well, and return the ratatouille to the oven to cook for a further 20 minutes, or until the vegetables are just tender. Season, to taste, with salt and freshly ground black pepper and serve either hot or cold.

To serve, spoon some ratatouille into the centre of each plate. Carve the lamb into thick slices and arrange across the ratatouille and serve.
Related Recipes
See more roast lamb recipes (70)
This recipe is from...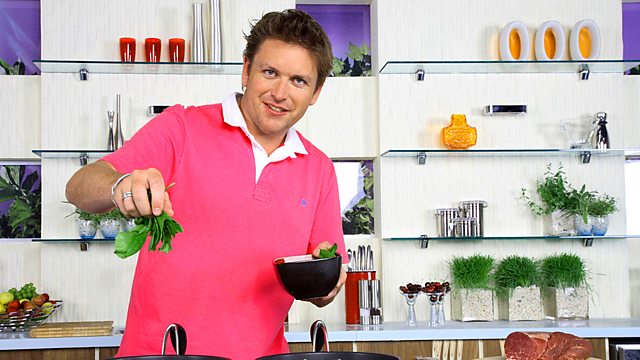 2007-16
Episode 26
Recipes from this episode