Salmon, leek and dill tarts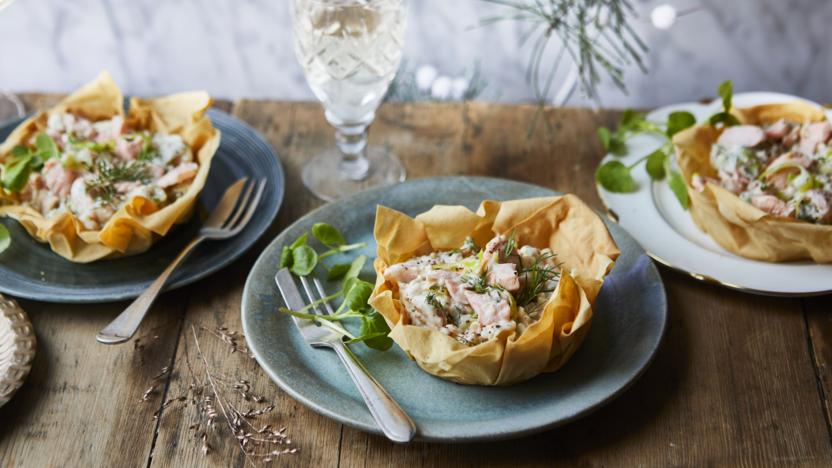 Preparation time
less than 30 mins
Cooking time
30 mins to 1 hour
Mary Berry's easy salmon tarts make a lovely and light starter for Christmas Day. They look really pretty as well as being suitable to make in advance.

For this recipe you will need two 4-hole Yorkshire pudding tins (or make the pastry cases in batches, if you prefer).
Preparation time
less than 30 mins
Cooking time
30 mins to 1 hour
Method
Preheat the oven to 200C/180C Fan/Gas 6. Brush 6 holes of the Yorkshire pudding tins with a little melted butter.

Melt half the butter in a medium saucepan. Add the leek, cover with a lid and simmer for about 5 minutes until tender. When soft, sprinkle in the flour and stir over the heat for 1 minute. Gradually add the milk, stirring all the time. Bring to the boil and cook until the sauce is thick. Stir in the wine and return to the boil, simmer until the sauce is thick again. Add the mustard and salmon pieces, reduce the heat and gently simmer, stirring from time to time for about 3–4 minutes, until the fish is just cooked. Try not to break the fish up too much. Season generously with salt and pepper and remove from the heat. Stir in the cheese, dill and cream. Set aside.

Melt the remaining butter and brush it all over the filo pastry. Divide each sheet of filo into 4 rectangles. Put two rectangles on top of each other at an angle to make star shapes. Repeat with the remaining pastry rectangles. Push each 'star' into a hole of the greased tin and bake for 8–10 minutes, or until golden-brown and crisp.

Just before serving, spoon the filling into the pastry cases and decorate each with a sprig of dill.
Recipe Tips
The pastry can be cooked up to 6 hours ahead, filled and returned to oven to reheat before serving. Not suitable for freezing.
Related Recipes
See more tarts recipes (85)
See more salmon recipes (277)