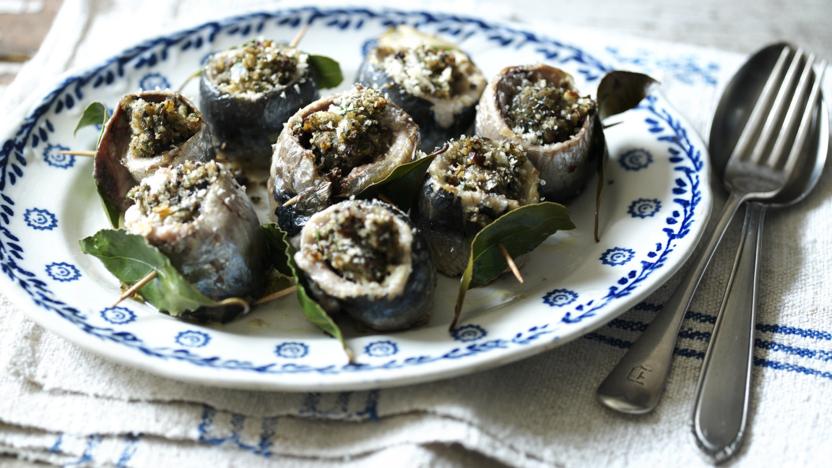 Preparation time
less than 30 mins
Cooking time
less than 10 mins
Enjoy Mediterranean flavours with this summery starter of stuffed baked sardines – ready to eat in just 20 minutes.
Preparation time
less than 30 mins
Cooking time
less than 10 mins
Ingredients
For the sardines
6 medium-sized sardines, filleted
12-16 fresh bay leaves
For the stuffing
Method
Preheat the oven to 180C/350F/Gas 4.

For the stuffing, blend all of the stuffing ingredients together in a food processor until well combined with a firm consistency.

Roll the stuffing mixture into little balls. Place one ball at one end of each sardine fillet and roll the meat around the stuffing, piercing each through the centre using a cocktail stick. Garnish each rolled sardine with a bay leaf (skewered with the cocktail stick).

Drizzle a little olive oil into the base of an ovenproof dish. Add the fish to the dish and scatter over the extra 25g/1oz breadcrumbs. Drizzle with a little more olive oil.

Bake in the oven for 4-5 minutes, or until the fish is cooked through and the stuffing is golden-brown. Serve with a lightly dressed green salad.
Related Recipes
See more Quick Italian recipes (15)