Ken Hom's Singapore noodles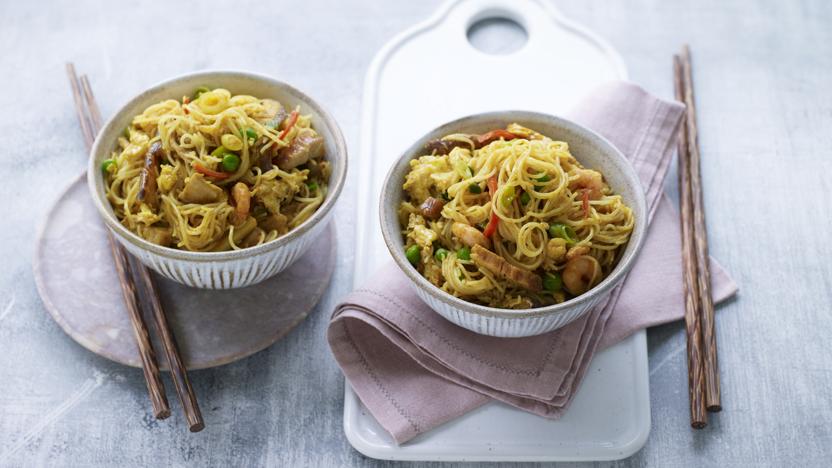 Preparation time
less than 30 mins
Cooking time
less than 10 mins
It's all in the preparation. Soften the super thin noodles before cooking up a fast stir-fry feast.
Preparation time
less than 30 mins
Cooking time
less than 10 mins
Ingredients
For the Singapore noodles
For the sauce
Method
Soak the rice noodles in a bowl of warm water for 25 minutes. Drain and set aside.

Soak the mushrooms in warm water for 20 minutes. Drain and squeeze out the excess liquid. Remove and discard the stems and finely shred the caps into thin strips.

Beat the eggs with sesame oil, salt and pepper. Set aside.

Mix together all the sauce ingredients in a bowl and set aside.

Heat a wok or large frying-pan over high heat until hot. Add the groundnut oil, and when very hot and smoking, add the garlic, ginger and chillies and stir-fry for 30 seconds. Add the water chestnuts, mushrooms, pork and spring onions and stir-fry for 1 minute. Add the rice noodles, prawns and peas, and stir-fry for 2 minutes.

Add the sauce and cook over high heat for another 5 minutes or until most of the liquid has evaporated. Pour the egg mixture over the noodles. Stir-fry constantly until the egg has set.

Turn onto a large platter, garnish with coriander leaves and serve.
Related Recipes
See more Super-easy meals to cook for your friends recipes (20)
See more stir-fries recipes (104)
See more rice noodle recipes (98)