Smoked salmon and haddock fish cakes
Preparation time
less than 30 mins
Cooking time
30 mins to 1 hour
James Martin's luxurious smoked salmon fishcakes are stuffed with a soft-boiled quail's egg and served with a chive butter sauce.

Preparation time
less than 30 mins
Cooking time
30 mins to 1 hour
Ingredients
For the fishcakes
For the chive beurre blanc
For the spinach
Method
For the fishcakes, cook the potatoes in a pan of boiling water for 15 minutes, or until tender. Drain, then return the potatoes to the pan and heat for one minute to drive off any excess moisture. Mash the potatoes, or pass through a potato ricer into a bowl. Set aside to cool slightly.

Stir in the parsley, lemon zest and juice until well combined. Season with salt and pepper. Fold in the salmon and haddock.

Divide the mixture into 8 equal portions. Place a soft-boiled quail's egg in the centre of 4 portions and cover them with the remaining portions and shape into 4 balls.

Half fill a large saucepan with the oil and place over a medium heat. If you're using a deep-fat fryer or have a thermometer, heat the oil to 180C. If not, to check the oil is at the right temperature, drop a 2-3cm/¾-1¼in cube of bread into the hot oil. It should be golden-brown and crisp in 1 minute

Put the flour, beaten egg and breadcrumbs into three separate bowls.

Dredge the fish cakes in flour, dip in beaten egg and finally coat in the breadcrumbs. Deep fry them (in batches if necessary) for 2 minutes, or until golden-brown.

Remove from the fryer using a slotted spoon and place on kitchen paper to drain.

For the chive beurre blanc, put the shallots, white wine vinegar and white wine into a small saucepan and bring to the boil. Simmer until reduced in volume to 2 tablespoons. Add the cold water and simmer until reduced to 1 tablespoon.

Reduce the heat to low, then gradually whisk in the butter, 25g/1oz at a time, waiting until all of the butter has melted and is incorporated into the mixture before adding more.

Strain through a fine sieve into a clean pan. Season with salt and pepper and stir through the chives.

For the wilted spinach, heat a large pan and, once hot, add the butter and 2 tablespoons water. Once melted, add the spinach and cook for 2-3 minutes.

To serve, place the wilted spinach in the centre of the plates and put the fishcakes on top. Pour over the beurre blanc.
This recipe is from...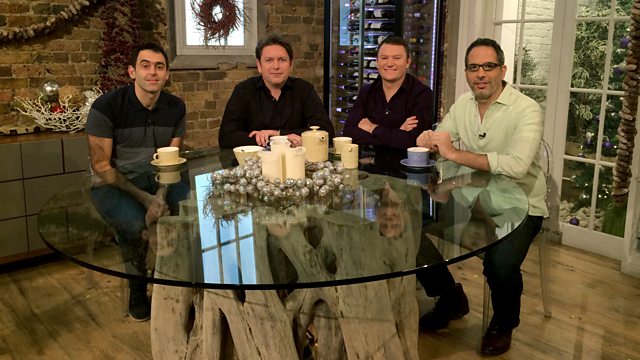 Saturday Kitchen
13/12/2014
Recipes from this episode