Smoky cheese and olive scones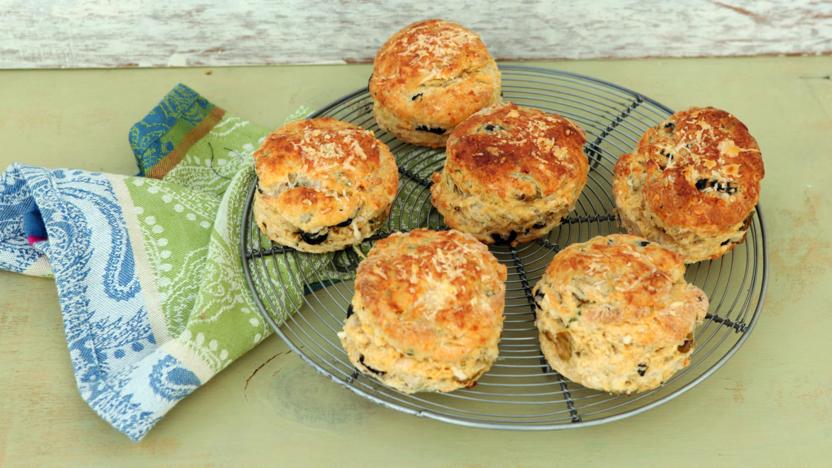 Any hard cheese will work well in these scones, so feel free to use a vegetarian alternative, or something cheaper if you are on a budget.
Method
Preheat the oven to 200C/190C Fan/Gas 6. Line a baking tray with baking paper.

Mix the flour, baking powder, salt, pepper, cayenne pepper, mustard powder and smoked paprika in a bowl. Rub in the butter until the mixture resembles breadcrumbs. Stir in the cheeses using a round-ended knife.

Chop the olives into varying sizes and add to the mixture along with the fresh and dried basil.

Lightly beat the eggs with the milk. Add almost all of the egg mixture to the dry mix (save some for glazing) and mix with a knife until it comes together as a dough.

Lightly dust the work surface with flour, then turn out the dough. Knead briefly to bring the dough together – try not to handle it too much, it should be a fairly wet and ragged dough. Using your hands flatten the dough into a circle about 2½cm/1in thick. Using a 5cm/2in pastry cutter, cut out 12 scones – push straight down, do not twist.

Place the scones on the prepared tray. Glaze with the reserved egg mixture and grated Parmesan.

Bake for 15 minutes or until golden-brown. Place on a wire rack to cool.