Spicy chorizo squash parcels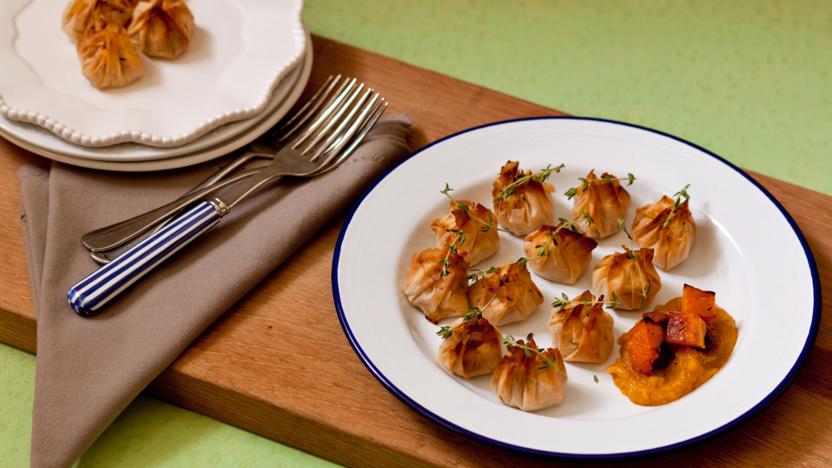 Preparation time
less than 30 mins
Cooking time
30 mins to 1 hour
These crisp little parcels are perfect to serve at parties, especially with a glass of Spanish red.

For this recipe you will need a blender.
Preparation time
less than 30 mins
Cooking time
30 mins to 1 hour
Ingredients
For the filling
For the pastry
Method
Preheat the oven to 220C/200C Fan/Gas 7.

For the filling, put the squash in a large roasting dish. Toss with 2 tablespoons olive oil and a generous pinch of salt and pepper. Toss together until all the cubes are well coated. Add a few sprigs of thyme and bake on the middle shelf for 15–20 minutes, or until the squash is tender and starting to brown at the edges. Stir halfway through cooking.

Heat a tablespoon of olive oil in a large frying pan over a medium heat. Add the onion and garlic and gently fry until the onions are soft and translucent. Pick the leaves from 2 sprigs thyme and add to the pan. Add the white wine and chicken stock and cook for a further 2 minutes until the volume of liquid has reduced by half. Tip the contents of the frying pan into a blender.

In the same frying pan, lightly fry the chorizo until just starting to brown at the edges. Remove from the heat and drain the oil from cooking into the blender. Put the chorizo in a small bowl lined with kitchen paper and set aside.

Add half the butternut squash to the blender and blend everything to a smooth but thick purée. Season to taste with salt and pepper, place in a bowl and set aside to cool.

Preheat the oven to 220C/200C Fan/Gas 7. Line 2 baking trays with non-stick baking paper.

Dust a work surface with the cornflour and lay the filo out. Cut the filo into 7cm/2¾in squares. Take one square, brush both sides with melted butter and place on the baking tray. Place another square on top at a 45 degree angle and apply more butter to the top.

Add about a teaspoon of purée to the middle of the square, followed by 2 chorizo squares and a square of butternut squash. Draw the edges of the filo around the purée to form a neat package and pinch together 1cm/½in pastry at the top. Repeat to make 24 savoury parcels.

Bake for 10–15 minutes until golden-brown and crisp on the bottom. Swap the trays midway through baking to ensure they cook evenly. Move to a cooling rack and drape a sprig of thyme over each parcel.

Serve the parcels garnished with any leftover purée, roasted squash and chorizo.
Related Recipes
See more Christmas party food recipes (37)