Star mincemeat and marzipan tart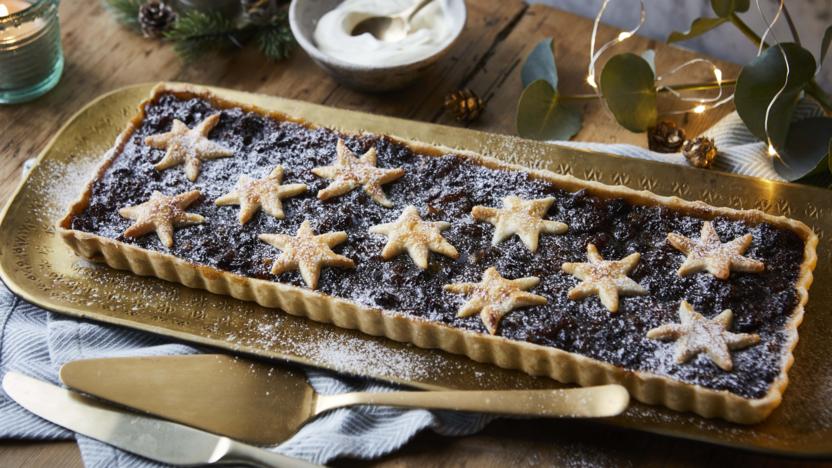 Preparation time
30 mins to 1 hour
Cooking time
30 mins to 1 hour
Mary Berry shows you the easiest way to make mince pies en masse! A hidden layer of marzipan is a lovely surprise, but to make it even easier add the mincemeat in one layer with the grated marzipan and pastry stars on top.

For this recipe you will need a 5cm/2in star cutter and a 36x12cm/14x4½in loose-bottomed tranche tin (alternatively use a 23cm/9in loose-bottomed round tart tin).
Preparation time
30 mins to 1 hour
Cooking time
30 mins to 1 hour
Ingredients
For the pastry
For the filling
To finish
Method
Preheat the oven to 200C/180C Fan/Gas 6.

For the pastry, measure the flour, butter and icing sugar into a food processor and pulse until the mixture resembles breadcrumbs (take care not to over-process the pastry as it will make it tough). Set aside a tablespoon of the beaten egg for the glaze and add the remaining egg to the processor. Pulse again until the pastry just comes together. Put the pastry on a floured work surface and knead until it comes together to form a ball.

Reserve a quarter of the dough for the stars and roll out the remaining pastry to the thickness of a pound coin. Line the base and sides of the tin with pastry and prick with a fork. Chill for 15 minutes.

Spread half the mincemeat over the base of the pastry and scatter over the grated marzipan. Evenly spread the remaining mincemeat over the top to cover the marzipan. Roll out the reserved pastry and, using star cutters, stamp out enough stars to decorate the top of the tart (about 14). Arrange the stars on the top of the tart and brush with the reserved beaten egg.

Bake for 25 minutes, or until the pastry is golden-brown and crisp. Set aside for 10 minutes to cool slightly before removing from the tin.

Serve the tart warm, dusted with icing sugar and with the brandy cream alongside.
Related Recipes
See more mince pies recipes (19)
See more mincemeat recipes (30)