Vegetarian chard and cheese dumplings (strozzapreti)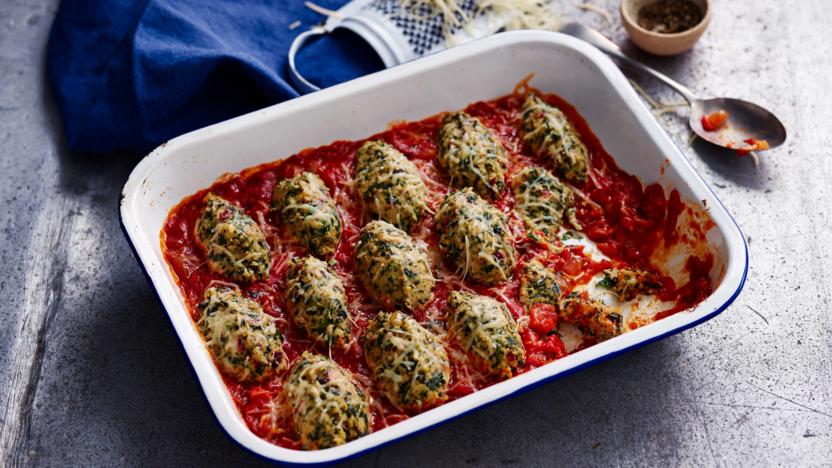 Try the Hairy Bikers' Swiss chard and cheese dumplings baked in a roasted red pepper sauce.


Ingredients
For the tomato sauce
Method
Drain the ricotta through a sieve then put into a bowl.

Remove the white ribs from the Swiss chard and set aside to use in another recipe. Wash the leaves thoroughly, then roughly chop. Put into a saucepan with a little water and a pinch of salt.

Bring to the boil, then simmer until wilted down and softened. Run under cold water until the chard has cooled down, then squeeze out as much liquid as possible. Finely chop.

Add the chard to the ricotta, along with the breadcrumbs, egg, herbs, ricotta and pecorino. Mix thoroughly, then leave in the fridge to chill for about an hour, or until it has firmed up a little.

Lightly dust a baking tray with the semolina.

To form the dumplings, take two dessert spoons and scrape the mixture from one spoon to the other until you have a tight, quenelle shape. Drop onto the baking tray and continue until you have used up all the mixture – you should have about 20 dumplings.

Bring a large saucepan of water to the boil and add a generous amount of salt. Coat the dumplings with semolina and pat off any excess.

Cook the dumplings in two batches. When they float they will be ready – this should take between 3–4 minutes.

Preheat the oven to 200C/180C/Gas 6.

To make the sauce, put the peppers on a baking tray. Roast in the preheated oven for 25 minutes, or until the skin has started to blacken.

Remove the peppers from the oven, put in a bowl and cover. When the peppers are cool enough to handle, peel off the skin and finely chop.

Heat the olive oil in a saucepan and add the onion. Fry on a low–medium heat for 10 minutes, or until soft. Add the peppers and garlic and cook for a further 5 minutes.

Add the herbs and the wine. Bring to the boil, allow the wine to reduce in volume by half, then add the tomatoes.

Return to the boil, then lower the heat to a gentle simmer and leave to cook, uncovered, for 10 minutes, or until the sauce has thickened. Discard the herbs.

Lightly oil an oven dish and add half of the sauce. Top with the cooked dumplings, then cover with the remaining sauce. Sprinkle with the gruyère and pecorino, and bake in the oven for 20 minutes, or until lightly browned. Serve.
This recipe is from...
Recipes from this episode