Swedish-style mini-meatballs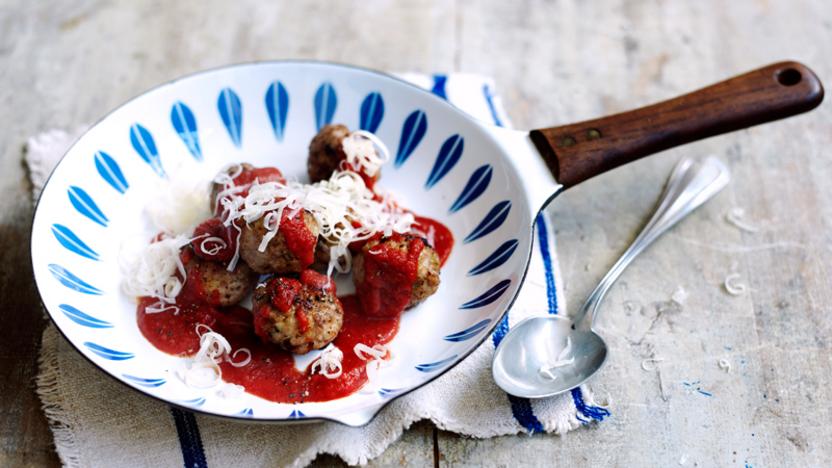 Preparation time
less than 30 mins
Cooking time
10 to 30 mins
These make a great party snack or a simple supper for kids. They take no time at all to make!
Preparation time
less than 30 mins
Cooking time
10 to 30 mins
Ingredients
For the meatballs
For the tomato sauce
To serve
hard cheese (such as gruyère, emmental or cheddar), grated
Method
For the meatballs, place one tablespoon of the oil into a pan over a medium heat. Add the onions and fry for 2-3 minutes, until soft.

Add the oregano, celery salt and cumin and stir well. Remove from the heat and allow to cool.

Place the mince into a large bowl. Add the cooked spiced onions, egg yolk, flour and mustard. Mix together well with floured hands and season with salt and freshly ground black pepper.

Dust a chopping board with flour. Roll the mince mixture into small walnut-sized balls.

Heat another tablespoon of oil in a large pan. Add the meatballs and fry over a moderate heat for five minutes, turning over to brown evenly.

Carefully cut open one meatball to check they are cooked through - the meat should be brown, not pink, all the way to the middle.

Remove the meatballs from the pan, place onto a serving dish and keep warm.

To make the tomato sauce, heat the olive oil in a saucepan over a low heat. Add the crushed garlic and fry for 1 minute to soften.

Add the passata into the saucepan, increase the heat and bring to boil. Season, to taste, with salt and freshly ground black pepper.

To serve, spoon the sauce over the meatballs and finish with grated cheese of your choice.
Related Recipes
See more meatballs recipes (39)
See more pork mince recipes (56)