Sweet and sour stuffed aubergines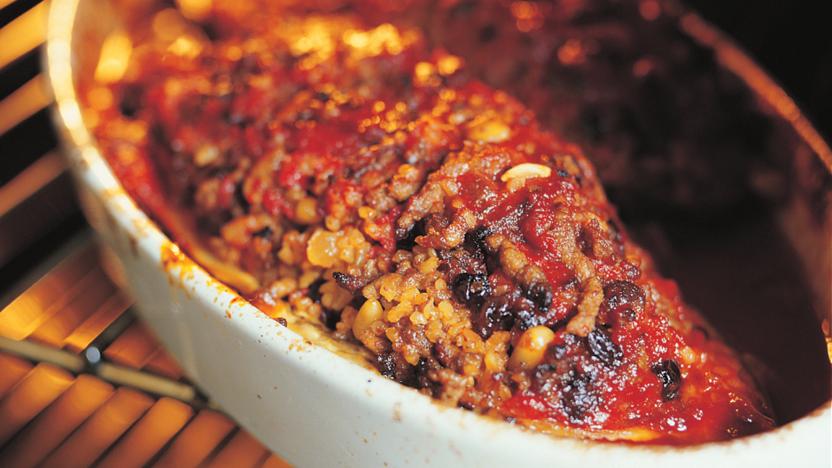 Preparation time
less than 30 mins
Many Middle Eastern recipes for stuffed aubergines begin with deep-frying the aubergines. However, they don't need to be precooked at all as long as there is enough moisture in the dish to soften them properly.
Preparation time
less than 30 mins
Ingredients
For the aubergines
For the filling
Method
For the aubergines, halve the aubergines lengthways and scoop out a little of the centre (you can use it in another dish, such as a soup or a stew). Season the aubergines with salt, then turn upside down on a wire rack to drain.

For the filling, heat the olive oil in a large, heavy-bottomed pan and fry the onion until tender. Add the garlic and fry for a minute or so longer.

Add the meat and fry until it has changed colour, breaking up the lumps. Sprinkle over the spices, season with salt and freshly ground black pepper and fry for another minute.

Add the tomatoes and just enough water to cover and stir well. Simmer gently for 30 minutes until the meat is tender. Taste and adjust the seasoning.

Add the bulgur wheat, pine nuts and currants and stir well.

Preheat the oven to 170C/325F/Gas 3.

Lightly oil an ovenproof dish and place the aubergine halves into the dish. Fill them with the spiced meat mixture.

Place the tomato purée, lemon juice, sugar, olive oil and water into a bowl. Season with salt and freshly ground black pepper and mix well.

Pour the tomato purée mixture over the aubergines. Cover with foil, transfer to the oven and bake for 45 minutes.

Remove the foil, baste the aubergines in their juices and cook for a further 15-20 minutes. Serve hot or warm.