Tagliatelle with olives, anchovies and pangrattato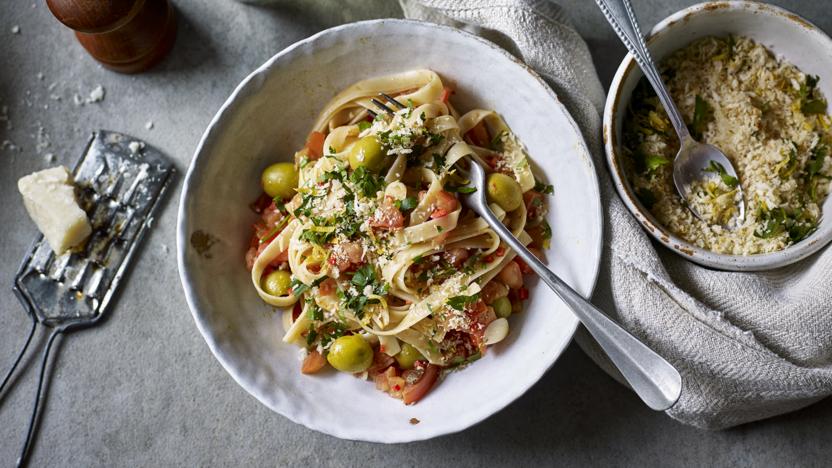 Preparation time
less than 30 mins
Cooking time
10 to 30 mins
A quick and easy pasta dish, taken to new heights with a scattering of aromatic, crunchy breadcrumbs.

Preparation time
less than 30 mins
Cooking time
10 to 30 mins
Ingredients
For the pangrattato
Method
Cook the tagliatelle in a large saucepan of boiling salted water, according to the packet instructions, or until al dente.

Meanwhile, to make the pangrattato, melt the butter in a frying pan over a medium heat. Add the breadcrumbs and toast for a few minutes until crunchy and golden. Stir in the lemon zest and parsley and take off the heat.

To make the pasta sauce, heat the oil in a medium frying pan or sauté pan. Add the anchovies, chilli and garlic and cook for 1 minute. Stir through the olives and tomato.

Drain the tagliatelle and mix into the sauce. Divide between the serving bowls, scatter over the pangraatto and serve.
Related Recipes
See more Super-easy meals to cook for your friends recipes (20)
See more tagliatelle recipes (41)