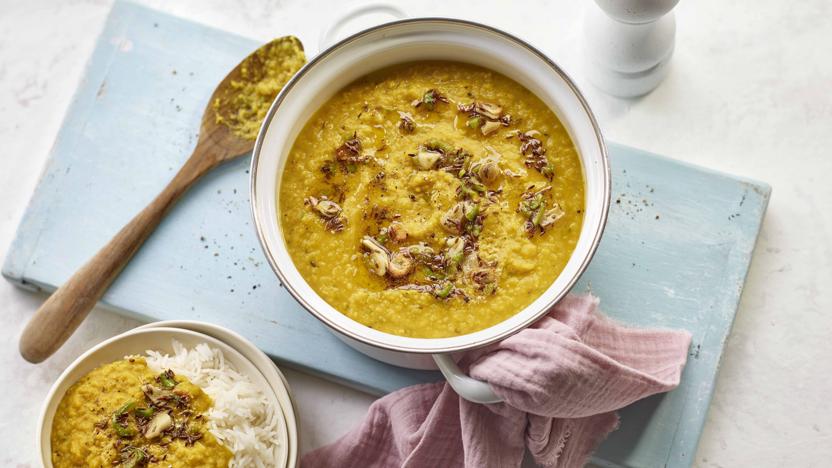 Spiced lentils make a cheap, wholesome supper - add extra chilli and cumin seeds for a more robust flavour. This is designed to be a low cost recipe.

Each serving provides 477kcal, 26g protein, 71g carbohydrate (of which 2.5g sugars), 8g fat (of which 4g saturates), 7.5g fibre and 0.2g salt.
Method
Place the lentils into a saucepan and cover with enough water to come 3cm/1¼in above the lentils. Bring to a boil, skimming off any froth as you bring it to the boil. Once simmering, add the turmeric along with half of the butter. Simmer gently for 20 minutes, or until the lentils are completely softened and the water is absorbed, but the mixture not dry.

Meanwhile, heat a small frying pan over a medium heat. Add the cumin seeds and dry fry until toasted and aromatic (about 1-2 minutes). Remove the cumin seeds from the pan and set to one side. Add the remaining butter to the pan and, once melted, fry the garlic and chopped green chilli for 1-2 minutes, or until the garlic turns light golden-brown, and the chilli is softened. Add the toasted cumin seeds back to the pan and remove from the heat.

Once the lentils are soft, give them a rigorous stir to break them up a little. Stir the chilli and garlic mixture (including any butter) into the pan with the lentils and mix well. Taste and adjust the seasoning as necessary.

Serve the tarka dal alongside the cooked rice.
Recipe Tips
In May 2013 this recipe was costed at £3.10 at Asda, £3.89 at Tesco and £3.59 Sainsbury's.
This recipe is designed to be made in conjunction with a
Related Recipes
See more Budget dinners recipes (30)
See more dal recipes (16)
See more red lentil recipes (26)