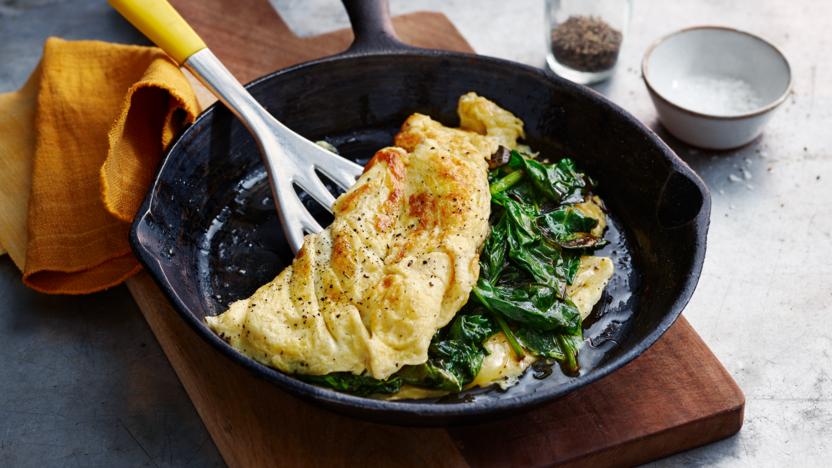 A perfectly cooked fluffy omelette is a lovely breakfast or quick supper. Fill with your favourite cheese, ham or vegetables.
Method
Beat the eggs until just mixed and season with salt and pepper.

Melt a knob of butter in a frying pan placed over a medium heat. Add the spinach and cook for 1–2 minutes, until slightly wilted. Tip out onto a plate and set aside.

Return the frying pan to a medium–high heat, add the remaining butter and melt until beginning to foam, then swirl it around the pan.

Pour in the beaten eggs, then tilt the pan to distribute the eggs evenly. Leave for 20 seconds, until the eggs begin to bubble.

Working quickly, sprinkle the Cheddar over the top. Use a spatula or wooden spoon to draw in the sides of the eggs to the centre while shaking the pan to redistribute the egg to the edges.

Sprinkle over the spinach, then remove the pan from the heat, while the egg is still slightly runny in the middle. The residual heat will cook the egg and spinach.

Using a spatula or fork, fold the omelette in half, then turn the omelette onto a warm plate. Season with salt and pepper and serve immediately.
Related Recipes
See more Budget dinners recipes (30)
See more omelette recipes (20)