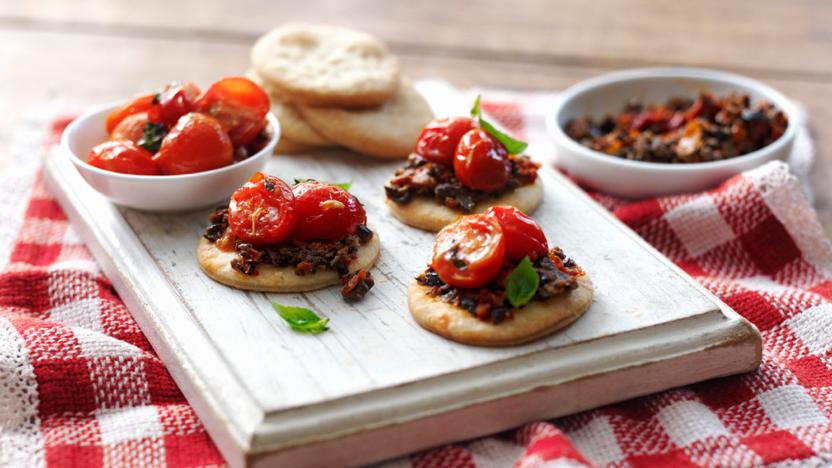 Preparation time
less than 30 mins
Cooking time
30 mins to 1 hour
These stylish vegetarian canapés make impressive party food to serve with drinks.
Preparation time
less than 30 mins
Cooking time
30 mins to 1 hour
Ingredients
250g/8oz ready-made shortcrust pastry
1 tbsp olive oil
125g/4oz cherry tomatoes, halved
1 tbsp fresh thyme leaves
1 fresh bay leaf
1 garlic clove, unpeeled, halved
1 tsp crushed black peppercorns
8 sun-dried tomatoes
50g/2oz pitted black olives
2 tbsp chopped fresh basil
salt and freshly ground black pepper
Method
Preheat the oven to 200C/400F/Gas 6.

Roll the pastry out to a 0.25cm/⅛in thickness and cut out 24 circles from it using a 5cm/2in pastry cutter.

Place the circles onto a baking tray and prick all over with a fork.

Bake in the oven for 10-12 minutes, or until cooked through and golden-brown. Remove from the oven and set aside to cool.

Meanwhile, heat the olive oil in a frying pan over a medium heat and add the tomatoes, thyme leaves, bay leaf, garlic and crushed peppercorns. Fry gently for 4-5 minutes, then remove from the heat and set aside to cool. Remove the bay leaf and garlic.

Blend the sundried tomatoes and olives to a paste in a food processor, then stir in the basil and season, to taste, with salt and freshly ground black pepper.

To assemble the canapés, spread a little of the olive paste onto each pastry circle and top with a spoonful of tomato confit.
Recipe Tips
The tomato confit and olive paste can be made ahead of time and chilled in the fridge until needed.
Related Recipes