Turkey, ham and stuffing pie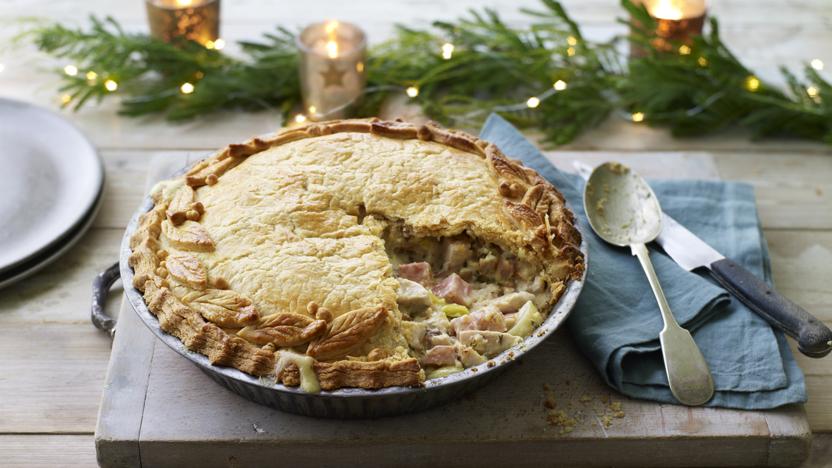 Preparation time
30 mins to 1 hour
The Hairy Bikers' delicious turkey pie uses up your Christmas turkey and leftovers. It's a really creamy pie, made with leeks, tarragon and homemade pastry.


Preparation time
30 mins to 1 hour
Ingredients
For the pastry
350g/12oz plain flour
125g/4½oz butter, chilled and diced
75g/2½oz lard, chilled and diced
iced water
1 free-range egg, beaten, to glaze
For the filling
For the sauce
Method
First make the pastry. Rub the flour, butter and lard together until it resembles fine breadcrumbs and add a good pinch of salt.

Add just enough iced water to bind the pastry together without it being too crumbly, then form it into a ball, wrap it in cling film and chill it in the fridge.

To make the filling, heat the butter in a casserole and add the leeks. Season with salt and pepper, then add the wine. Cover and leave on a low heat until the leeks are just tender, then remove the leeks with a slotted spoon and reserve any liquid.

For the sauce, melt the butter in a separate saucepan and add the flour. Stir until you have a thick roux, then gradually add the stock, milk and cream, stirring thoroughly with each addition to make a creamy béchamel. Add the reserved liquid from cooking the leeks.

Add the turkey, ham, stuffing and leeks to the béchamel and stir very gently – be careful as you don't want the meat or leeks to break up. Leave to cool completely.

Preheat the oven to 200C/180C Fan/Gas 6 and put a baking tray in the oven to heat up.

To assemble the pie, take two-thirds of the pastry. Roll it out to line a large pie dish – around 25cm/10in in diameter. Add the filling – it should more than fill the pie dish and give you a slightly domed top.

Roll out the remaining pastry. Brush the edges of the bottom piece of pastry with beaten egg, then place over the top piece. Trim the edges and crimp together. Use the trimmings to make any decorations you like, then brush the whole thing with egg wash. Cut two small holes in the centre of the crust.

Bake for 35–40 minutes, or until the pie is a rich golden-brown colour and the filling is piping hot.
Related Recipes
See more Christmas leftover recipes (25)
See more turkey recipes (37)
This recipe is from...
Recipes from this episode