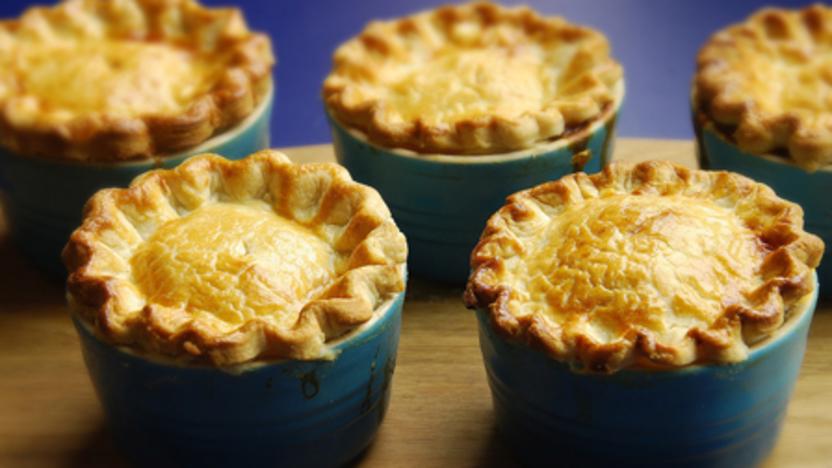 Preparation time
less than 30 mins
Cooking time
30 mins to 1 hour
This pie is a delicious recipe for leftover roast turkey. Serve with mash or bubble and squeak.
Preparation time
less than 30 mins
Cooking time
30 mins to 1 hour
Ingredients
For the filling
Method
Heat the oil in a frying pan over a medium heat. Fry the bacon lardons until crisp. Remove the lardons using a slotted spoon and set aside.

In same pan, fry the onions and garlic for 5-6 minutes, or until golden-brown and softened.

Add the remaining ingredients, except the egg and pastry. Bring the mixture to the boil and simmer for 25 minutes. Set aside to cool.

Preheat the oven to 180C/350F/Gas 5.

Divide the mixture between four individual pie dishes. Cut the pastry into four pieces, each big enough to cover the pie dish. Brush the edge of each dish with egg wash and cover with the pastry. Trim any excess pastry and brush the lid with the remaining egg wash.

Cook for 20-25 minutes until the lid is crisp and golden-brown.
Related Recipes
See more Easy as pie recipes (10)
See more meat pie recipes (35)
See more leftover turkey recipes (16)