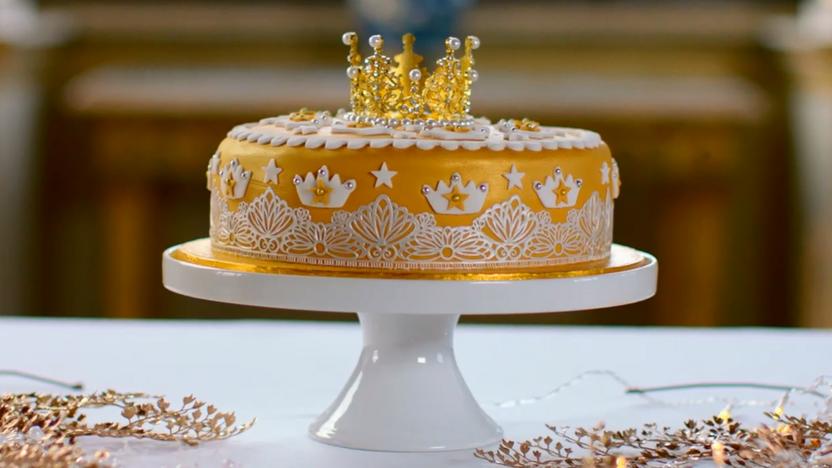 Preparation time
less than 30 mins
Cooking time
no cooking required
Mary's traditional Twelfth Night cake is the perfect way to celebrate end of the festive season.
Preparation time
less than 30 mins
Cooking time
no cooking required
Method
Preheat the oven to 160C/140C Fan/Gas 3 Grease and line a 23cm/9in deep, round cake tin with a single layer of baking paper.

Measure the eggs, butter, flour, sugar and ground almonds in a bowl and whisk together. Add the chopped almonds, lemon zest and dried fruit. Mix well, spoon into the tin and level off the top.

Bake for 2 ¼–2 ½ hours until golden-brown. You may need to cover it with foil if it is getting too brown.

Leave the cake to cool in the tin for 30 minutes before removing and leaving to cool completely on a wire rack.

To decorate, remove the baking paper and place the cake on a gold cake board. Brush with the apricot jam.

Lightly dust a work surface witha little icing sugar and roll out the marzipan to a cirlce slightly bigger than the cake. Cover and smooth over the surface and sides. Brush with a light sprinkling of water.

Lightly dust a work suface with a little icing sugar. Roll out the gold icing to a circle slightly bigger than the cake. Cover the marzipan and smooth the surface. Trim the excess icing (reserve this for later), then tuck under the cake. Brush with the gold dust to create a metallic finish.

Wrap the lace around the bottom of the cake and smooth.

Sprinkle icing sugar over the worktop and roll out the white icing. Cut out a scalloped fringe, stars and crown shapes using small cutters. Stick the crowns and stars around the sides of the cake using a little water. Cut out stars from the reserved gold icing and stick on the crowns. Put a sliver ball on the tip of each crown. (See the image for design).
Related Recipes
See more fruit cake recipes (5)
See more cherry recipes (99)
This recipe is from...
Recipes from this episode