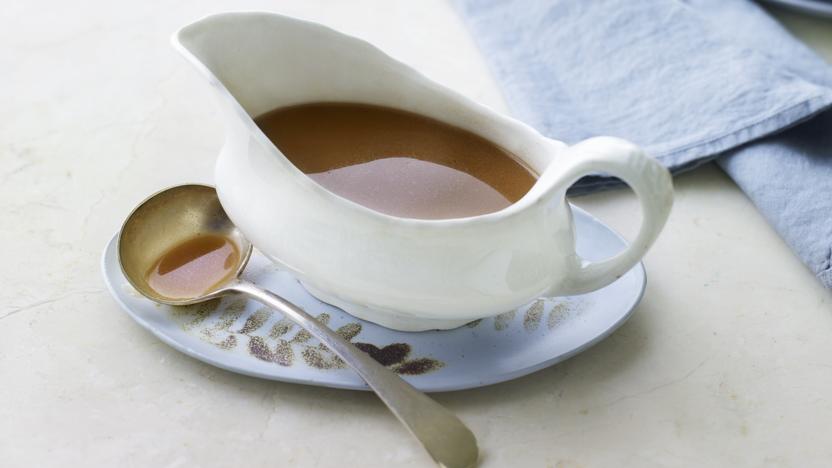 Dried mushrooms, yeast extract and redcurrant jelly give this vegan and vegetarian gravy a hearty boost in flavour.

Each serving provides 107 kcal, 2g protein, 10g carbohydrate (of which 6.5g sugars), 6g fat (of which 0.7g saturates), 2.5g fibre and 0.4g salt.
Method
Pour the just-boiled water into a large jug and stir in the halved stock cube until dissolved. Add the dried mushrooms and leave to stand for 20 minutes.

While the mushrooms are soaking, heat the oil in a wide-based, non-stick saucepan and gently fry the onion, carrot and celery for 10 minutes, or until softened and well browned, stirring regularly. Don't allow them to burn.

Sprinkle over the flour and stir well. Gradually add the mushroom liquor and mushrooms to the pan, stirring well between each addition. At the bottom of the jug of liquor you may see some grit from the mushrooms, avoid it as you pour and take care not to add it to the gravy.

Bring the gravy to a gentle simmer, stir in the redcurrant jelly and yeast extract. Cook for 5 minutes, stirring occasionally.

Strain the gravy through a fine sieve into a jug, then return to the pan and season with salt and lots of ground black pepper. (At this point, the gravy can be cooled and kept in the fridge for up to two days.)

Return to a simmer for 2–3 minutes before serving. If the gravy is a little thin, continue simmering for a couple of minutes more.
Recipe Tips
If you like a gravy with vegetable pieces, strain and chop the softened mushrooms before adding to the pan, and don't pass the gravy through a sieve at the end.
Related Recipes
See more Christmas sauces recipes (17)