How to cook butternut squash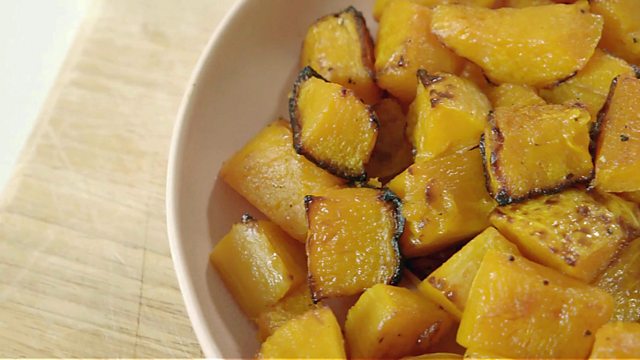 Equipment you will need for this technique
Chopping board
Knife
Swivel head vegetable peeler
Spoon
Medium sized bowl
Roasting pan
Serving plate/bowl
Learn how to roast butternut squash with this quick video. From conquering the chopping, to achieving caramelized squares of perfectly cooked squash, our guide teaches you everything you need to know in just 1 minute.
Preheat the oven to 200C/180C Fan/Gas 6. Trim the stem and bottom of the butternut squash using a sharp knife. Next, chop the squash in half across its middle, where the long neck meets the thicker end.
Peel off all of the hard skin, on both halves, using a vegetable peeler.
Cut both parts in half again, lengthways. Use a spoon to scoop out the seeds and the stringy pulp.
Place a section of de-seeded squash, cut side down on the chopping board and slice lengthways into approximately 1 inch slices. Then slice lengthways in the opposite direction until you have small to medium sized chunks. Bear in mind that the smaller the pieces, the faster it will cook. Repeat until all sections are diced evenly.
Put the squash into a roasting pan and drizzle with olive oil. Use a spoon to coat all of the pieces in the oil, turning each one to coat on all sides. Season lightly with salt and pepper.
Roast for 30-45 minutes, stirring in the pan every 10-15 minutes to cook more evenly, or until the squash is slightly browned on the outside and tender inside.
Serve in salads, as a side, or add to soup recipes, pasta dishes, risottos, bakes, curries and more.