The world's largest eco-city is rising from wastelands in China and our environment columnist is there to get a first-hand look.
I
It takes less than an hour on the new high-speed train line to travel the 150 kilometres (93 miles) southeast from Beijing to Tanggu, the dirty coastal port town of nearby Tianjin – the world's fifth biggest port. Here, you can see signs of the past and present: fine colonial architecture built by European settlers a century ago nestle among the gleaming modern high-rises. But for a glimpse of the future, I am driving a few minutes up the coast from Tanggu to see a city so new that most of it is still being built.
Few things can be certain about the future, as philosophers wiser than I have pointed out, but one trend that is likely to continue is urbanisation. The Anthropocene will be populated by city dwellers, in contrast to the rural demography of the past millennia, and this has profound implications for human society.
Nowhere will this be felt more keenly than in China, home to more than 1.3 billion people. Urbanisation has been one of the most important factors in China's phenomenal economic growth and rapid industrialisation over the past three decades, providing essential labour and new consumers. More than half the population now lives in cities, which at 690 million is double the entire US population. In 1980, less than 20% of the Chinese population lived in cities. By 2030, this number is predicted to rise to 75%.
This rapid rise in urbanisation brings with it tremendous challenges – people need housing, infrastructure, water, food and jobs, as well as rising pollution and social inequality issues. In a typically top-down style, the Chinese government is tackling all of these at once: the biggest polluters have been moved out of the biggest cities (inland into rural areas or other cities), slum populations (here, called "urban villages") have dropped from 37% to 28% since 2000, and China is in the midst of a building frenzy.
Visit any city in the country – there are over 650 of them – and you will soon be negotiating a route around a noisy, dusty construction site, beneath towering cranes. Much of this construction is taking place in existing cities, converting low-rise to high-rise to pack more people into the unlimited vertical space. But in the place that I am visiting, planners have started from scratch.
Building a blueprint
China, like several other countries, is exploring the creation of sustainable urban areas, or "ecocities" as they are known. Around the world, ecocities are beginning to emerge from the drawing board, from Masdar City in Abu Dhabi to PlanIT Valley in Portugal. Aimed at being the world's largest of its type, Tianjin Eco-city is a collaborative project between the Chinese and Singaporean government that will house 350,000 people in a low-carbon, green environment around half the size of Manhattan by 2020. All going well, the team hope its model for building a sustainable city will provide the blueprint for future urbanization efforts in China, and other countries.
As I approach the city under an ever-present pall of filthy air, across a wasteland of contaminated soil and water, I have my reservations about the Eco-city's success. The site chosen for the project was an industrial dumping ground for toxic waste, barren salt flats abutting one of the world's most polluted seas. This was deliberate, says Ho Tong Yen, head of Sino-Singapore Tianjin Eco-city Development and Investment, the firm charged with building the city. "In the past, so-called ecocities have been built in ecologically important areas or on useful arable land. We wanted to show that it's possible to clean up a polluted area and make it useful and liveable."
The clean-up took the best part of three years, and included the development of a newly patented technology that removes the heavy metals from a central reservoir – soon to be a boating lake. This hard graft looks like it has paid off. I enter the part-complete city down an avenue lined with fragrant trees and solar-energy panels. Among the newly planted saplings I spot five wind turbines and solar-powered street lighting. One-fifth of the energy used here will be emission-free – from solar, wind and, as I discover on a visit to the almost finished international school, from ground-source heat pumps, which use the temperature difference in the ground for energy.
Walking up stairs in the school, I trigger another innovation into action: Dutch-owned Philips is trying out its new sound- and motion-sensitive lights, which default to off unless the switch hears or feels someone approach. Buildings will have smart controls, automatically raising and lowering window blinds to regulate light and temperature, for example. Other innovations include a pneumatic municipal waste collection system, produced by the Swedish company Envac, which will eliminate the need for refuse trucks, and the authorities will be allowing General Motors to road-test the next-generation of its driverless EN-V (Electric Networked-Vehicle) cars.
Sustainable living
In March, the first 60 families moved into the city's residential buildings, all of which are designed to a minimum green buildings standard, including water-saving sanitary fittings, insulated walls and double-glazed windows, as well as a south-facing orientation to optimise passive heat. Such techniques may be standard in some countries, but in China they are rare.
Also rare here is the emphasis on liveability. Parks and green spaces are planned around the city, and reed beds have been created to attract birdlife and help clean the water. Lanes and alleyways have been strung through the usual grid layout of big blocks, meaning communities can develop. Everywhere is walkable or cycle-able, so that people do not feel socially excluded from areas. Free recreation facilities will be provided within 500m (1,640ft) walk of anywhere.
A green spine, called the "eco valley" runs through the heart of the city with cycle routes and a tram. Residents will be encouraged to use regular low-carbon transport or walk, rather than driving. Cars won't be banned, Ho says. "We don't want to create obstacles for people, but rather make it conducive to use alternatives." Niche designs that have focused blindly on eco-technologies have not worked, he says. "This eco-city will be practical – it will work."
To that end, the city is setting itself up as a hub for green tech enterprise and creative industries. Six hundred companies have already set up shop, including an animation studio that is powered by its own energy station, incorporating solar PV walls as well as roof panels.
Water provision is one of the bigger challenges in this naturally arid area. Tap water will be drinkable and piped in, although the city is planning a possible desalination plant too. A lot of effort is being put into conserving water and recycling it for irrigation and toilet flushing. "The lakes and water pipes have been lined in clay or concrete to prevent salt water incursion, and all waste water is being sent to plant for anaerobic biodigestion," says Ary de Koning of the EU-China River Basin Management Programme, who is advising the city on water issues. "The methane emitted in the digestion process is then used to produce energy," he says.
It certainly feels like a more pleasant place to live than the traffic choked, polluted cities further inland, even at this incomplete stage. And unlike the majority of planned ecocities, this one will actually be finished and already has residents. But whether it lives up to its green credentials will depend in part on the type of society it nurtures.
It strikes me that social inclusivity is perhaps Tianjin's most novel and important mission. One fifth of the housing will be subsidised for low-wage workers and their families. "We want to avoid the idea that this is a haven for rich people or second-homers from Beijing," says Ho. "Being green isn't a luxury, it's an affordable necessity. This city should be a practical, replicable, scalable model for elsewhere in China and the world."
If you would like to comment on this story or anything else you have seen on Future, head over to our Facebook page or message us on Twitter.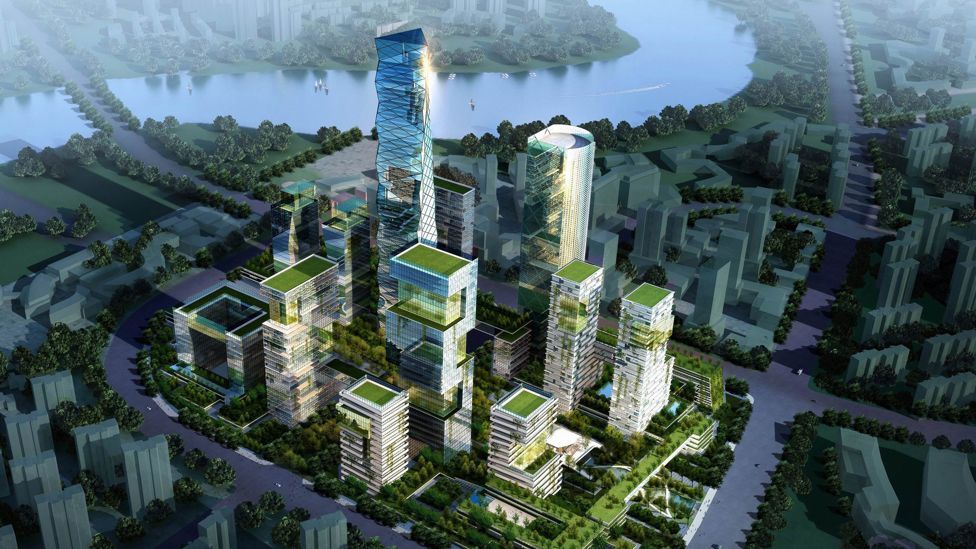 The world's biggest eco-city in development, Tianjin Eco-city will be around half the size of Manhattan. (Copyright: Sino-Singapore Tianjin Eco-city Development and Investment)
The world's biggest eco-city in development, Tianjin Eco-city will be around half the size of Manhattan. (Copyright: Sino-Singapore Tianjin Eco-city Development and Investment)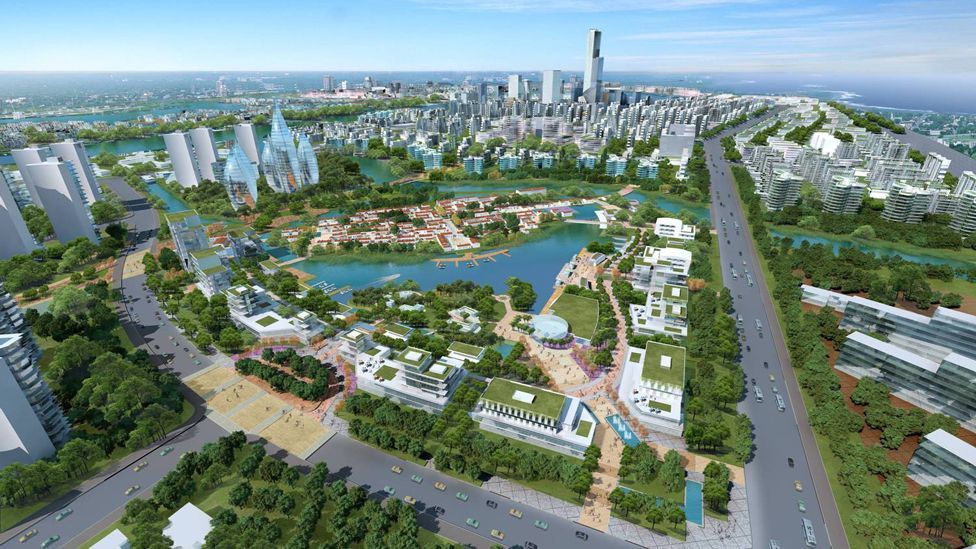 The team hope its model for building a sustainable city from polluted land will be copied by others. (Copyright: Sino-Singapore Tianjin Eco-city Development and Investment)
The team hope its model for building a sustainable city from polluted land will be copied by others. (Copyright: Sino-Singapore Tianjin Eco-city Development and Investment)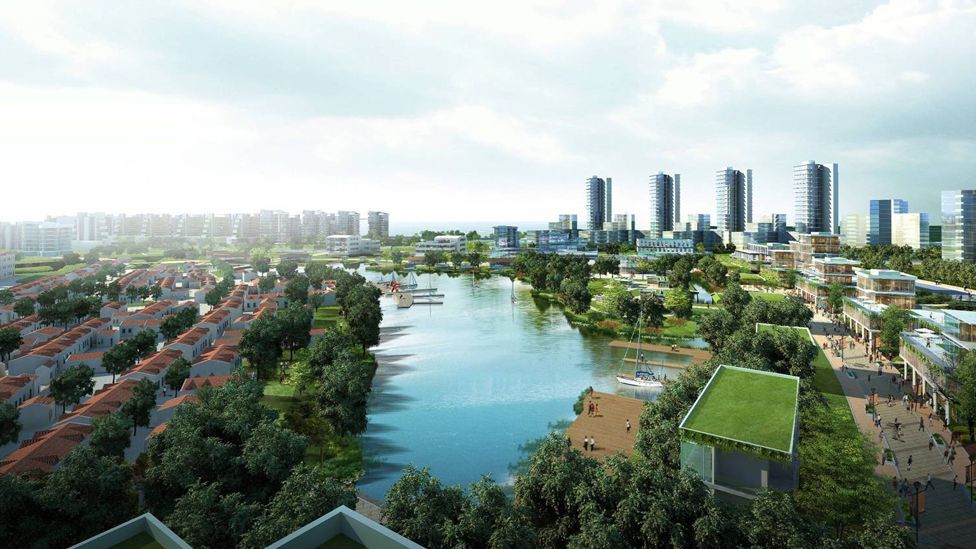 Technology removing toxic heavy metals from water will help turn the polluted reservoir into a boating lake. (Copyright: Sino-Singapore Tianjin Eco-city Development and Investment)
Technology removing toxic heavy metals from water will help turn the polluted reservoir into a boating lake. (Copyright: Sino-Singapore Tianjin Eco-city Development and Investment)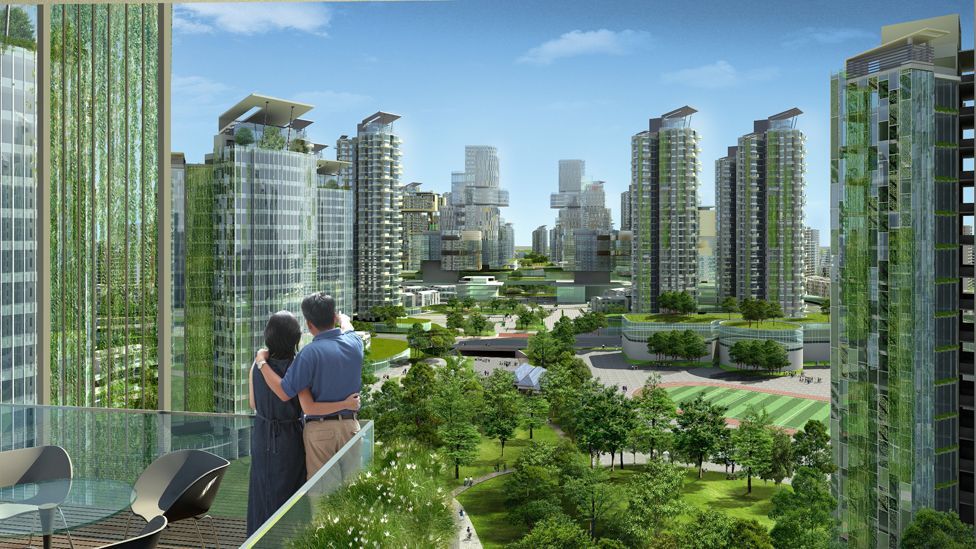 Tianjin Eco-city aims to house 350,000 people in a low-carbon, green environment by 2020. (Copyright: Sino-Singapore Tianjin Eco-city Development and Investment)
Tianjin Eco-city aims to house 350,000 people in a low-carbon, green environment by 2020. (Copyright: Sino-Singapore Tianjin Eco-city Development and Investment)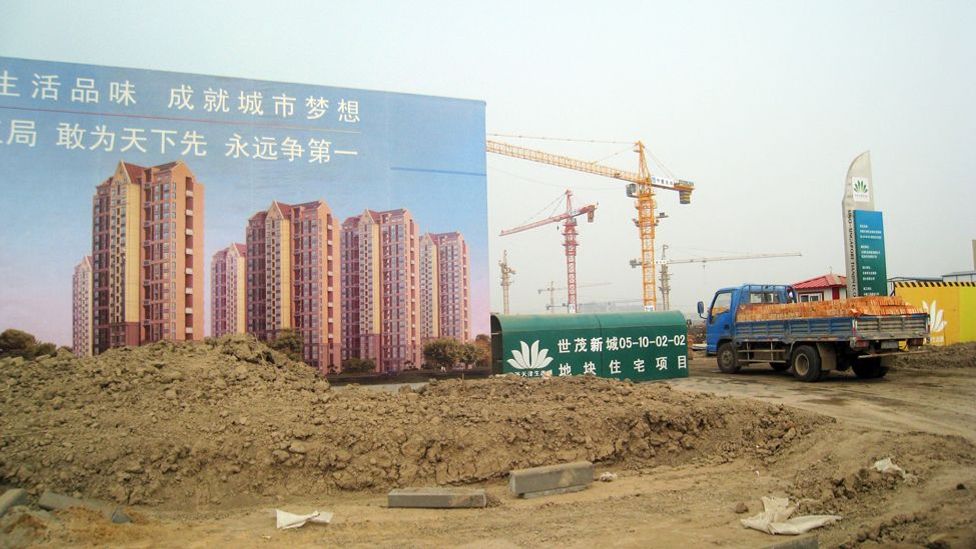 A vision of the present and future of the eco-city as a truck drives into the site. (Copyright: Getty Images)
A vision of the present and future of the eco-city as a truck drives into the site. (Copyright: Getty Images)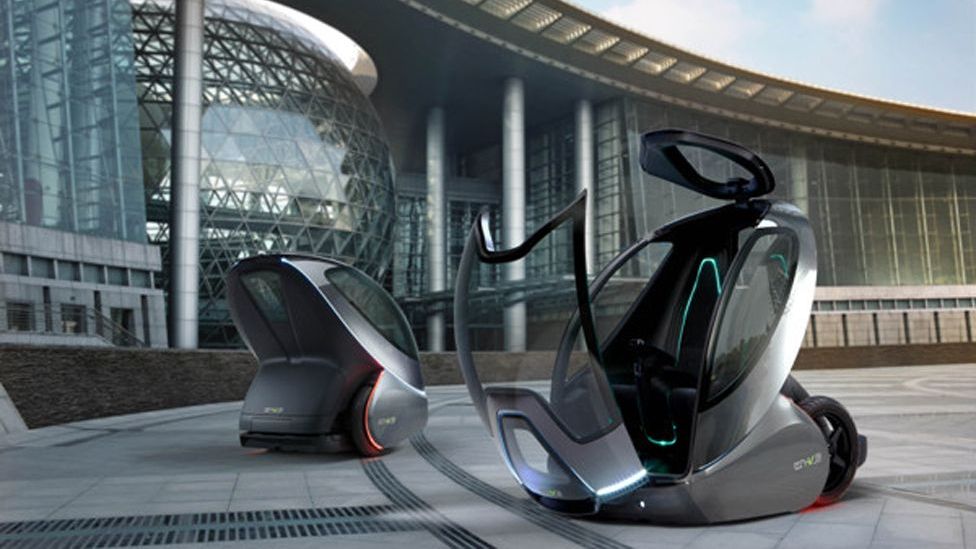 Tianjin Eco-city will be a test-bed for several new technologies. For instance, General Motors will trial its next-generation of driverless EN-V cars. (Copyright: General Motors)
Tianjin Eco-city will be a test-bed for several new technologies. For instance, General Motors will trial its next-generation of driverless EN-V cars. (Copyright: General Motors)