Space-saving electric vehicles could begin to zip around European roads as early as this summer. But will they convince commuters to leave their cars at home?
M
Motorists must be a determined bunch. Crowded roads, jam-packed parking lots, and rising fuel prices – not to mention greenhouse gas emissions – don't seem to be enough to persuade the average car commuter to hop on public transport. But a folding electric vehicle (EV) hopes to change all that and convince commuters to leave their car keys – and the gas guzzler – at home.
Micro-EVs, as these vehicles are known, could enable cities to solve a long-standing mass-transit problem: How do you get commuters who don't live or work within walking distance of a transit station to take public transport? Urban planners call this the "first and last mile" conundrum.
By deploying fleets of lightweight, folding electric cars at strategically distributed electrical charging/renting stations throughout a city and its suburbs, these vehicles could help ease traffic congestion, parking problems, and might even keep the urban air cleaner as well.
"The first-/last-mile problem has been growing steadily during the last 50 years or so as cities expanded," says Elizabeth Deakin, a city and transportation planning expert at the University of California in Berkeley. "It's often just too far to walk to a mass-transit station."
Space-saving idea
In some crowded cities, bike-sharing programmes or hefty levies on city-centre driving have yielded some success. But a little more than a decade ago, members of the MIT Media Lab in Cambridge, Massachusetts, began to think about another option – an elegant, compact electric micro-car designed purely for city car-share use.
The late Professor William J Mitchell and the members of his Smart Cities Research Group saw this as a way to help solve problems with housing and transportation planners.
"Our ultimate goal was to change the relationship of cities to automobiles. How can we make our vehicles adapt to our cities, as opposed to making our cities adapt to our cars?" says Ryan Chin, an architectural doctoral candidate at the Media Lab, and one of the principal designers of the prototype vehicle that they called the CityCar.
"The global car fleet has ballooned to the point that there's not enough land to accommodate them all, which makes it hard to find a parking space in the city. Add in the pollution that they produce and it's clear that cars constitute a collective drag on urban areas."
The idea of the CityCar came out of a 2003 design workshop hosted by the Media Lab, sponsored by General Motors, and led by Mitchell and the renowned architect Frank Gehry. Together they established a studio to bring together students from across disciplines such as architecture, urban planning, computer science and mechanical engineering. The discussion led to the concept of a small EV that could be folded and stacked in line, and shared by multiple users in urban environments in Asia, North America and Europe.  
State of the art
Then in late 2009 a budding consortium of small Basque businesses came calling. The group, made up primarily of automotive component suppliers, had grown interested in developing a domestic electric vehicle industry. "Having surveyed the market opportunities, they focused on our CityCar concept and contacted us," says Kent Larson, director of the Media Lab's Changing Places Group, who succeeded Mitchell as the project's lead researcher.
Within a year or so, the consortium – the Hiriko Driving Mobility Group – launched an effort to develop a prototype of the Hiriko Fold. It partnered with the MIT Media Lab and the Spanish government, which has provided some $18.5m (14m euros) of the total estimated $87m (70m euros) budget.
Hiriko derives from the Basque words "hiri", meaning "city" and "ko", meaning "belonging to", so the name means "from the city". At first glance, the Hiriko Fold looks like many of the futuristic electric micro-car concepts that auto designers have turned out in recent years, but this was the first one intended to be used primarily in car-share programmes.
On the outside, it is a mostly glass orb with four wheels, about half the length of a Ford Explorer SUV. But this pod-like EV is packed with unusual features – and a folding design – which distinguish it from its predecessors, says Carlos Fernandez Isoird, coordinator-general at the Hiriko group.
The unique fold-up body relies on a central pivot, which tips the front passenger module forward and up so that the rear trunk module can slide and tuck beneath it. When folded, the 2.5m-long (8ft) car shrinks to a scant 1.5m (5ft), allowing three-and-a-half Folds to fit in a standard parking space on a street. Like some vintage European ultra-compacts, both driver and passenger enter and exit via the front windshield, which doubles as the car's only door.
The designers have replaced the steering column and the accelerator and brake pedals with an aircraft-like yoke. Push the yoke forward and the car speeds up. Pull it back and the car slows down. Move it left or right and the car turns. The yoke control even offers haptic feedback, recommending turns with a gentle tug on the driver's hands. The wheels house the car's four electric motors, and can rotate 60 degrees to the left and right, enabling the vehicle to spin on its central axis or travel sideways, which makes parallel parking a breeze.
The Fold may be state-of-the-art, but it won't be fast or far ranging. With a top speed of only 50 km/h (31 mph) and a maximum range of about 120 km (75 miles), the car is best suited to short trips along urban streets. But the lithium-ion batteries powering the motors can be fully recharged in about 15 minutes, meaning it has very little down time.
In some countries, the Fold won't be considered a car at all. Because the vehicle weighs less than 500 kg (1,100 lbs), it can be registered as a quadricycle, and drivers there may not even need a license to operate it.
Launch acclaim
When the Hiriko group unveiled the prototype at the European Commission in Brussels, in January 2012, it received a good deal of fanfare. Jose Manuel Barroso, the president of the European Commission called the car a "systematic solution to major societal challenges". In April, the Hiriko group launched a trial manufacturing run of the Fold in Vitoria-Gasteiz, a city in northern Spain, about 65 km (50 miles) from Bilbao.
The Hiriko group plans to sell the tiny two-seater to municipalities in Europe and elsewhere. Already Barcelona, Berlin, Malmo, San Francisco, and Vitoria-Gasteiz are working with the makers to develop fleets of folding EVs to serve their commuters, according to Fernandez Isoird. Also interested are transport managers in the Basque biosphere reserve of Urdaibai, the Spanish island of Ibiza, as well as Hong Kong and Florianopolis in southern Brazil. 
The group's shared-use car system would operate much like the bike-sharing programmes that exist in cities in Europe and North America. But instead of installing car stations solely in the city centres, they would be distributed throughout the suburbs and at satellite transit hubs.
Drivers could, for example, use a swipe card or electronic token to check out a Fold parked in a stack of folded vehicles from a car-share kiosk in their community, drive to a nearby transit station, and leave the automobile in an adjacent lot. So rather than travelling the entire distance between home and work in a personally owned, gasoline-burning car, the user would spend a short time walking, do a little EV driving and then jump on public transport for the ride into the city. 
Pick-up problem?
One of the reasons bike-sharing systems work is that riders can find bicycles where they need them. Trucks shuttle bikes between stations in anticipation of future demand and to help empty parking spots for incoming bikes. "That's hard to do with cars," says MIT's Larson. "We realized that various dynamic incentives would be needed to encourage users to pick-up and drop-off cars in such a way as to automatically balance the system and make them available throughout the area."
To get the cars where they are needed, the collaborators are developing a wireless-based logistics system that employs a mix of smart technologies and driver incentives. It would rely on sensor networks and algorithms that recognize drivers' usage patterns to manage the fleet intelligently. Drivers could earn credits or receive product giveaways if they return cars to charging stations in areas where others want to hire them. They can also use their smartphones to map out locations with available cars – as well as any discounts that might be available for cars at certain stations.
Building the new car will be challenging. "The car is so tiny and so tight because of the folding chassis that packaging is difficult – a half-inch here and there really matters because it's designed more like an iPhone than a tower computer," says Larson. "Everything needs to be fully optimized, so late changes are hard to make," he adds. The designers shaved weight off the design by using an efficient structure and lightweight materials, and avoiding many standard car components such as an internal combustion engine, transmission, radiator and cooling system.
Vehicles passed in-house crash and safety testing earlier this year. Although the little car must safely withstand a crash impact, it does not have to have to endure accidents at highway speeds, meaning the engineers were able to make the car lighter and smaller without compromising its safety, according to Fernandez Isoird. The Fold's crashworthiness is enhanced by its folding chassis, designed to compress to absorb impact energy.
On the road
Early production Folds could start zipping around European cities this summer. The consortium has built 20 vehicles for demonstrations and testing, says Isoird. Besides the Fold, the team is developing other models, including the convertible Alai and a truck – the Laga – for local deliveries. The consortium has more models in the works as well, including a "buggy", another small truck, a five-passenger vehicle and a nine-passenger minivan.
But some observers say the cost could be prohibitive to municipalities interested in joining the scheme and to individual buyers. The Fold is scheduled to go on sale in 2013 for around US$16,400 (13,000 euro), several thousand dollars more than the Mercedes' Smart brand of city cars. "The price tag seems uncompetitive when you can buy a nice, full-capability conventional car for that much," says UC Berkeley's Deakin.
But for densely inhabited municipalities interested in implementing a car-share programme, the Fold's compact dimensions are one of its strongest selling points. There is a "tremendous opportunity to store cars overnight in a close-stacked, nose-to-rear arrangement," Larson says. If a municipal car park adopted advanced methods such as autonomous self-parking technology, as many as seven Folds could be squeezed into the space of a standard lot. A city like Boston might cut the cost of an underground or covered parking space from $70,000 to perhaps $10,000, he says.  
In the meantime, the Basque government is readying the required battery-charging infrastructure. In collaboration with the Basque Energy Entity (EVE) and the Spanish energy company Repsol, it has established IBIL, an organisation that will set up and manage a nationwide electric vehicle-charging network. The Media Lab, meanwhile, is working with French company Schneider Electric to design a next-generation smart charging station.
Commuter conundrum
Despite the Fold's promise, not everyone shares Hiriko's unabashed enthusiasm for the tiny car. Many possible solutions have been put forward to solve the first/last-mile puzzle, warns Deakin. Car-pooling and bike-sharing systems, shuttle bus services, and station car and van schemes have all been tested, and failed to get the required number of commuters out of their cars. High labour costs, lack of cooperation among users, inconvenience, and technology shortcomings are some of the reasons these earlier attempts have been less than successful. "However, this Hiriko/CityCar project seems to have progressed farther than most," she says.
One way the Hiriko consortium hopes to overcome these problems is by selling the micro-EV in functional modules, as a 'snap-together' car that can be assembled by local workers. The scheme would provide hometown jobs and allow the locality to customise the vehicles to match their needs. A hilly city could, for example, order more powerful batteries and motors to handle the extra strain.
Still, Deakin retains doubts regarding the plan's ultimate safety and costs. "Will such a small, lightweight car really supply enough occupant protection during collisions with the much heavier and faster vehicles that also operate in cities?" she asks. "Special road lanes may be needed, which would raise costs."
On the other hand the narrow streets in the town centres of older European cities and China's new pop-up cities with dedicated lanes for city cars might be the ideal locations to rollout this technology, and could move the vehicles from the suburbs into city centres. "Such initial projects could bring greater manufacturing volumes that could help reduce the costs," she says.
"We estimate that to establish a personal/public transport system in a city the size of Barcelona, we would need to start with about 400 vehicles in the city centre, which could then grow to 6,000 vehicles to cover all of the metropolitan area," Fernandez Isoird says. "This means providing one vehicle per one-thousand inhabitants to service the public transport systems, taxis and private users."
Then, perhaps, the Fold might expand into other cities. And commuters might finally have reason to leave their cars at home.  
To comment on this article or anything else you have seen on Future, head over to our Facebook page or message us on Twitter.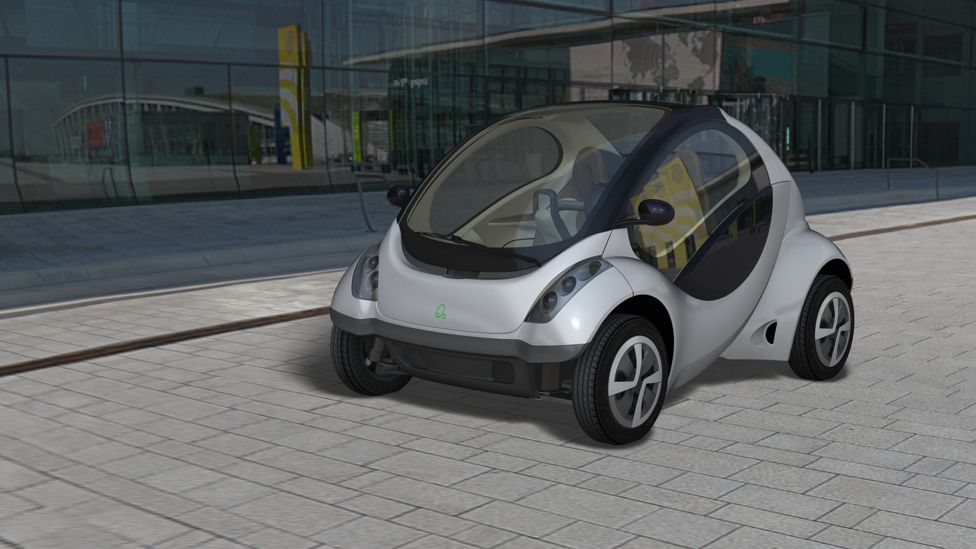 The Hiriko Fold has been designed to take commuters to and from public transport, meaning they can leave their polluting cars at home. (Courtesy of Hiriko)
The Hiriko Fold has been designed to take commuters to and from public transport, meaning they can leave their polluting cars at home. (Courtesy of Hiriko)
The car is 2.5m-long (8ft) but shrinks to only 1.5m (5ft), when folded. This means around seven can fit in the space of one normal parking bay area. (Copyright: MIT Media Lab)
The car is 2.5m-long (8ft) but shrinks to only 1.5m (5ft), when folded. This means around seven can fit in the space of one normal parking bay area. (Copyright: MIT Media Lab)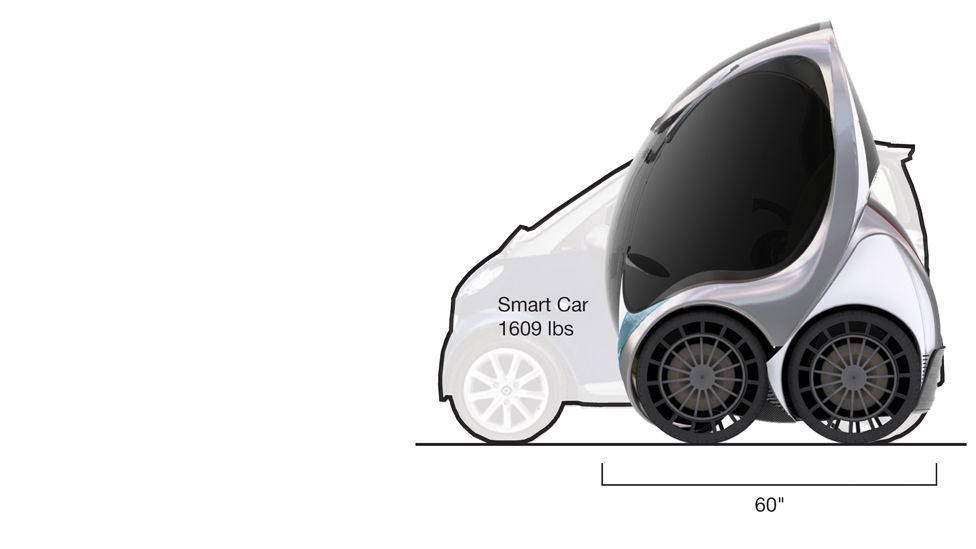 Cars such as Mercedes Benz's Smart range have been hailed as a solution for cramped urban streets, but the Hiriko Fold is even smaller. (Copyright: MIT Media Lab)
Cars such as Mercedes Benz's Smart range have been hailed as a solution for cramped urban streets, but the Hiriko Fold is even smaller. (Copyright: MIT Media Lab)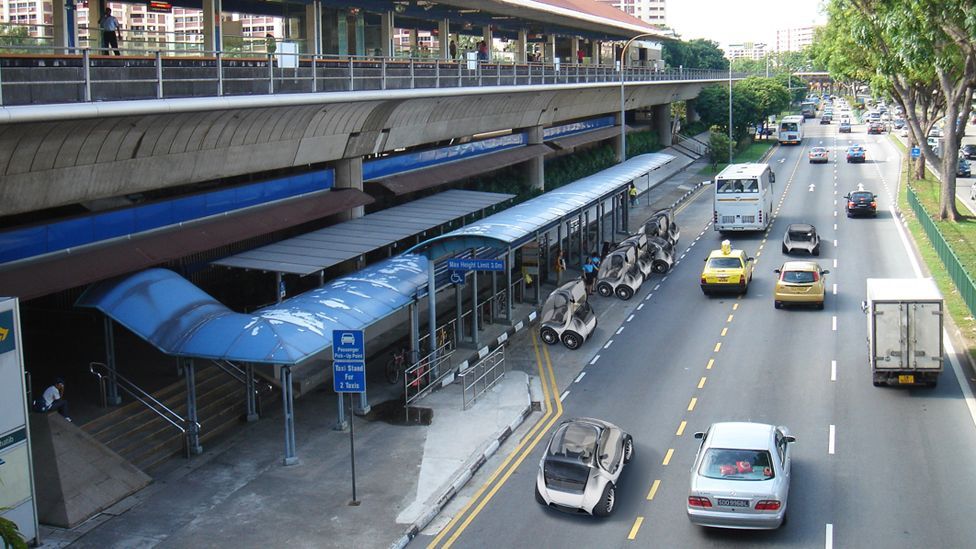 The Fold is not designed to cruise along highways; its designers see it as a way to get commuters to and from the station, much like public bike schemes. (Copyright: MIT Media Lab)
The Fold is not designed to cruise along highways; its designers see it as a way to get commuters to and from the station, much like public bike schemes. (Copyright: MIT Media Lab)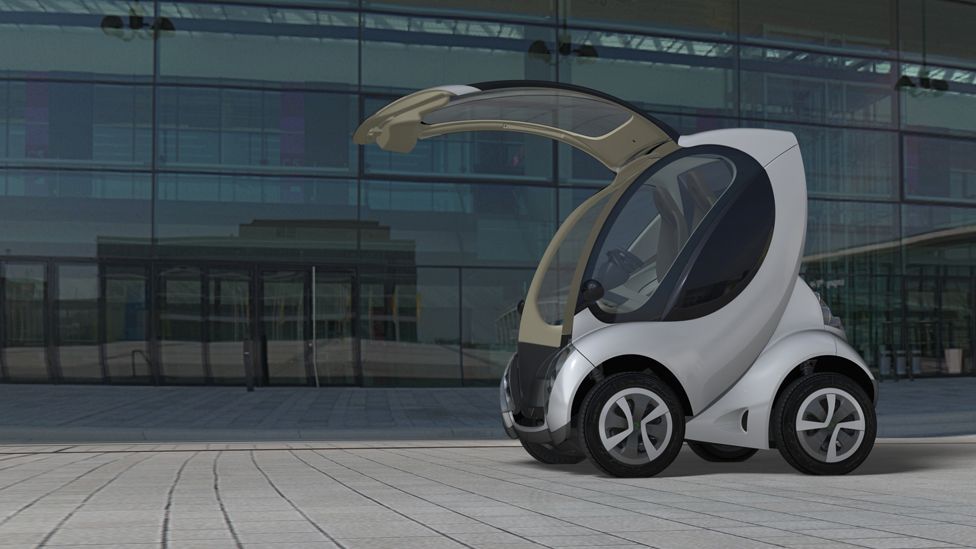 The car is driven via an aircraft-style yoke instead of a steering wheel, while its driver and passenger enter and exit via a door in the front of the vehicle. (Courtesy of Hiriko)
The car is driven via an aircraft-style yoke instead of a steering wheel, while its driver and passenger enter and exit via a door in the front of the vehicle. (Courtesy of Hiriko)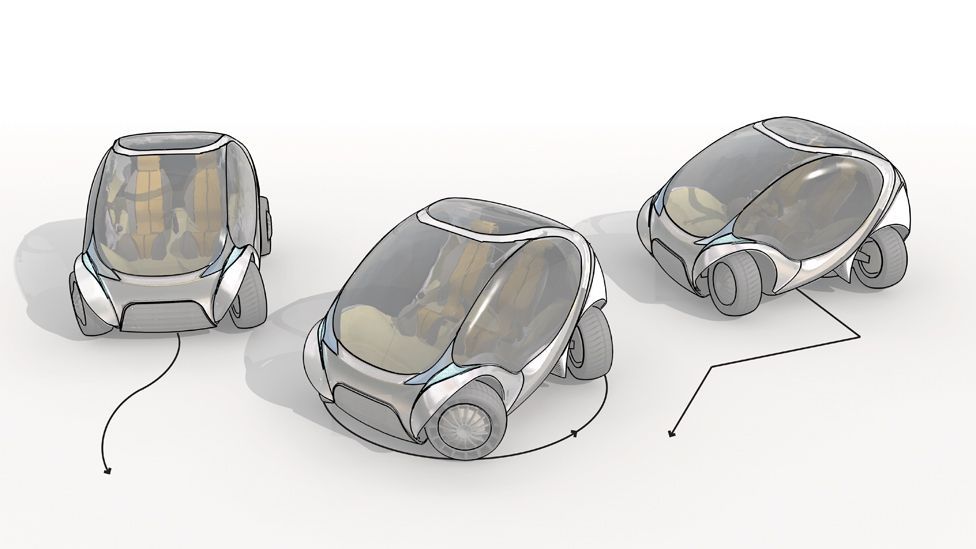 The vehicle's wheels can rotate 60 degrees, meaning the car can essentially move sideways – making parallel parking a lot easier. (Copyright: MIT Media Lab)
The vehicle's wheels can rotate 60 degrees, meaning the car can essentially move sideways – making parallel parking a lot easier. (Copyright: MIT Media Lab)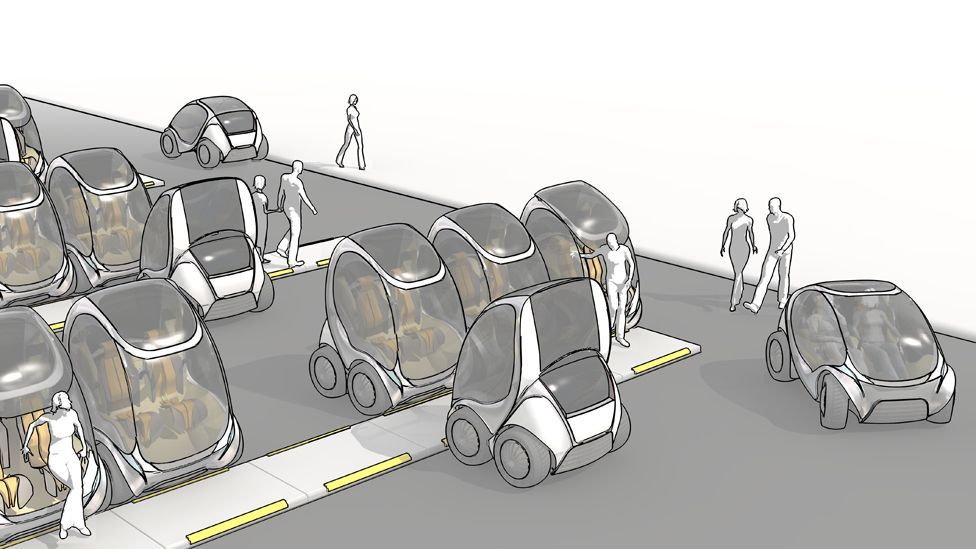 Despite criticism it doesn't offer enough protection and is too expensive, the vehicle is being tested across Europe. It may yet become a city staple. (Copyright: MIT Media Lab)
Despite criticism that it doesn't offer enough protection and is too expensive, the vehicle is being tested across Europe. It may yet become a city staple. (Copyright: MIT Media Lab)