The social business in East Africa that is using bees and smartphones to help lift subsistence farmers out of poverty.
B
Bees. Specifically African bees are probably not the first, or even fifth idea, that comes to mind when you think of alleviating poverty. Yet these little insects are causing a buzz by helping thousands of rural farmers in East Africa.
For the past twelve years, Kenyan social business Honey Care Africa has developed its innovative 'Business in a Beehive' model that has allowed low-income farmers to easily earn more money by producing honey.
The package gives farmers everything they need to start producing honey- a beehive, equipment, training, hive maintenance, and – most importantly of all - a contract for a guaranteed cash purchase of the resulting honey at fair market prices.
A simple beehive requires just 1 sq m (10 sq ft) of land and two to three hours of labor per month. With minimal effort, farmers can earn extra cash from producing honey.
That makes it an attractive investment for small rural farmers who often subsist on income from a single crop. With no monthly paycheck, inconsistent harvests make predictable income difficult. The honey, on the other hand, is a relatively stable and easy source of cash that farmers can depend on.
"We've created a modern supply chain connecting poor rural households in east Africa to global markets for honey," says Madison Ayer, Honey Care Africa's CEO.
The idea comes at a convenient time. Global demand for honey constantly exceeds supply, and with bee colonies mysteriously disappearing in the US and Europe, pure honey is becoming a valuable – and expensive - commodity. The price of honey in the US is rising more than 6% annually, and the market globally is expected to hit $12 billion by 2015.
The reason is that "there's a certain magic to honey," Ayers claims. "It's the only food that insects produce that humans eat regularly, it's packed with healthy micro-nutrients, and for thousands of years honey has been used for its medicinal value."   
Aside from being a healthy and natural sweetener, honey is an antimicrobial, antibacterial, antiseptic, anti-inflammatory and antifungal.
Yet the production of honey is a very slow, decentralized process. It's impossible to artificially produce or mass manufacture pure honey. You need honeybees, space, wild flowers and ample time to for the bees to pollinate and produce it.
Sweet bonus
In East Africa there are plenty of honeybees ready to meet the growing demand. But, until now,  challenges of infrastructure, knowledge and capital have left many locals to consider beekeeping a 'cottage industry,' and not a commercial business.
"One of the biggest challenges of honey production in Kenya is the fragmented value chain," says Fred Ogana of TechnoServe, an international NGO that invests in business solutions to poverty, and recently completed an in-depth study of Kenya's honey industry.
While many rural farmers keep bees, the traditional method of collecting honey results in low quality honey and low harvesting yields.
"Smallholder farmers typically produce honey in traditional logs, and when harvest day comes they pack it in old fruit juice bottles, and hawk it on the road sides" says Ogana.
Honey Care tries to make this process more efficient and predictable. Its package costs around $50 for two hives, and it has partnered with micro lending institutions like Kiva.org and local microfinance banks to help farmers get loans to purchase the package. Farmers can earn on average 15,000 Kenyan Shillings ($175) per year from two hives, making their return on investment substantial.
The organization has even found a way to help those people who are afraid of bees, but like the idea of a sweet income, by hiring fulltime beekeepers within villages to manage individual farmers hives. As an added bonus, pollination from the bees actually helps improve crop yields 15-30%, further adding to income.
In Kenya, this little extra cash goes a long way. Families are able to pay for school fees, medical bills, increase their land and invest in more livestock - or hives.
Shelf life
Although bee-keeping is a traditional – and relatively low-tech business – the organization is beginning to bring it into the 21st Century.
Its latest innovation is its Swarm Database smartphone app, which allows a fleet of beekeeping technicians who inspects hives across the country to enter troves of live data on farmers, hives, honey and harvesting into Samsung smartphones.
This information feeds into a central dashboard, which helps the company track production and improves the efficiency of their honey supply. Alerts encourage regular hive inspection, whilst analytics automatically highlight opportunities and trends.
The app also allows global consumers to connect more with Kenyan beekeepers, says CEO Ayer.
For example, imagine picking up a jar of Honey Care Africa honey off the shelves of your local supermarket, scanning a QR code on the jar, and seeing the family, trees and hives that produced, along with harvest date all on your screen.
"It's a great way to visualize traceability," remarks Ayer.
"Honey is so easily adulterated, consumers want to keep an eye on it," he says.  "We have our eyes on honey from the bees to the shelf."
If you would like to comment on this story or anything else you have seen on Future, head over to our Facebook page or message us on Twitter.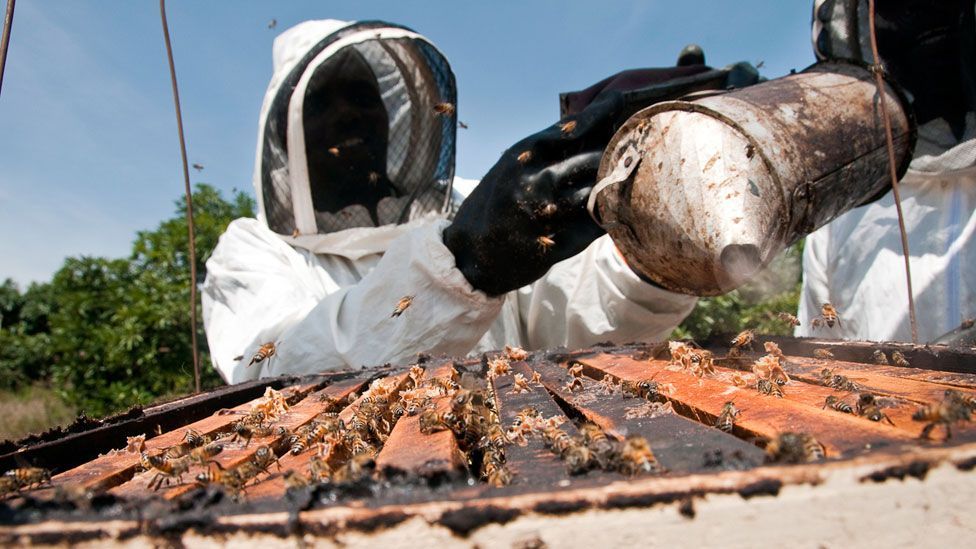 A beekeeper working for Kenyan social business Honey Care Africa, harvests honey near Kakuzi farms, central Kenya. The smoke makes bees less aggressive.(Copyright: Jonathan Kalan)
A beekeeper working for Kenyan social business Honey Care Africa, harvests honey near Kakuzi farms, central Kenya. The smoke makes bees less aggressive.(Copyright: Jonathan Kalan)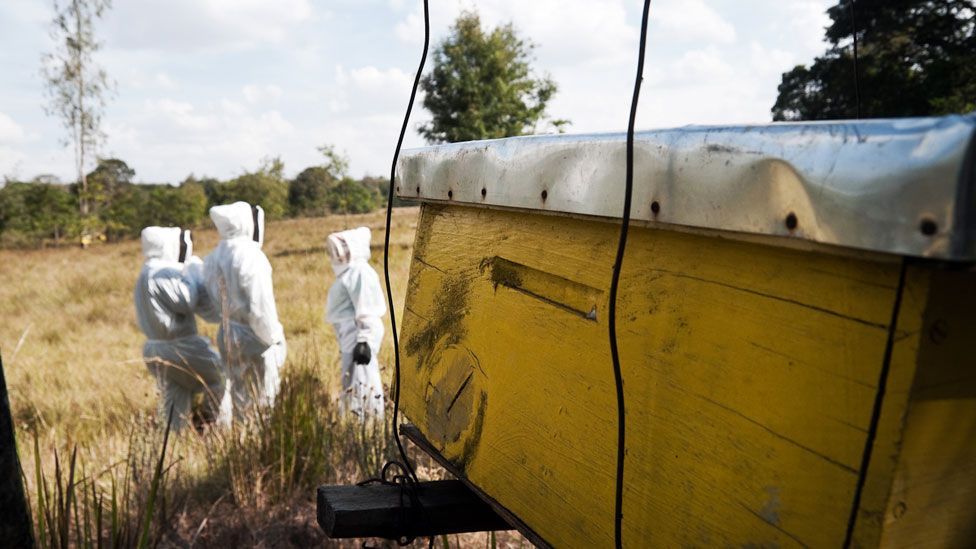 Honey Care Africa sells low-paid farmers everything they need to start producing honey and guarantees a price for the product. (Copyright: Jonathan Kalan)
Honey Care Africa sells low-paid farmers everything they need to start producing honey and guarantees a price for the product. (Copyright: Jonathan Kalan)
The package costs around $50 for two hives from which a farmer can earn on average of around $175 per year. (Copyright: Jonathan Kalan)
The package costs around $50 for two hives from which a farmer can earn on average of around $175 per year. (Copyright: Jonathan Kalan)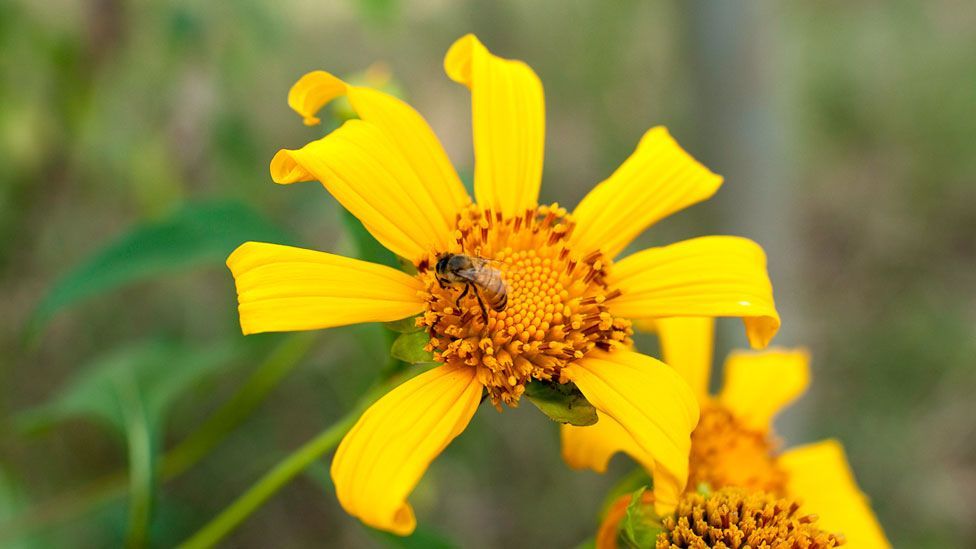 As well as producing a steady source of income, the honey bees also pollinate surrounding crops, increasing yields by 15-20% in some cases. (Copyright: Jonathan Kalan)
As well as producing a steady source of income, the honey bees also pollinate surrounding crops, increasing yields by 15-20% in some cases. (Copyright: Jonathan Kalan)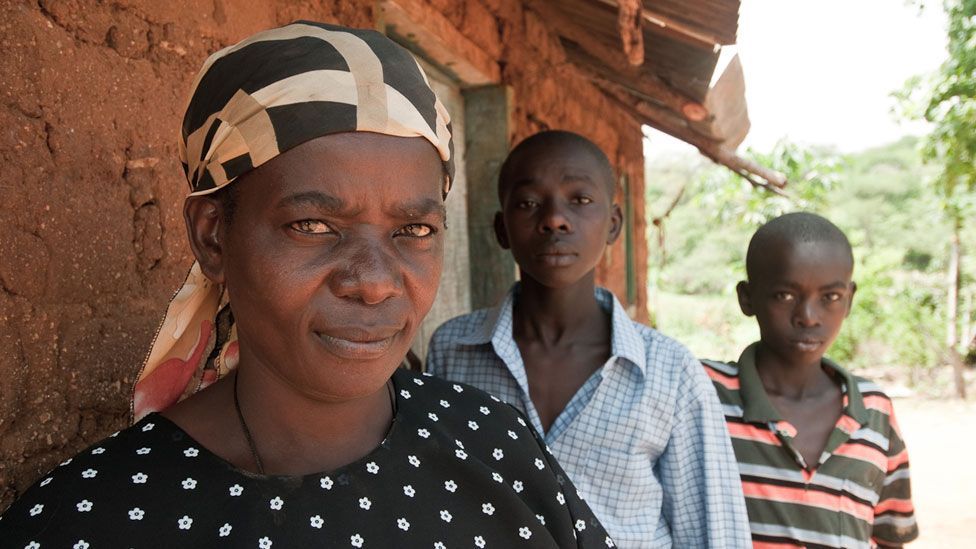 Makasi John of Kitui District, Kenya, has eight beehives on her one acre of land, which goes towards paying her children's school fees. (Copyright: Jonathan Kalan)
Makasi John of Kitui District, Kenya, has eight beehives on her one acre of land, which goes towards paying her children's school fees. (Copyright: Jonathan Kalan)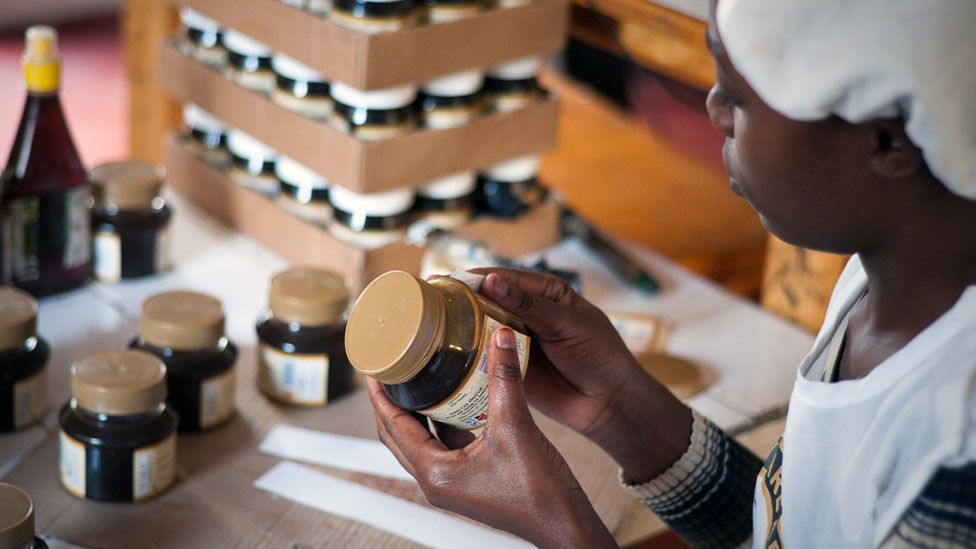 The organisation periodically collects the honey from farmers, before jarring it in Nairobi and selling it on the global market. (Copyright: Jonathan Kalan)
The organisation periodically collects the honey from farmers, before jarring it in Nairobi and selling it on the global market. (Copyright: Jonathan Kalan)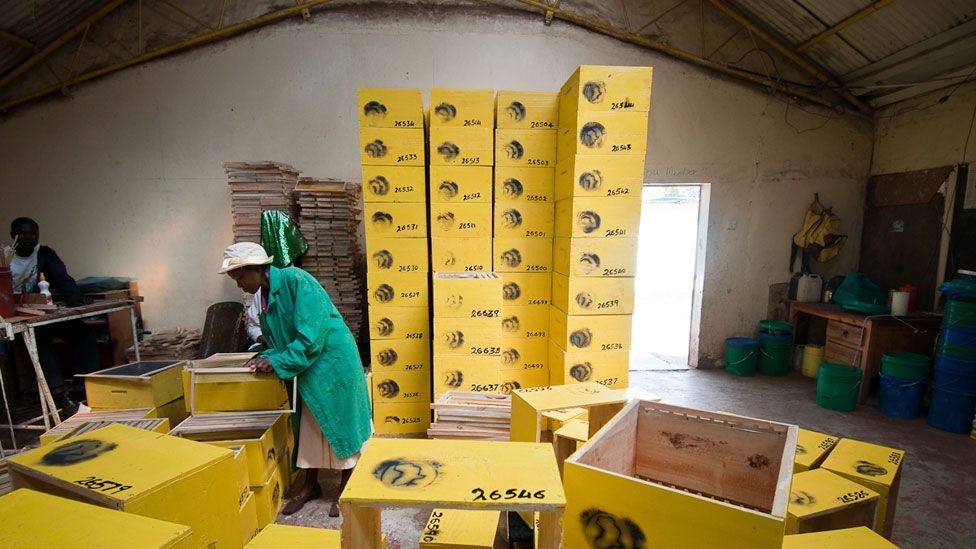 Demand for honey is growing in many markets and prices are rising. The global market is expected to hit $12 billion by 2015. (Copyright: Jonathan Kalan)
Demand for honey is growing in many markets and prices are rising. The global market is expected to hit $12 billion by 2015. (Copyright: Jonathan Kalan)