The 21st century city will need to be built around efficient, low-emitting mass transit. How can this best be achieved, especially with existing infrastuctures?
I
In comparison to slums I've visited in other parts of the world, Rocinha favela in Rio de Janeiro looks streets above the rest – literally. Its position high on the hill is advantageous because there's no flood risk, the view is magnificent and its residents paying 300 Reais ($148) a month look down on Sao Conrado, one of the most expensive bay-side neighbourhoods in Rio, where rents go for a considerably higher 5 million Reais ($2.5million) a month. This reversal of the usual social order gives Rio's favelas a unique vantage point over other disenfranchised communities.
Rocinha is like most other slum districts or shantytowns, composed of densely packed housing cohesively integrated with community spaces, shopping and other enterprises. The 70,000 residents living here meet their day-to-day requirements within a couple of hundred metres stroll on foot. So, from a transport perspective, slums like these are the most sustainable of urban settings in the Anthropocene. However, getting here from Rio's city centre means a perilous ride on the back of a motorbike, or more than an hour's trudge up steeply winding, dangerous alleyways. This is about to change, and it shows how important an issue sustainable transport is to the 21st century city.
Conscious it needs to smarten its image as soon-to-be host of the 2014 World Cup and the 2016 Olympics, Rio is stepping up its war on the heavily armed favela drug gangs, with police permanently occupying places like Rocinha under a new "pacification" programme. Rocinha is also undergoing a rapid regeneration programme in which residents formed mutiroes (construction cooperatives) and replaced their timber and tarpaulin shacks for brick and concrete – and the entire favela will be provided with free wi-fi, under the government's new development programme. But what may prove far more effective at achieving a lasting peace and improving the livelihoods here is a government pledge to invest more than $58.5 million to build a cable car system and funicular up the steep hills of the favela.
Like the transport planning in Medellín, Colombia, I wrote about previously, integrating people in Rocinha with those of the established city can help to remove the stigma of living in a favela, by normalising transport links and connecting favela stations to urban and suburban trains, metros and buses. Instead of a dodgy ride uphill on the back of a teenager's motorbike, and a risky, time-consuming journey on foot through meandering alleyways, residents and visitors will be able to access homes and services in this densely packed warren.
The Teleferico do Alemao, a gondola system linking the Complexo do Alemao (German Complex) favelas to the rest of the city, is already open and at 3.5 kilometres (2.3 miles), it's one of the longest cable car lines in the world. The journey time from base to the top has been cut from at least an hour by foot to just 15 minutes. Each cabin has a solar panel installed, which powers the lighting, sound and video surveillance systems. And the stations host community services, such as job training, education, medical services, and legal advice, all helping foster growth and inclusion.
Reinvent the wheel
Innovative public transport solutions like this will be needed in the denser megacities of the new urban age. The planet is moving towards two billion cars. Commuters in Brazil's biggest city, Sao Paulo, can sit in traffic jams of up to 180km (110 miles). Americans currently spend an average of nine years of their lives sitting in their cars. China, meanwhile, is now the world's biggest car market, with ownership going up 20-fold since 2000, and many of its cities' new six-lane highways are already clogged with traffic and car fumes.
Transport planning at a megacity level will require more than widening streets or providing more of them. Suburbia may have been built around the automobile, but the city of the Anthropocene will need to be built around efficient, low-emitting mass transit. China and other developing countries have an opportunity to create this public transport infrastructure rather than planning around cars, which as other cities have learned makes alternative options so much harder to retrofit.
Looking down from Rocinha, I can see the taxis jostle for road space above the rapid underground Metro, and think how it makes sense to ban private cars from city centres altogether – something that is gradually being encouraged by the heavy congestion commuters face, expensive parking and by specific taxes for vehicle drivers, such as London's congestion charge. In Bogota, Columbia, for example, cars are banned from the city on Sundays, when the streets fill with pedestrians, cyclists and rollerbladers. Ideas like the Paris rent-a-bike scheme, Velib, which has since been copied in cities around the world, allows users to travel across centres by picking up a bike in one location and drop it off in another for a small fee.
It's hard to see how the traditional-car-dominated cities of the 20th-century can survive rapid urbanisation, higher petrol prices and increasingly stringent air pollution regulations. Innovative power sources, from hydrogen to compressed air, are likely to be introduced in future, but liquid natural gas and electricity are already replacing gasoline in some cities.
In Israel, electric car users can use swap stations, run by Better Place to exchange their depleted batteries for fresh ones. This cuts the cost of the car (because the battery is one of the most expensive parts) and allows it to be upgradable as improved batteries enter the market, while keeping the value of the car. A comprehensive network of switch stations removes the problem of so-called "range anxiety", when drivers fear their car will run out of juice. Once vehicles are fuelled by electricity, direct pollution (including ozone and nitrous oxides) disappears and generation can be from low-carbon sources such as nuclear or renewables. Better Place is now rolling out to other countries.
Electric cars can even be used as an alternative power source, discharging electricity during power cuts, as the Nissan Leaf's designers point out. But while electric cars are an improvement on conventional gasoline burners in terms of emissions, they and their batteries still represent a metal and mineral guzzler, requiring ever-more rare earths, for example, which if not efficiently recycled, end up as toxic waste. Better public transport is by far the most sustainable alternative, but hybrid options, such as share-car schemes also help reduce energy use and materials.
There are more ambitious ideas on the table, of course. Lightweight, folding electric cars like the Hiriko Fold aim to convince commuters who don't live or work within walking distance of a transit station to take public transport. Engineers are designing superfast maglev trains that could run under the Atlantic in vacuum tunnels, connecting European and American cities. In China, there are designs for an electric megabus that would carry hundreds of commuters on wheeled stilts, 5 metres (16 ft) above the ground, straddling gridlocked traffic on the road beneath.
However, ambitious and complex technologies are only part of the long-term solution. The more compact the city, the more energy-efficient transportation and everything else is. Truly sustainable transport begins with cities built – like Rocinha, and the heart of every pre-20th century urban centre – for walking around. The megalopolises of the Anthropocene need to built from tightly packed human-scale neighbourhoods, linked by clean, affordable, efficient transport. And it needs to do so in a way that not only addresses the current requirements and frustrations of urban living, but also accounts for our future needs in the Anthropocene.
If you would like to comment on this article or anything else you have seen on Future, head over to our Facebook page or message us on Twitter.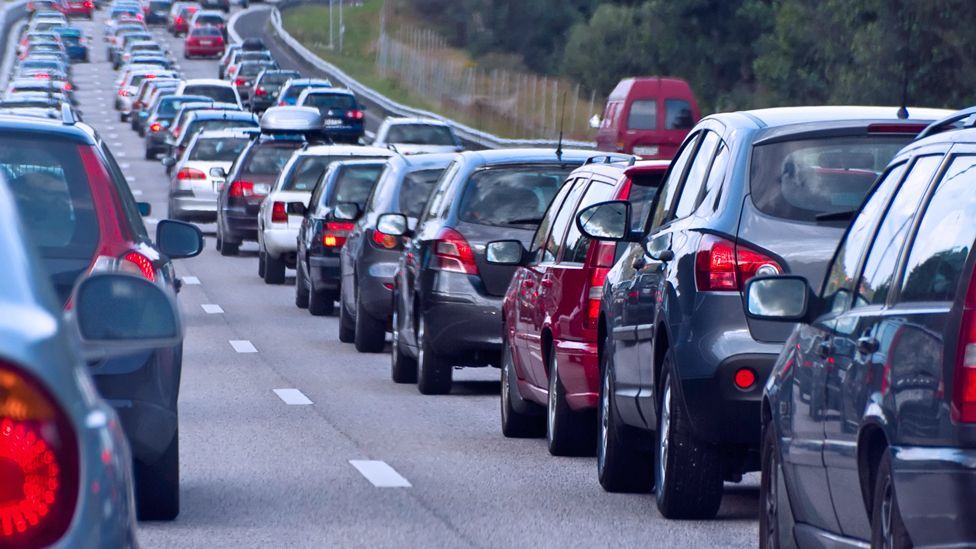 The planet is moving towards two billion cars, and congested roads are an all-too familiar sight. Innovative public transport solutions are sorely needed. (Copyright: Thinkstock)
The planet is moving towards two billion cars, and congested roads are an all-too familiar sight. Innovative public transport solutions are sorely needed. (Copyright: Thinkstock)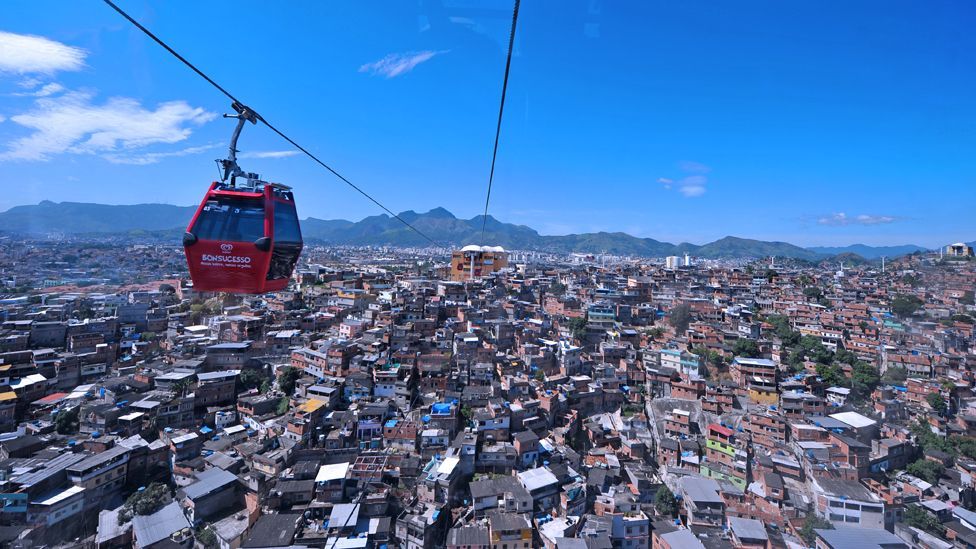 One of Rio's largest slums, the Complexo do Alemao, has a 3.5 km-long cable car system that saves residents hours of journey time to the main city. (Copyright: Getty Images)
One of Rio's largest slums, the Complexo do Alemao, has a 3.5 km-long cable car system that saves residents hours of journey time to the main city. (Copyright: Getty Images)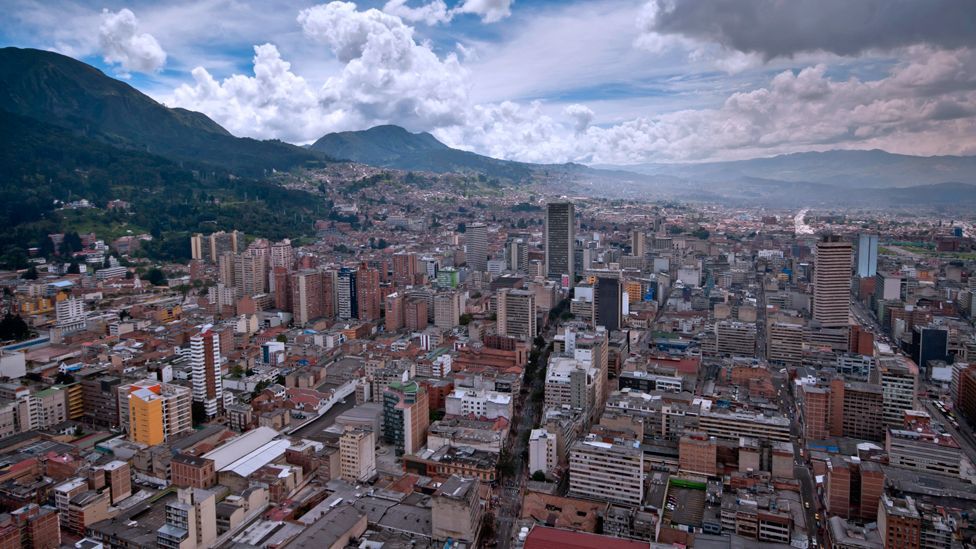 Cars are banned from the streets of Bogota, Columbia on Sundays; the streets filled instead with pedestrians, cyclists and rollerbladers. (Copyright: Getty Images)
Cars are banned from the streets of Bogota, Columbia on Sundays; the streets filled instead with pedestrians, cyclists and rollerbladers. (Copyright: Getty Images)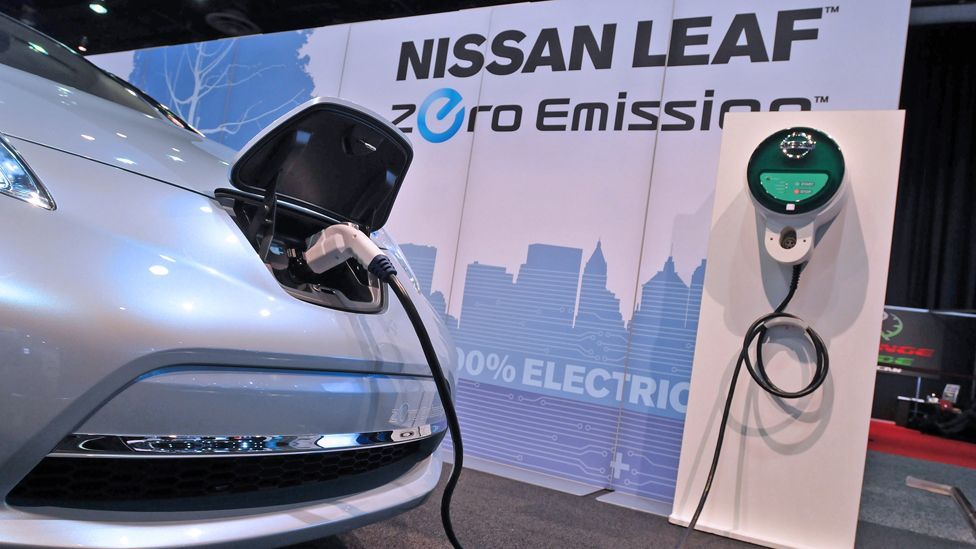 Liquid natural gas and electricity are already replacing gasoline-fuelled transport options in some cities. (Copyright: Getty Images)
Liquid natural gas and electricity are already replacing gasoline-fuelled transport options in some cities. (Copyright: Getty Images)
The Velib bicycle rental scheme, which began in Paris, has been copied in many cities worldwide. (Copyright: Getty Images)
The Velib bicycle rental scheme, which began in Paris, has been copied in many cities worldwide. (Copyright: Getty Images)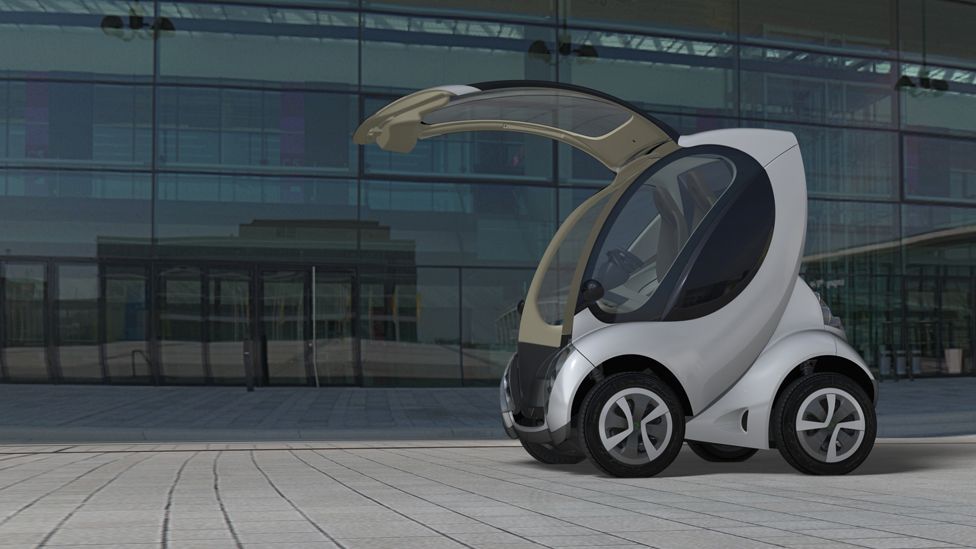 Designers are creating folding cars to try to convince commuters who don't live or work near transit stations to take public transport. (Courtesy of Hiriko)
Designers are creating folding cars to try to convince commuters who don't live or work near transit stations to take public transport. (Courtesy of Hiriko)