How an 11-year old boy devised an ingenious low-cost system to keep the hungry beasts away from his family's livestock.
W
When dawn rose one chilly morning last July in Kitengela, a dusty savannah on the outskirts of Nairobi, Kenya, six lions lay dead in the dim headlights of an old land cruiser. Just hours earlier, dozens of Maasai men had descended upon them with sharpened spears in a fit of anger and frustration.
"We killed them because we had no other option," claimed Charity Mutunkei, whose four goats had been killed by the lions. "The lions come again and again."
Over the past several years, residents of the Kitengela plains have had an enormous problem. The area lies on the edge of popular tourist destination Nairobi National Park, a beautiful game park just 7 kilometres (4.6 miles) from Nairobi's City Centre, brimming with lions, rhinos, giraffes, cheetahs, and other wildlife. While the park is secured by an electric fence on three sides – those that border the city – the open end allows wildlife to spill out into Kintengela, once a vast wildlife corridor that is now quickly becoming filled with housing estates. Lions have been straying outside the park at night and snacking on their form of convenience food – local residents' cattle, goat, and other animals.
For many of the residents, livestock is their only livelihood, and they will go to any lengths to protect them – including poisoning or killing the hungry beasts. As a result of conflicts like this, Kenya has been losing on average 100 lions a year, and there are now just 2,000 remaining in the country.
Richard Turere, a Maasai who lives not far from Kitengela, is scared of the lions – and for good reason. He's only 13, and small for his age – no match for a hungry feline on the prowl. But that didn't stop him at the age of 11 from wanting to find a way of protecting his family's livestock.
With absolutely no mechanical or technical training - aside from having the best marks in his science and maths class – Richard cleverly invented a completely hacked yet remarkably effective system to keep the lions away, with little idea that it would eventually allow him to share the stage at TED2013 alongside the likes of Sergey Brin, Peter Gabriel and Elon Musk. When asked about his favourite part of the conference, he immediately remarked "petting the sharks at the aquarium," then, after a pause, "oh, and seeing Bono!"
Richard's device costs less then ten dollars, is made from nothing more than basically spare parts, and works because of one simple yet astute observation: he noticed that lions would stay away when he walked around with a flashlight.
Light fantastic
The system, called "Lion Lights" is about as basic as you can get, constructed from LED bulbs from broken flashlights, an old car battery, a solar panel, and a motorcycle turning light indicator box. By rigging the LED bulbs to the motorcycle indicator box, powered by the battery and solar panel, Richard was able to give the lights their distinctive flashing effect.
According to Dr Charles Musyoki, a senior scientist in carnivore issues for Kenya Wildlife Service, the flickering lights is an ingenious applied design intervention that introduces a "serious risk consideration" for the lions. While a steady light will not scare lions, flickering lights from multiple sources confuses them, and indicates the presence of something larger than them, making it a risk "not worth taking".
Musyoki says that although Lion Lights may seem simple, "no one else in Kenya had imagined putting the lights in this context." They have also reduced tension between the Kenya Wildlife Service and local communities, by reducing the number of attacks on livestock in areas with the lights, he says.
Richard experimented with a few ideas before finally coming up with the lights – including building fires out of cow dung, and putting up a scarecrow. "I was just testing things, I didn't know exactly what I would create," he said. One afternoon, he even broke the family television trying to see exactly what was inside, and if it could help him with his mission.
After a few weeks, he asked his father to help him source a solar panel and car battery, and, borrowing the wires and motorcycle indicator box, finally struck success.
"The first time it worked, it felt great," says Richard, "I felt like I was solving a big problem."
Richard's invention may not be a remarkable technological breakthrough – flashing motion sensor lights could probably do the trick- but the fact that it costs hardly anything, can be completely locally sourced, and most of all is effective in keeping lions away, has truly impressed local residents. Richard has installed seven Lion Light systems for his neighbours, and people all over Kenya have begun copying his approach.
Crowdsourced conservation
With increasing pressures on land and resources, as well as a rising demand for ivory, Kenya has witnessed a stunning decline of its large wildlife – nearly two-thirds – over the past few decades. Technology – typically a bit more advanced than Richards lights – is aiming to play a major role helping conserve what's left.
For example, near Amboseli, a game park in southwestern Kenya, the Kenya Wildlife Service has "collared" several lions with tracking devices that send text messages to cell phones of rangers and local residents, warning them of their presence. Another service called Elephant 911 crowdsources information on incidents involving elephants – such as suspected poacher activity or elephants trampling crops- via SMS, allowing agencies to track hotspots of conflict or poaching. The Save the Elephants organisation has fitted elephants with high-tech collars, which emit mobile phone and satellite signals, allowing rangers to track them via Google Earth.
In Central Kenya's Ol Pejeta Conservancy, which hosts four of the world's last remaining seven northern white rhinos, owners plan to start test-flying a $75,000 drone to live-stream information on the rhinos to rangers on the ground. The cameras also have thermal imaging, allowing night patrols.
Yet despite all of these efforts, Paula Kahumbu, a Kenyan conservationist and CEO of WildlifeDirect, says that sometimes it's the local, homegrown technologies like Lion Lights that work best.
"Technology can be gimmicky," she says. "There is a tremendous need to recognize local and practical ideas. This is a solution that was invented by somebody in the community, and the most effective technology is having people – like Richard – on the ground."
If you would like to comment on this article or anything else you have seen on Future, head over to our Facebook page or message us on Twitter.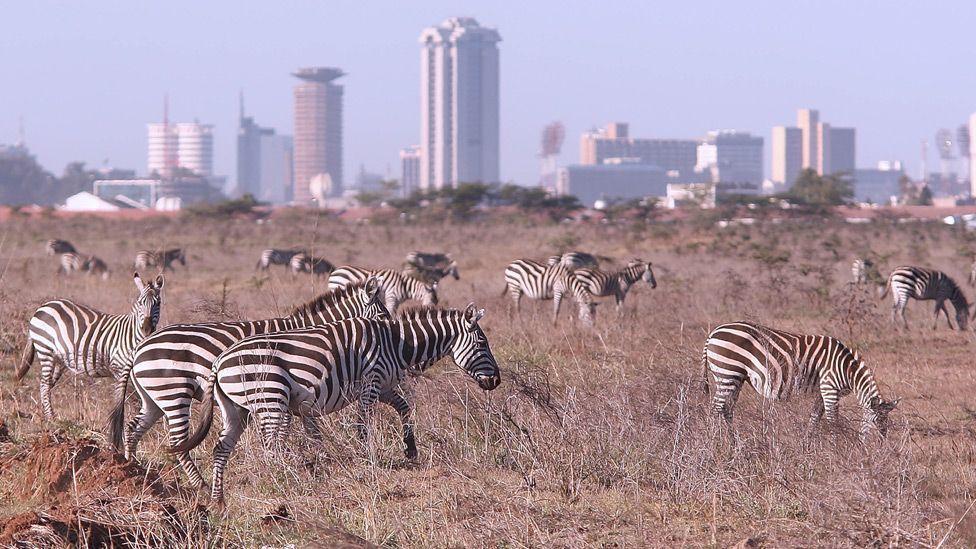 Nairobi is unique among cities in that it has a national park where wildlife roam freely against the urban backdrop of skyscrapers. (Copyright: Getty Images)
Nairobi is unique among cities in that it has a national park where wildlife roam freely against the urban backdrop of skyscrapers. (Copyright: Getty Images)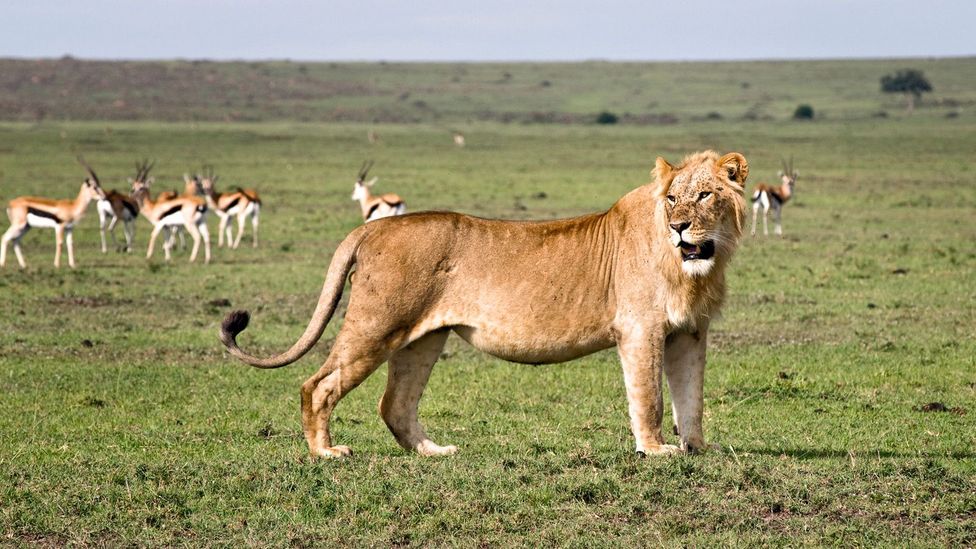 The park is secured by an electric fence on sides that border the city, but the open end allows lions to stray outside the park at night. (Copyright: Jonathan Kalan)
The park is secured by an electric fence on sides that border the city, but the open end allows lions to stray outside the park at night. (Copyright: Jonathan Kalan)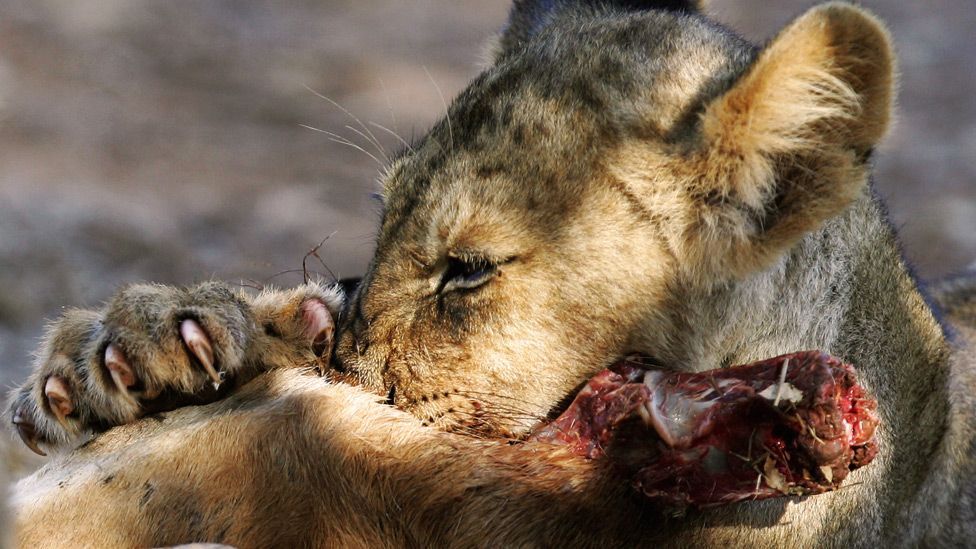 Lions have been straying at night and feasting on cattle, goat and other animals kept by residents living on the edge of the park. (Copyright: Getty Images)
Lions have been straying at night and feasting on cattle, goat and other animals kept by residents living on the edge of the park. (Copyright: Getty Images)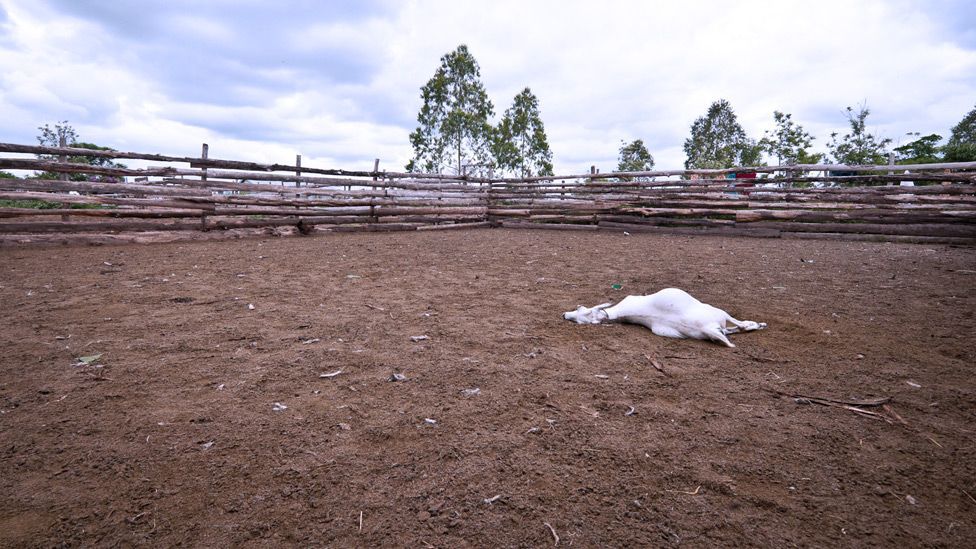 Residents will go to any lengths to protect their livestock from the threat, including poisoning or killing lions. (Copyright: Jonathan Kalan)
Residents will go to any lengths to protect their livestock from the threat, including poisoning or killing lions. (Copyright: Jonathan Kalan)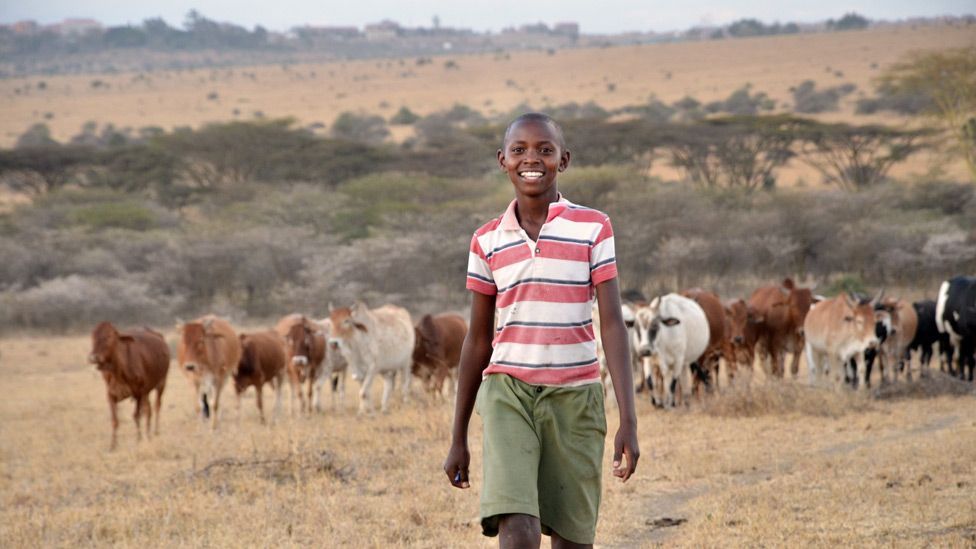 In response to the threat, Richard Turere, aged 11, devised a low-cost low-tech system to keep the lions away from his family's livestock. (Copyright: Paula Kahumbu)
In response to the threat, Richard Turere, aged 11, devised a low-cost low-tech system to keep the lions away from his family's livestock. (Copyright: Paula Kahumbu)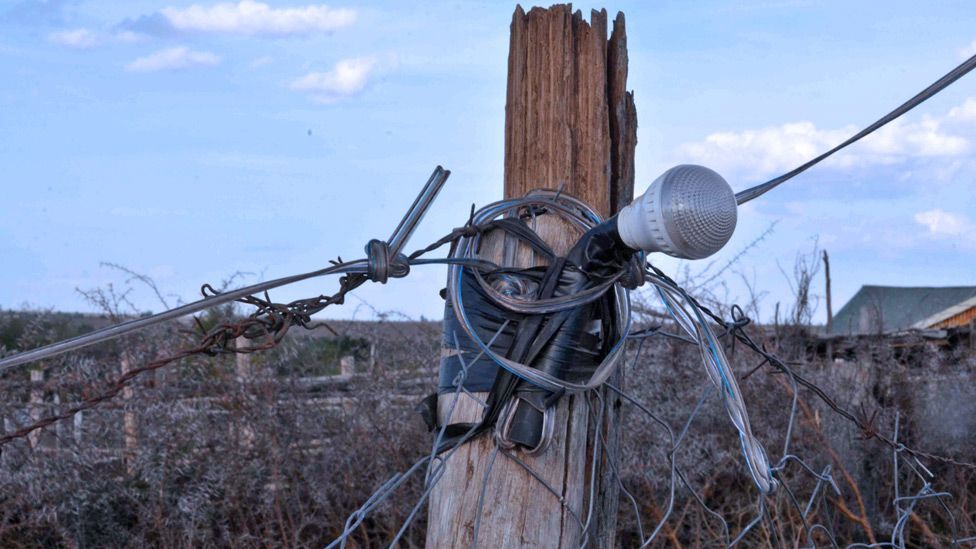 The system, called Lion Lights, is based on his observation that lions were afraid to approach the farm when someone walked around with a flashlight. (Copyright: Paula Kahumbu)
The system, called Lion Lights, is based on his observation that lions were afraid to approach the farm when someone walked around with a flashlight. (Copyright: Paula Kahumbu)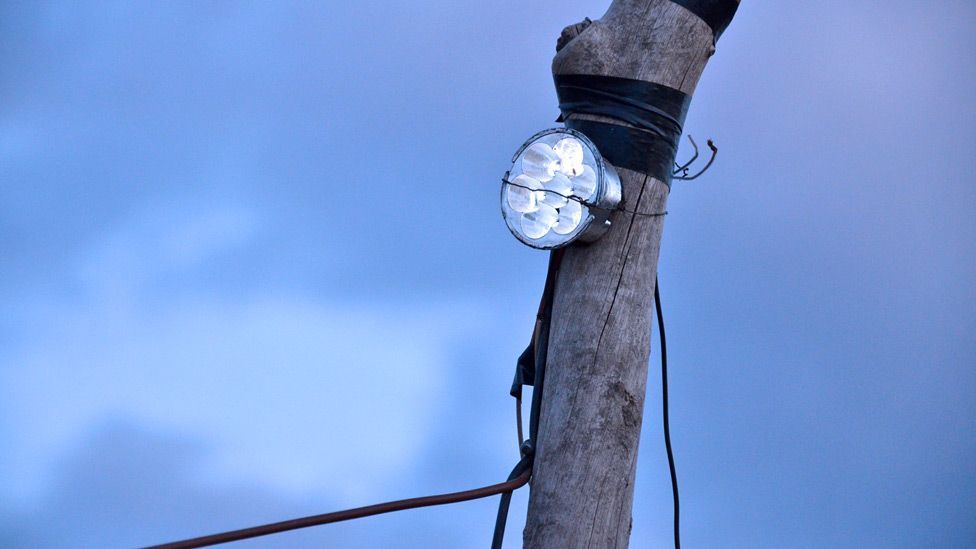 LED lights connected to an old car battery powered by a solar panel flash in sequence, tricking lions into believing someone is carrying a flashlight. (Copyright: Paula Kahumbu)
LED lights connected to an old car battery powered by a solar panel flash in sequence, tricking lions into believing someone is carrying a flashlight. (Copyright: Paula Kahumbu)
Turere's system has been a huge success. People all over Kenya have begun copying his approach in a bid to safeguard their livestock. (Copyright: Paula Kahumbu)
Turere's system has been a huge success. People all over Kenya have begun copying his approach in a bid to safeguard their livestock. (Copyright: Paula Kahumbu)