There's an urgent need for sustainable housing solutions for the urban poor around the world. Meet the people hoping to revolutionise slum living with their hi-tech, low-cost ideas.
M
Migration of people to cities has reached unprecedented levels in recent human history. Over a third of these people – around one billion in total – now live in slums, informal settlements and shantytowns, often in little more than corrugated iron and zinc sheet shacks lacking access to even the most basic sanitation, clean water, security, or clean energy sources.
Africa boasts the fastest rate of urbanisation, and it has the highest share of informal settlement residents (62% of sub-Saharan Africa's urban population live in slums). If trends continue, by 2050, there will be an estimated 1.2 billion people inhabiting Africa's swelling slums, according to the UN.
Slums are often hubs of impressive innovation and creativity by residents working to get by – rigging electricity, sanitation and water systems in the absence of real infrastructure. But there is an enormous and urgent need for better, more sustainable solutions to house the urban poor in Africa, and worldwide.
Living the iLife
The "iShack" isn't Apple's attempt at affordable housing. It's short for "improved shack living", an innovative approach to slum housing improvements that's being piloted in Enkanini, a growing slum just outside Stellenbosch, South Africa.
Developed by a group of students at the University of Stellenbosch, the iShack featuresa solar panel to power three lights, a mobile-phone charger and an outdoor spotlight for security. The roof is designed to collect rainwater, and windows are placed to allow better airflow and sunlight heating. The interior walls are insulated with recycled cardboard boxesandTetra Pak containers, the exterior walls are coated with fire-retardant paint, and bricks create solid foundation flooring. 

The iShack is less about being a complete physical dwelling, and more about a series of incremental tech upgrades that give slum-dwellers safe access to basic services, saysBerry Wessels, iShack's field co-ordinator. "The idea is for us to develop a kind of social enterprise that will enable certain infrastructural solutions and products to be implemented in informal settlements."
For example, one of the greatest challenges faced in slums is energy. Tightly packed informal settlements act as tinderboxes, and a small fire from candles or kerosene lanterns (the cheapest forms of lighting) can – and often do – spread like wildfire. Just last week in Enkanini a fire destroyed nearly 600 houses. To help prevent these situations, iShack is developing an affordable pay-as-you-go meter system for supplying solar energy to houses.
Working on upgrading technology for slums isn't easy, the team says. "In these informal settlements, there is no real leadership structure, it's very fragmented", says Wessles. A major barrier is what Andreas Keller, developer of the iShack's concept, calls an "insecurity of tenure". People may be hesitant to make major investments into their shacks, because their ability to reside there in the future is uncertain – the result of perhaps shifting jobs, unstable income, or disasters. 
As a result, the team is making sure that any solution can be adapted and used in any future environment – whether it's an upgrade or downgrade. "When you move into a new home, you can bring the appliances/technology with you," says Keller. 
Affordable challenge.
iShack's prototype concept costs around 5,600 rand ($660), excluding the solar power system. Six hundred dollars may seem cheap to some, but thecost of living in slums is full of hidden costs.
"Designing for the poor forces you to rethink all assumptions you have," says Christian Sarkar, co-founder of the "$300 House" initiative, a global crowdsourcing effort to design sustainable living for the poor.
There is a common misconception that the poor can't afford certain things, but the reality is that they end up paying far more than people think for services like electricity, housing and water, says Sarkar. This, he claims, is an enormous opportunity for more businesses to design profitable yet market-appropriate solutions.
Sakar's $300 House idea,launched essentially out of a 2010 blog post in the Harvard Business Review by Sakar and Vijay Govindarajan of Dartmouth College, is an effort to find the people and companies who want to solve this problem, and encourage collaboration. "We want to push people to go down this road, and encourage big companies to get into the housing market for the poor, because it's a giant market," he says. According to the social entrepreneurship NGO Ashoka, the number of people in need of safe housing will triple to around 5 billion by 2030 – which makes this a multi-trillion dollar market opportunity.
Sakar and Govindarajan's efforts led to the "$300 House Open Design Challenge", which attracted everyone from the India's corporate giant Mahindra Group, who won the corporate award for building an integrated village with civic amenities like sanitation, toilets and solar power, to Texan Harvey Lacey, a self-proclaimed "redneck engineer", who came up with a design based on blocks built out of recycled waste, called Ubuntublox.
Another winner was Patti Stouter, who is piloting and prototyping a low-cost, low-tech building material called "Hyper-wattle". The idea draws from her experience building sustainable housing in Haiti, and based on something called Earthbags – bags filled with subsoil stacked to make a house. Stouter's idea is a cross between two wall systems, using plastic mesh tubing (the kind used for erosion control), and a straw-fibre matrix encased in clay. This can be made using straw or hand-compressed trash, meaning it can be built locally and affordably in rural or urban slum settings, says Stouter, who runs Build Simple Inc, a company based in southwestern United States. "Hyper-wattle can be built by women, the elderly, or handicapped workers because it is much lighter than other masonry."
Social divides
Yet there's one important thing to consider. The hopes and aspirations of most of the world's poor – like the rich – are not to have houses built out of trash or mud, no matter how sustainable they may be. "A house is not just a house, it's a status thing," claims Sarkar, "and just because you can build it doesn't mean people will live in it."
In Nairobi, Kenya, which is home to one of Africa's largest slums, one company is looking beyond improvements of slum dwelling, to actual home ownership for the poor.
Irfan Keshavjee, local serial social entrepreneur and Founder of Karibu Homes, a new company that aims to bring home ownership along with a secure, sanitary, and progressive community to low-income families, says that upgrading efforts like iShack or Hyper-Wattle houses are valuable, "but not the answer to the massive problem of rapid urbanisation." What's needed is to build something scalable, making real bricks-and-mortar housing more affordable and accessible to the poor.
Karibu Homes is developing low-cost, secure, housing complexes with 1,000 homes, in areas where urbanisation and slums are mushrooming – like growing industrial areas that are witnessing "the genesis of a slum". They want to catch the problem before it happens, and give people the opportunity to settle somewhere more permanent.
"The hope of having a house bridges a great social divide," says Keshavjee. He claims that only 10% of Kenyans can actually afford to buy the homes on the market, and that his lack of housing "creates a weak social fabric." Alioune Badiane, a Director at UN Habitat, agrees, adding: "there are many people in the slums who are not poor. It's just the market cannot afford them anything they want."
By using an innovative and scalable building process, Karibu hopes to be able to drive the price of home ownership down to people making $300 per month. Owners will pay around 30% of their monthly income – about same as they would pay in a slum – and be on their way to fully owning their home in 15-20 years.
"The problem in Kenya is the first step out of the slums – we're lowering the first rung of the ladder for people to get out," Says Keshavjee.
It's a solution for some, but not all. Many residents of the slums are making far below $300 a month, and still can't even reach this ladder. And for them, the problem of finding safe, affordable housing is only growing. Slums are becoming more packed and less secure as migration from rural areas continues. Tech interventions like iShack, or more local and affordable building materials like Hyper-Wattle provide valuable solutions to the problem, but there's still a massive gap to fill. 
If you would like to comment on this story or anything else you have seen on Future, head over to our Facebook page or message us on Twitter.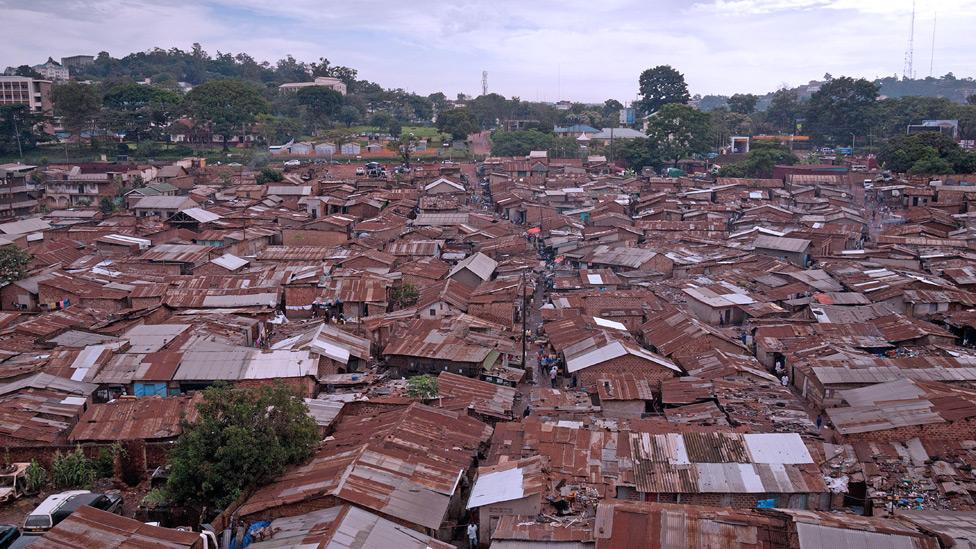 By 2050, there will be over a billion people living in slums in Africa, according to the United Nations. (Copyright: Getty Images)
By 2050, there will be over a billion people living in slums in Africa, according to the United Nations. (Copyright: Getty Images)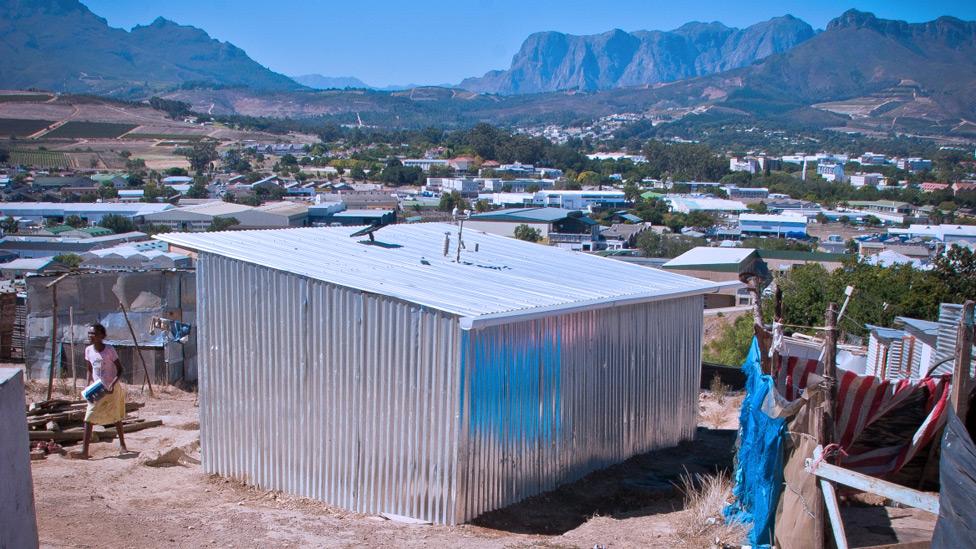 The iShack, short for "improved shack living", is an innovative approach to better slum housing being piloted outside Stellenbosch, South Africa. (Copyright: Anna Lusty)
The iShack, short for "improved shack living", is an innovative approach to better slum housing being piloted outside Stellenbosch, South Africa. (Copyright: Anna Lusty)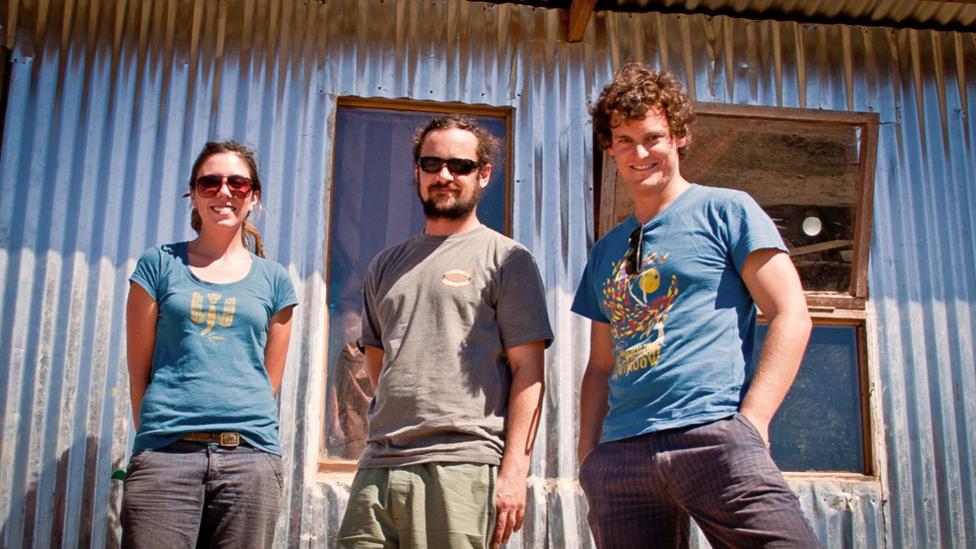 iShack's team, (l-r) Lauren Tavener-Smith, Berry Wessels and Andreas Keller are creating incremental tech upgrades that give slum-dwellers basic services. (Copyright: Anna Lusty)
iShack's team, (l-r) Lauren Tavener-Smith, Berry Wessels and Andreas Keller are creating incremental tech upgrades that give slum-dwellers basic services. (Copyright: Anna Lusty)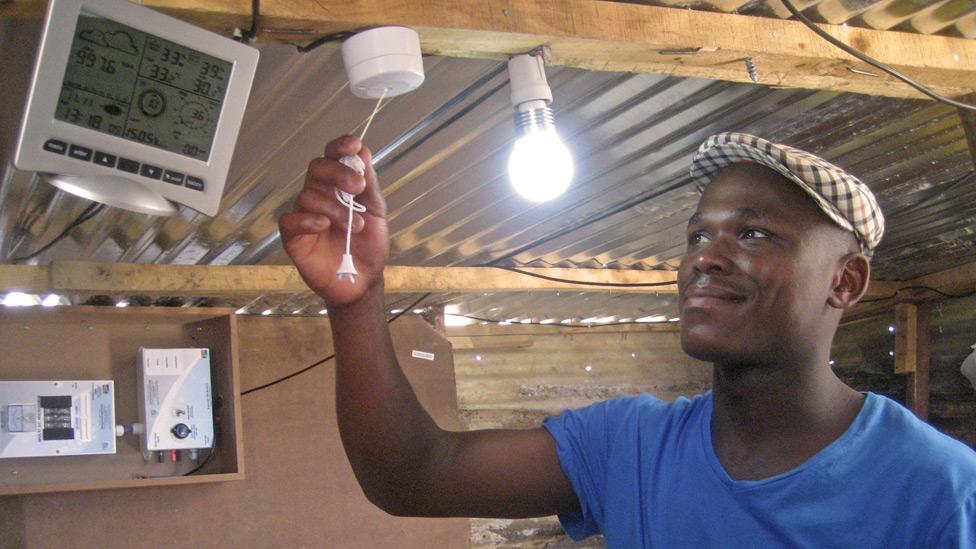 The iShack prototype costs $600, and features a solar panel to power lights, a mobile-phone charger and an outdoor spotlight for security. (Copyright: Anna Lusty)
The iShack prototype costs $600, and features a solar panel to power lights, a mobile-phone charger and an outdoor spotlight for security. (Copyright: Anna Lusty)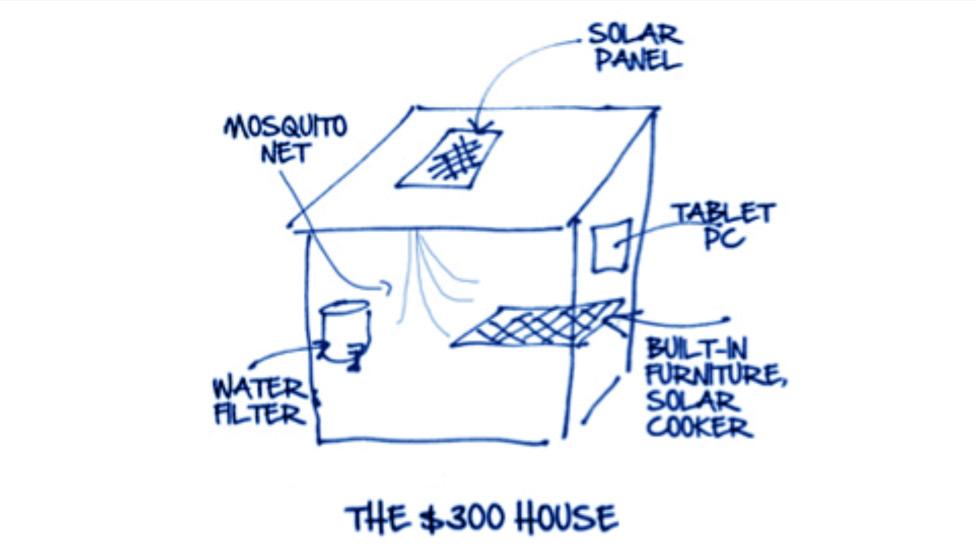 In 2010, Christian Sarkar and Vijay Govindarajan launched the "$300 House" initiative, to find people and companies who design low-cost housing solutions. (Copyright: $300 House)
In 2010, Christian Sarkar and Vijay Govindarajan launched the "$300 House" initiative, to find people and companies who design low-cost housing solutions. (Copyright: $300 House)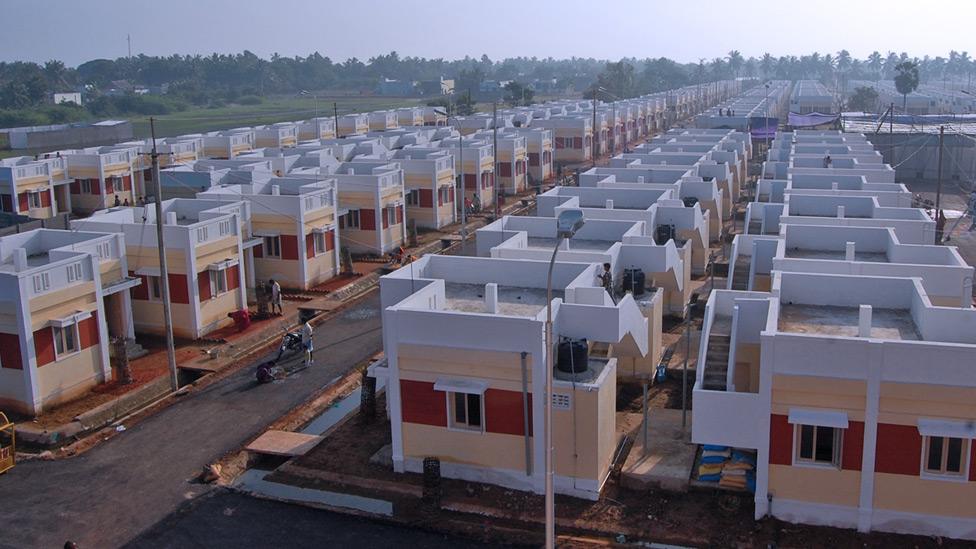 India's Mahindra Group have proposed building an integrated village with civic amenities like sanitation, toilets and solar power. (Copyright: $300 House)
India's Mahindra Group have proposed building an integrated village with civic amenities like sanitation, toilets and solar power. (Copyright: $300 House)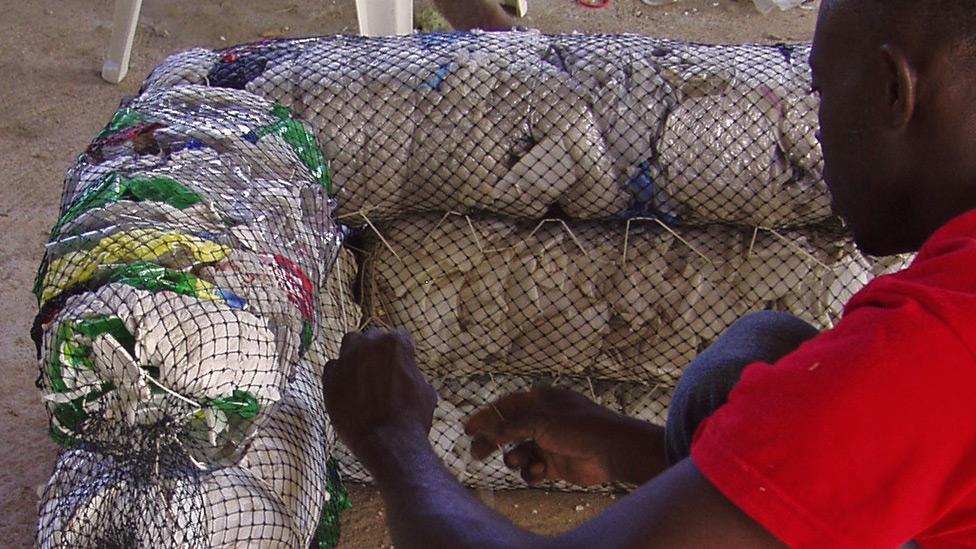 American Patti Stouter is piloting and prototyping a low-cost, low-tech building material for making walls, called "Hyper-wattle". (Courtesy: Patti Stouter)
American Patti Stouter is piloting and prototyping a low-cost, low-tech building material for making walls, called "Hyper-wattle". (Courtesy: Patti Stouter)